In no small part thanks to Jennifer Ehle and Colin Firth in Andrew Davies' definitive modern screen adaptation of Jane Austen's novel, BBC1's 1995 Pride and Prejudice (now, shockingly, getting on for 20 years old), Miss Elizabeth Bennet and Mr Fitzwilliam Darcy have become iconic fictional characters. Into these daunting early 19th-century shoes now slip Matthew Rhys and Anna Maxwell Martin, who play Darcy and Bennet six years after the events of Pride and Prejudice, in a BBC adaptation of Death Comes to Pemberley, PD James' continuation of Austen's novel as a murder mystery. "Playing an iconic literary hero is always a little problematic", says Rhys. "Coupled with that, the fact that aforesaid literary hero has been immortalised by Colin Firth. My initial reaction was to say 'no'."
In PD James' novel Darcy is a changed man, living contentedly at the family seat in Pemberley when the uninvited arrival of former nemesis George Wickham and his flighty wife Lydia kickstarts a murder mystery that involves most of the much-loved characters from Austen's original. "We wanted to bring back some of the characters that PD didn't have space for," says writer Juliette Towhidi, "like Lady Catherine de Burgh (Darcy's haughty aunt, played here by Penelope Keith)."
"I love Matthew as Darcy", continues Towhidi. "I think he brings a whole Celtic soul thing to it." To portray Elizabeth Bennet, the production turned to Anna Maxwell Martin – most recently seen playing Judi Dench's daughter in Philomena, and, when I spoke her, auditioning for the Sam Mendes production of King Lear at the National Theatre.
"When I was young and the first Pride and Prejudice was on the telly, I said, 'I would love to be in something like that,'" she says. "But I struggled with it in the beginning because it's Lizzie six years on. She is now a very powerful lady in charge of a huge household – very different from the Lizzie you see in Pride and Prejudice. I struggled with wafting around giving orders… not doing much. Lizzie is a woman of action, so I felt very constrained. I pined for old Lizzie really."
Rhys had similar misgivings. "I've always found it hard playing an upper-class Englishman," says the Cardiff-born actor. "I always feel I'm pretending to be Lord Snooty,  and when I'm telling servants what to do I always feel utterly fake." And Rhys, who is currently in New York while filming the second series of the Cold War spy thriller The Americans, adds that he finds a Yankie accent easier than a posh English one. "Growing up in Cardiff we were always running around pretending to be members of the A-Team, not playing lord of the manor."
This sense that they had been miscast did however help bond the two leading actors. "The first week Matthew and I were nervous," admits Martin. "Not that we weren't up to it in terms of acting, but we felt there is a pressure with these parts… you must look a certain way." Director Daniel Percival had no such doubts. "When I first approached Anna and Matthew I wanted to get them out for a drink together, I wanted to see them together," he says. "They hit it off, and instantly I stopped worrying about it because the most important thing about Elizabeth and Darcy is chemistry. We have to believe in them as two people so exquisitely made for each other".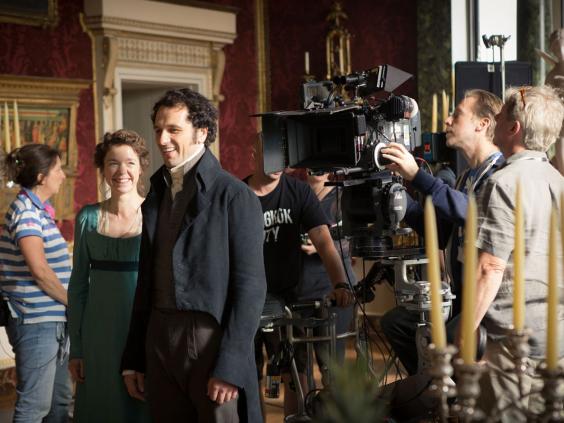 The interiors in Death Comes to Pemberely were shot inside Castle Howard in Yorkshire, which is where both television and movie versions of Brideshead Revisited were filmed, while the exteriors are of Chatsworth House in Derbyshire, which is where director Joe Wright filmed his 2005 movie version of Pride & Prejudice, starring Keira Knightley and Matthew Macfadyen. As well as Rhys and Martin, the cast includes Trevor Eve, Matthew Goode, Rebecca Front and – taking time out from being a timelord's assistant, Jenna Coleman from Doctor Who, who plays Lydia Wickham. "My first question to Dan (Percival) was, 'How far do you want me to go?'" she says. "That's one of the most appealing things about Lydia – there's so much licence with her.
"I've never done period before – it was such fun. People were swimming before work… everything you could imagine about filming Austen in the summer is what it was." Rhys echoes Coleman. "It turned into one of those Swallows and Amazons  idyllic shoots," he says. "We were actually swimming in rivers and trying local scrumpy."
Martin's only grumble about these "halcyon days" concerns Lizzie's elaborate costumes. "I do find that sort of thing a pain," she says. "And I'd get evil stares from the costume department because I kept collapsing on the ground and rolling around on the floor laughing, creasing my costume and getting mud all over it."
She's not exaggerating, says Rhys. "Anna has this beautiful thing when she laughs: she laughs so wholeheartedly that she drops to her knees," he says. "The women always get it worse with period costumes. At lunch, when it was really hot, we'd just take off the frock coats and waistcoats, and walk around in just the billowy white shirts. At the more touristy places we were filming in,  you'd walk around in the full regalia and no one would say anything. But when you're just in the breeches and white shirt women of a certain age would go, 'Ooh, don't you look nice.'"
Not that Rhys staged a repeat of the scene in the 1995 Pride and Prejudice where Colin Firth's Darcy dives into the lake, which was named earlier this year (in a UKTV survey) 'the most memorable moment in British TV drama'. "That was firmly established early on… there wouldn't be a wet-shirt-out-of-a-lake moment," says Rhys, adding that he hasn't bumped into Firth since being cast. "Matthew Macfadyen I was at Rada with, however. We might start up a club – like a Darcy dining club – swapping Darcy notes."
'Death Comes to Pemberley' begins Boxing Day at 8.15pm on BBC1