Noah Baumbach doesn't exactly look like the voice of the hipster generation. He's 45 years old. He dresses in crisp pale-blue shirts and navy suits. His work is more likely to be compared to Woody Allen than it is Lena Dunham. But there's something about his recent output – Frances Ha, While We're Young and his new film, Mistress America, – that suggests he's nailing that late-twentysomething voice in the way no other film-maker currently is. Like a weird, drunken encounter between Jim Jarmusch and John Hughes, maybe.
"They all contend with youth," says Baumbach, nursing a black coffee. He's all too aware that he's been tapping this same vein for three films in a row; he laughs, suggesting he only has a "couple" of stories in him – "just with new dressing". But rather like Dunham's Girls, Baumbach has created a loose trilogy of films that deal with the anxieties confronting those facing their thirties. "I definitely knew that feeling in my twenties of not really knowing where I lived."
If Baumbach is reluctantly speaking for the generation below him, blame his partner-in-crime, Greta Gerwig, 32, his lead actress and co-writer on both Frances Ha and Mistress America, and his girlfriend in real life. As Frances, she was the skittish out-of-towner, who arrives in New York with dreams of being a dancer, couch-surfs and gets labelled "undateable". Scoring Gerwig a Golden Globe nomination, it sent Baumbach on a roll. While We're Young, which he wrote alone, a tale of a middle-aged New York couple (Ben Stiller, Naomi Watts) who fall in with a pair of late-twenties hipsters, was ecstatically reviewed.
Now he's back working with Gerwig on Mistress America, a script they started on almost immediately after Frances Ha. She plays Brooke, a flighty New Yorker who befriends Tracy (Lola Kirke), a college girl with literary ambitions. Brooke is a magnificent creation; entirely recognisable as the social butterfly who juggles half-careers – spin-class instructor, interior designer, would-be restaurateur. "I don't think Brooke has one particular ambition," says Baumbach, who compares her to Breakfast at Tiffany's Holly Golightly. "I think Brooke wants to be successful. She wants to be rich. She wants to be able to live in New York in the way she imagines fancy people do. She  exists on the margins but in a certain way is the centre of... when she goes out at night, she can feel like the centre of the world and the centre of attention. She talks a good game. She's a hustler in that way."
For Baumbach, it marks his third collaboration with Gerwig – whom he met when he cast her in 2010's Greenberg, which starred Stiller as a misanthrope living in LA. Now they're together, in New York, he admits it's hard to leave their work at the front door. "So much of what we do spills over, even when we're not working on the same thing together," he says. "If she's working on something, or I'm working on something, we'll talk to each other about it anyway. Even if we're out to dinner and talking about something else, if something comes up, it'll be, 'Oh good, write that down!'"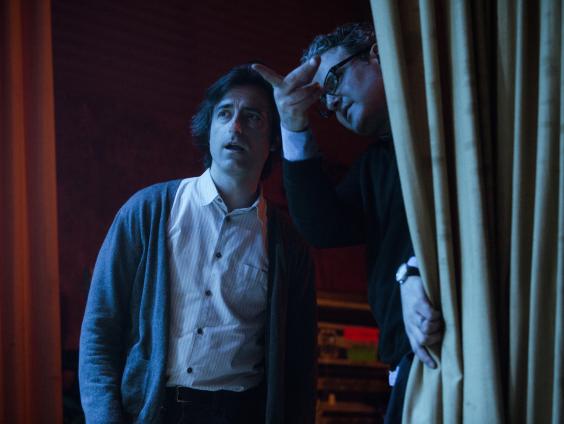 Gerwig tells me: "We'd like every waking hour to be consumed by a project – which is probably its own psychological problem." Baumbach, however, is not the sort to go all Oprah on you, spilling relationship details. He was married once – to actress Jennifer Jason Leigh, with whom he made 2007's Margot at the Wedding, co-starring Nicole Kidman. They met when she was starring in Broadway in Proof in 2001, married four years later and have a five-year-old son, Rohmer.
He and Leigh finalised their divorce two years ago (he's been with Gerwig since 2011), but don't expect him to mine this for a future script. Baumbach knows all about the perils of using  real life as inspiration for fiction. His 2005 breakthrough film, The Squid and the Whale, was a semi-autobiographical tale that drew from his own Brooklyn childhood; primarily, his parents'  divorce. "I didn't anticipate that people in my family would be asked questions based on the  fiction of the movie, as if everything was real... on a personal level, I'm sure it was quite annoying for them."
After studying English at Vassar College, he graduated in 1991 with a script idea for what eventually became his 1995 directorial debut, Kicking and Screaming. It was a college friend, whose mother worked as a producer in Los Angeles, who helped get it underway. By the time the film was finished, Baumbach was 26, and dubbed as one of Newsweek's "Ten New Faces of 1996".
That didn't quite transpire, though. His second film, 1997's Mr. Jealousy, was an unsuccessful screwball comedy starring Eric Stoltz. There was also Highball, an unfinished film that crept out (under the nom de plume Ernie Fusco), but largely it was a period where Baumbach floundered. "It sucked at that time."
Fortunately, Baumbach re-established himself with the help of Wes Anderson. Co-writing Anderson's 2004 confection The Life Aquatic with Steve Zissou, they then reunited for Fantastic Mr Fox. "I learned a lot from Wes. Principally, Wes is so committed to doing it to the way he sees it in his head. Getting as close to making the film as he conceives it – and being uncompromising in that way. We are just so close. "
This autumn, he will present his documentary about film director Brian De Palma, co-directed with Jake Paltrow, at the Venice Film Festival. Including Greenberg, that makes five films in six years. In an era where independent film-makers can feel lucky to crank out one movie in that gap of time, that's impressive. Since Squid, "I've been lucky enough to make everything I've written," he says. More importantly, they've been on his terms. "I got to [be] a personal film-maker, which is the kind of film-maker I always aspired to be."
'Mistress America' opens on Friday
Reuse content