Noel Fielding is standing, dressed in an apron, on the set of his E4 show. A bijou Hawaiian coffee shop has been meticulously re-created inside a vast warehouse at Three Mills Studio and as we watch from behind the monitor, the show's star, in character as the proprietor of the Luxury Coffee Shop on the side of a volcano, breaks off from the action, turns to camera and attempts to explain the plot of the episode thus far: "OK, so let's get this straight. Because I chose to set the coffee shop in Hawaii on the edge of a volcano, I now have to sacrifice one of my characters to the volcano. Otherwise, the locals, who are the cast of Magnum PI, will sacrifice me. I mean, who wrote this?" Welcome to the freaky world of Noel Fielding.
Some adored the first season of Noel Fielding's Luxury Comedy. They were charmed by out-there characters such as Roy Circles, a chocolate biscuit who thinks he is a school teacher, and the New York cop who spends his time arguing with the talking wound on his arm, as well as by its animated interludes. One critic wrote that, "Fielding grins down like a fiendish blend of Peter Gabriel, Syd Barrett, Samuel Beckett and a TV-age Antonin Artaud, unsettling and hypnotising in equal measure. In these dreary times, it's as subversive as Bowie appearing on Tops of the Pops in a dress." Other viewers were left a little perplexed by the show's surrealism.
Fielding, who made his name alongside Julian Barratt in the popular cult double act The Mighty Boosh, is a refreshingly candid interviewee, adept at pre-empting critics by questioning his work before anyone else can. An engaging, youthful-looking 41-year-old who has the air of a dandyish rock star, he went to Croydon Art College in south London before studying for a BA in Graphic Design and Advertising at Buckinghamshire Chilterns University College. As a comedian, his imagination is untrammelled by any notions of conventionality.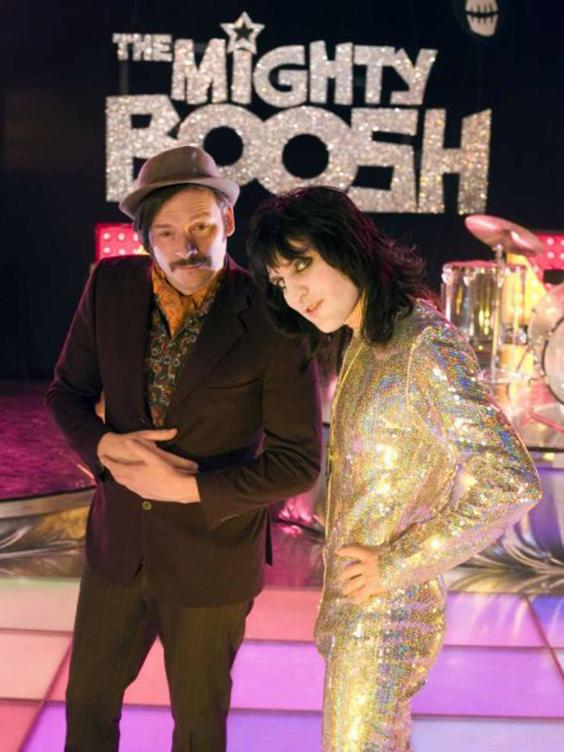 He would be the first to admit that the first season of Noel Fielding's Luxury Comedy appeared to some to be wilfully obscure. "Julian and I got grossly popular – that wasn't supposed to happen! That was not in the script. So Luxury Comedy was a reaction to how the Boosh had got mainstream. I wanted to do some pure experimentation. I thought, 'Right, now I'm really going to freak you out.' I wanted it to be unfathomable. I was eager to make something baffling and weird. I was trying to shake things up."
However, as Fielding now acknowledges, "The problem was the first series was so uncompromising that it polarised viewers. The people who liked it, really liked it. But a lot of other people were angry simply because it wasn't the Boosh. I sort of enjoyed their reaction – 'How dare you make this? What?' What would I say to those people who were so angry? 'Sorry.'"
Defiant daftness is part of Fielding's appeal. He is not looking to be understood, simply to vent his weird and wonderful comic imagination. His humour may not be to everyone's taste, but it is very much his own, an inimitable, arresting, deranged comic take on the world.
For all that, in Noel Fielding's Luxury Comedy 2, which starts on E4 on 31 July, he is dialling down the Dadaism. In the series, which is subtitled Tales from Painted Hawaii, he travels down a more traditional storytelling route, while still taking several enjoyable detours into the land of the outright bizarre.
"I've realised there are basic rules you have to adhere to or people simply won't get it. You have to give them a story, setting and characters they'll relate to. In the second series I have been looking for ways to make it more accessible without losing the original trains of thought."
To that end, Fielding has located the second series in "the mundane setting of a coffee shop, because the contrast between fantasy and reality makes the fantasy stronger. When it's all surreal, it gets like an acid trip that never ends – 'Please make it stop!' This series is more like Alice in Wonderland – with a beginning, middle and end."
The original nature of Fielding's comedy inspires particular devotion in his fans. "The more unusual stuff you do, the more unusual fans you get. The Boosh fans became obsessed. They'd hang around the tour bus for hours and come to the gigs dressed as characters. It was a weird cult, like The Rocky Horror Show, all the freaks together. A lot of pets have been named after Howard and Vince, our characters in the Boosh."
It is now five years since Fielding and Barratt performed together regularly, and fans are clamouring for a Boosh reunion. Is there any chance of that happening? "Julian and I did a couple of gigs recently and they went very well," says Fielding.
"But it was also bizarre, like meeting yourself 10 years ago – 'These clothes still fit, but they're not in fashion any more. Can I still get away with them?' Julian and I have written a film treatment together, and we fantasise about making it. But at the moment, he's embroiled in getting another film together with someone else."
Fielding, who lives in north London with his partner, the DJ Lliana Bird, is quick to add that there has been no falling out. "Julian and I are still very good mates. He lives in the next block from me. I saw him on Sunday for his birthday. His kids are always singing my Monkey Edwards song, which drives Julian mad. It's hilarious. His kids are constantly asking him, 'Dad, when are you going to work with that weird one again?'"
Instead of a Boosh reunion, this autumn Fielding, an accomplished stand-up, is embarking on a solo tour. "I'm excited, but also terrified. That's what comedians do – we live in constant fear. It's horrible, but I'd get bored otherwise." He will also be making more episodes of Never Mind the Buzzcocks, the long-running BBC2 pop quiz on which he has a regular gig as a team captain.
"I've never had a proper job, so Buzzcocks is great. You get picked up and fed. It feels like a routine in a world where I generally have no routine. It's also a regular income. My Dad says, 'You've got money coming in this year from Buzzcocks, so now you can go and do your crazy side projects like Luxury Comedy.' It's quite good as well to be in the public eye, so people will remember who I am when I get flown into the jungle for I'm a Celebrity ... Get Me Out of Here!"
Wouldn't it be brilliant if Fielding were allowed to create his own peculiar brand of pandemonium on that show? Sadly, it is not likely to happen. "I did get asked once to go into the jungle, but I told them, 'Call me back in 10 years when I need the money.' I once watched John Lydon being pecked by an ostrich on it, and part of me died inside – 'Please don't do that.' Between that and those butter ads, I can't listen to PIL anymore."
Just before we part, I ask Fielding if he ever watches his programmes when they go out. "No. I can watch The Boosh now because I've forgotten about it, but for years I didn't watch it. It'll be 20 years before I can watch Luxury Comedy.
"I'll watch it when I'm 70. I'll be sitting there saying, 'Who the hell made this and why? I want answers. Now!'"
'Noel Fielding's Luxury Comedy 2: Tales from Painted Hawaii', starts on 31 July at 10pm on E4
Reuse content