Herbert, a one-time womaniser with a yen for Yeats and Verdi, is now in his twilight years and living with acute memory loss. He settles back in his armchair and looks wistfully into the middle distance, as he reveals to his community mental health nurse, Liz, how the coterie of women who used to keep him company has now been replaced by a cacophony of voices in his head.
He says he is anxious to avoid medication because he doesn't want to drown out those voices. "Life's very dull without my voices," Herbert sighs. "There's no one to talk to. Everything drags. I get very lonely without my voices. They're my only real friends. I'm a prisoner of my past."
This is one of many poignant scenes from Nurse, a new comedy co-written by Paul Whitehouse and David Cummings which begins next week on BBC2. The series is adapted from the well-regarded Radio 4 show, and Whitehouse stars as (nearly) all the patients – including, with the aid of an amazing make-up job, Herbert. These characters are visited in turn by Liz (Esther Coles), a kindly community mental health nurse.
Whitehouse exhibits breathtaking versatility as the patients (or, to use the hideous jargon, "service users"), playing everyone from Graham, a morbidly obese, bed-ridden man with an unhealthy dependency on his mother, to Ray, a has-been pop star who had a huge Christmas single in the 1960s that is still a hit in Germany every year and who now suffers from "post-nasal depression". Surveying such range, it is easy to understand why Johnny Depp, no less, described Whitehouse as "the greatest actor of all time".
Depp underscored his appreciation by making a cameo appearance as one of the victims of the lascivious "Suit you" tailors in The Fast Show season finale in 1994. Whitehouse returned the favour by appearing in Depp's movies Alice in Wonderland: Through the Looking Glass, Mortdecai and Corpse Bride.
Whitehouse could easily be mistaken for the King of the Catchphrase. In programmes such as The Fast Show and Harry and Paul, he has excelled at light-hearted comedy, larking around while parroting a string of deathless catchphrases – "Suit you, sir," "Brilliant!", "Jumpers for goalposts," and "I was very, very drunk." This knack for becoming part of the language has made The Fast Show the leading contributor to the Oxford Dictionary of Catchphrases, responsible for 26 entries and ahead of Star Trek, The Goon Show and Dad's Army.
But, of course, there has always been more to Whitehouse than catchphrases. He has shone in more serious, in-depth roles in such series as Help, where he played all the patients seeing a psychotherapist, and Happiness, a bittersweet comedy about a middle-aged voiceover artist attempting to deal with his wife's death.
Now he has done it again with his virtuoso performance(s) in Nurse. It underlines once more that Whitehouse is a clown who could very easily play Hamlet.
Now filming is over and the 56-year-old Whitehouse has finally closed the dressing-up box, The Independent meets him and his collaborators to talk about how their comedy has just got serious. We start by discussing whether people will be surprised by this change of tone. Whitehouse says he is simply grateful for the opportunity to perform different styles of acting. "I love doing knockabout comedy with Harry [Enfield] – that's one of my favourite things. But it's also lovely to be able to do something that's about a bit more weighty issues. I'm lucky to be able to do both."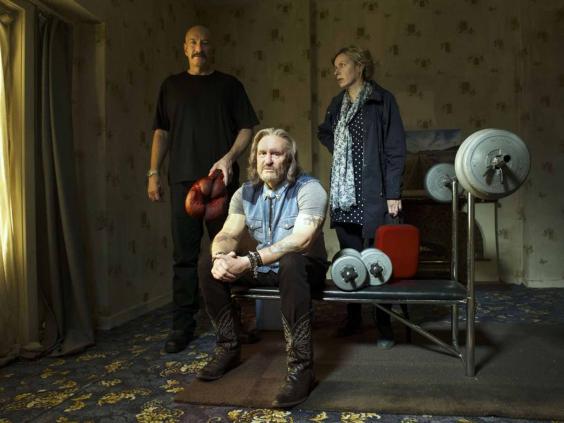 One of the aspects that Nurse highlights is the enormous amount of support that mental health patients require. It emphasises that Liz is stretched almost beyond breaking point by the demands of her job. So can a comedy help to change people's minds about such a vital subject, an issue that touches increasingly large numbers of us?
"Definitely," says Cummings, who has previously collaborated with Whitehouse on The Fast Show, Down the Line, Happiness and Harry Enfield and Chums. "Why else would we bother with it? If Nurse makes people think a bit harder about issues around mental health, then that's all very good."
The makers of Nurse are certainly hopeful that they may be able to enlighten audiences about a topic that is becoming more and more central in the run-up to the general election on 7 May. "Politicians are all jumping out and waving their mental-health flags now. It's obviously on the agenda," says Whitehouse.
"During the conference season, Nick Clegg was talking about mental health as a major issue. That's especially true with Alzheimer's, as people are living so much longer now. We see evidence of mental health issues more and more in our daily lives. I know that everyone is fighting for every penny of government finance, but we need more money to deal with the mental health problems we face. It's not the most glamorous of causes, but it's not going to go away."
Coles, 46, who also worked with Whitehouse on Radio 4's terrific spoof phone-in Down the Line, hopes, too, that Nurse may help open some viewers' eyes. "We definitely want to educate people. We all want to help people who have got mental health issues. You hear about them all the time, and see more and more of them on the streets.
"Community mental health nurses are going into people's houses, but there isn't enough time in the day for them to sort things out. People like Liz are very warm and want to help people, but they're limited in how much they can do. They're only able to pay lip service to helping people when actually what they need is more support. I feel very strongly about that."
The actress, who also contributed material to Nurse, continues: "I read a great article the other day about a community mental health nurse who said, 'I don't know what to do. There was a 10-month wait before one of my patients could see a psychotherapist and I couldn't get her on to any courses. So in the end I just gave her a self-help book.' What's happening is terrible, and we wanted to put that over in Nurse.
"As a kid, I remember visiting a home for people with mental health issues and they were well looked after. Now they're not – it's a desperate situation. I'm going to start crying …"
As Coles's emotional reaction shows, this is a subject that has to be treated with the utmost sensitivity. So how do the creators of Nurse strike a balance between comedy and tragedy? "We just didn't put any comedy in it!" laughs Whitehouse, who in real life is never more than a minute away from the next joke. "You have to be very careful. You can't just slip out of character in order to do a joke. That wouldn't sit happily with this subject matter.
"But Dave and I find that darker tragedy always has humorous elements to it. In any field where there is professional involvement and tragedy, there is also humour. We don't ever say, 'Oh, you can't say that!' But you're still your own sternest critic. We had to be very conscious of not crowbarring jokes in."
Whitehouse admits: "There is quite a lot of me in Herbert." And he believes that audiences will be able to see a lot of themselves in the people portrayed in Nurse. "A lot of the characters are expressing universal themes about fear and loss and loneliness. Having the nurse there allows them to talk about those issues without it becoming clumsily introduced or a forced exposition."
However, isn't there still a danger that some viewers might get the wrong end of the stick and think that the actors are sending up these characters? Whitehouse replies: "Nurse couldn't be construed as laughing at the characters. You can't do something about mental illness without being genuine about the characters. Given the nature of the material, you can't fake it. That would be trite and wrong."
Finally, did the subject matter of Nurse ever get its makers down? No, they say. In fact, they found it "therapeutic" to be able to tell these characters' stories. Whitehouse concludes: "Working on Nurse was actually a labour of love for us; we helped each other through it and found it very uplifting in a curious way."
There's a pause, before Whitehouse cracks one last smile. "Sorry to sound like a proper luvvie. I might make it into both 'Luvvies' and 'Pseuds Corner' in Private Eye with that one. It could be a double whammy!"
'Nurse' begins on 10 March at 10pm on BBC2
Reuse content