"Affable, that's what I am. I'm affable, I'm affable! I'm an affable man! But my public persona is even more affable than I actually am. I'm not as affable as people think…" So gabbles Rob Brydon, over a plate of pasta, to Steve Coogan in the first episode of The Trip to Italy.
The second series of Michael Winterbottom's low-key, largely improvised foodie travelogue has just begun on the BBC, and, as Brydon puts it, "It's very much like the first series." They drive, they eat in nice restaurants, they do impressions, and they bicker competitively – only where last time the cult comedy saw the odd couple tooling round the Lake District in the footsteps of Wordsworth and Coleridge, this time they're doing a Byron and Shelley round la repubblica.
The Trip's joy lies in wondering how much the on-screen "Rob" and "Steve" are like the real-life Brydon and Coogan. It works because we believe their relationship – all natural comic riffs, but also prickly, rivalrous and egotistical. It plays on their public personas: Coogan seems conceited; Brydon seems, well, affable. That he whinges about that persona is typical of the programme's blurring of reality and fiction.
In person, Brydon is affable indeed: full of enthusiasm and praise (and the odd celebrity name-drop), but careful and cautious with criticism or complaint. He chuckles at himself and his success, but also gets properly upset at people who declare certain comedians are categorically "not funny". ("A ludicrous statement! There's no logic, no sense to it. Just say: 'It's not to my taste.'") On the topic of family – he has five children, aged two, six, 14, 17 and 19 – he is genuinely utterly baffled when I suggest not every parent gets on with their teenagers: "Oh! Really? Well, I've been lucky. I adore them – they're the biggest thing in my life… I'm like a father to them!"
But if the Mr Nice Guy personality is grounded in reality, much of The Trip is invented. "Sometimes it's right on the money, it's exactly how I am; other times, not at all," explains Brydon. "The one-upmanship, the voices, the undermining each other – that's a fiction. Because that would be awful."
Which is a relief, really. More surprising, however, is that the friendship itself is invented: Brydon and Coogan weren't pals when they shot the first series in 2010, although they had a long-standing professional relationship. And sorry, super-fans: you're unlikely ever to spy them doing their Michael Caine impressions over a Sunday roast in real life. "He's not one of my friends in the business I seek out," says Brydon, unsentimentally. "In many ways we're very alike, in many ways we could almost be brothers – and then in other ways, we're very different," he adds. "Obviously, comedically we have very empathetic rhythms, we have a chemistry and a shorthand. [But] he's very opinionated, sure of his view of the world in a way that I'm not. I know it annoys him that I'm so undecided about pretty much everything."
Steve Coogan and Rob Brydon: 'The Trip to Italy'
Steve Coogan and Rob Brydon: 'The Trip to Italy'
1/5 'The Trip to Italy'

Coasting it: Rob Brydon and Steve Coogan

2/5 'The Trip to Italy'

Winterbottom says the idea of the sequel is supposed to be "a homage to Byron and Shelley, a pilgrimage to the places they lived in".

3/5 'The Trip to Italy'

As they work their way down from Liguria, through Rome and Amalfi and Capri, so the meals lighten from heavy quail, creamy ravioli, roasted lamb, to calamari, linguine, lobster, accompanied by sunshine-coloured wines.

4/5 'The Trip to Italy'

Brydon remembers that on The Trip around the North of England, he put on half a stone, and this time made some half-hearted efforts not to eat everything that was put in front of him.

5/5 'The Trip to Italy'

Their exchanges make improvisation look easy, but then on-screen they have the air of a long-married couple
 Yet the six-week shoot for The Trip to Italy may have drawn them together. Each night, Brydon and Coogan got to stay in the swish hotel where they'd been shooting, while the crew were packed off to more budget options. And the duo took to having another – unfilmed – dinner together each evening. "Those meals were far more reflective, empathetic, warm affairs. In fact, at one, or I think two, we ended up in tears – talking about life, and the passing of time, our triumphs and failures."
Brydon claims this didn't have an impact on the show, however, despite its constantly evolving, improvisational quality – and he insists that the TV show won't ever see Rob and Steve earnestly indulging in man-hugs and a good weep: "There's not much comic mileage in that – there's more in being in conflict with each other, annoying each other, competing with each other."
Indeed, while Italy may be sunnier than the damp Lake District, The Trip to Italy maintains the melancholic tone that developed during the course of their previous outing, and Brydon acknowledges that, "At its heart, it's a film about two blokes coming to terms with getting older and knowing that eventually they'll die."
For all that, though, The Trip to Italy largely props up Brydon's cheery public image – and it's one that certainly wins him work, from presenting the panel show Would I Lie to You? to the specially written role of Uncle Bryn in sitcom Gavin & Stacey to being hand-picked by Trevor Nunn to star in Alan Ayckbourn's A Chorus of Disapproval in the West End in 2012.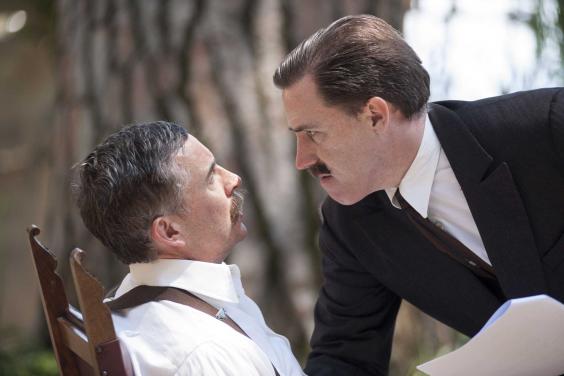 When I ask whether he yearns to play a villain, he points to parts in "straight" dramas, about Napoleon (Heroes and Villains, 2007), and the critic Kenneth Tynan (Kenneth Tynan: In Praise of Hardcore, 2005). "I enjoy those roles, but you can only work with what you're offered," he says, before telling me about his new Saturday-night project, The Guess List, a gather-the-family game show, in which members of the public guess answers to win a prize, with help from celebrities.
So he's all over the weekend – and it is pretty rare to be in a cultish "slow-comedy" such as The Trip on a Friday night, then front a light entertainment show on a Saturday… "I'm amazed I get to do the range of work I do. There is a danger of 'Jack of all trades, master of none', and I don't think you'll ever get treated with particular reverence. But that's a price I'm happy to pay."
Game shows have the advantage of allowing him to stay near his family – with two young children by his second wife, it's important for Brydon to work near their west London home.
Not that he's forgotten those Welsh roots. When I ask if being Welsh has affected his comedy, he couldn't be more effusive, the accent suddenly springing up like a leek: "Ohhh, undoubtedly! Ohhh, entirely! You're the product of your gene pool and your upbringing, aren't you? Oh, yes. Oh, I'm Welsh, Welsh, Welsh."
Back to London, and Brydon – surprise! – only has positive things to say about his other presenting gig, Would I Lie to You?, the eighth series of which starts this spring. As well as the convenience of it being filmed in the capital, there's a bit of a bromance with his co-stars, comedians Lee Mack and David Mitchell. "We have a meal a month or so before we shoot the series, at [one of our houses], and it's been such a laugh."
Would I Lie to You? avoids the vexed issue of "where are all the female comedians on panel shows?" by inviting general celebs on – and Brydon suggests they're often better than stand-ups trying "to crowbar their shtick in". When questioned about what he made of BBC boss Danny Cohen's recent ban on all-male panels on comedy shows, he sighs, pauses, and looks very, very worried: "Any quote you give on this could come back to bloody haunt me… I think Dara [O'Briain] raised a good point when he said the danger now is that when you see two women on a panel show, you'll think, 'Which one is making up the numbers?'. And that's a shame." But, typical see-both-sides-Brydon immediately also expresses sympathy for BBC bosses, who get in trouble whatever decisions they make.
Panel-show politics aside, he feels it's a great time for comedy – both live, and on TV. "I thought Inside No 9 was fantastic, as was House of Fools… and those are two shows I'm so glad have been successful because it's talented, clever, funny people being told to 'do your thing'. I don't think there's been a lot of interference – and you've got really distinctive shows as a result."
A bit like, I suggest, what he and Steve have done with The Trip? He blinks, in that affable way, and says, "Yeah, I suppose so… I think you earn that, don't you, on your record? And that's how it should work: you earn the right to be a bit more experimental. You earn a bit of trust."
'The Trip to Italy' airs on Fridays on BBC2; 'The Guess List' begins on Saturday on BBC1