In Armando Iannucci's biting White House satire, Veep, Sarah Sutherland is the Yin to Julia Louis-Dreyfus' Yang. Playing the Vice-President's college-attending daughter Catherine, Sutherland is becoming more prominent as each season has developed. She's gone from being a neglected pawn in her solitary appearance in season one to being put at the heart of the White House in season four.
Theirs is one of the most insightful, heartbreaking mother-and-daughter relationships on screen. Catherine is constantly battling for the attention of her narcissistic mother. It's a life lived under a foreboding shadow from which she is slowly starting to emerge. If anyone should know about the vagaries of having famous parents it's the 27-year-old actress. Her father is actor Kiefer Sutherland from his first marriage to actress Camelia Kath. Her paternal grandparents are Donald Sutherland and Shirley Douglas.
However, Sutherland is also a prime example of how being independent and zestful can also quickly deflate comparisons with famous kin. I've met her twice. The first time was with a group of actors who she starred with in American indie Beneath the Harvest Sky in 2013. She immediately marked herself out from her peers with her wry humour, and central position. More recently I met her at the Cannes Film Festival where she was starring in Michel Franco's Palme d'Or contender Chronic.
On her own, her friendliness and astuteness became even more apparent. Given her dad has gained a bad boy reputation with his antics, and served jail time for drink driving, it's pretty clear that she's not a chip off the old block. But where she does seem to be following in dad Keifer's footsteps is her ability to produce inimitable performances that ensure her lineage almost becomes an irrelevance.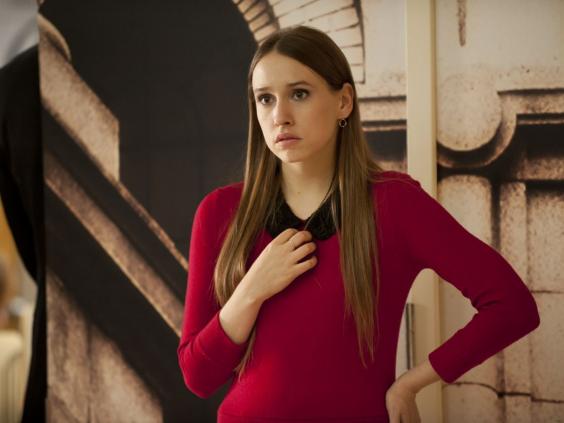 She says of her family tree: "This might sound contrived or untrue, but I've really never thought about the fact that they acted as well. It was just something that I arrived at independently and on my own. I was very lucky that my whole family was supportive and also gave me space to figure it out and do it in a way that I wanted to do it, which was independent and to experience things for the first time." 
If anyone is able to dole out good advice about being the spawn of a famous actor, it's her dad. Her grandfather Donald Sutherland remains one of the true Hollywood greats. Yet when I ask if her father gave her any specific advice based on his own experiences about handing the unique pressure of having a famous parent, she just says, "I know what you are saying, with work especially, but it's not something that we ever talk, necessarily, directly about."
It's away from talking about her family that she comes most alive. The actress has always insisted that Catherine in Veep is not modelled on Chelsea Clinton, or any other daughters that have taken some of the White House  limelight. She says the biggest inspiration comes from riffing with Louis-Dreyfus. Before the cameras start rolling they do a lot of improvisation and rehearsals, desiring to make their on-screen relationship seem mean, but not too mean, while also ensuring there are enough moments of affection. Away from camera, her affection for Louis-Dreyfus could not be more pronounced;  "She is classy, intelligent and warm. I learned so much from watching her."
The show is also a haven for British comedians working in American television. Sutherland says that one director in particular has stood out. "All our writers are British and all of our directors are British and I would say that other than Armando that someone who directed an episode [who stood out] would be Chris Morris. He is just wildly deviant and intelligent. Also Brass Eye. But the truth is, I'm glad that I wasn't familiar [with him] because I probably wouldn't have been able to speak to him as a human."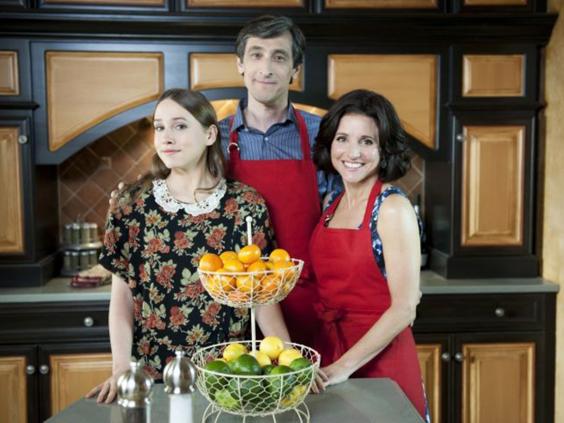 She describes Morris's working method as meticulous. "There was a shot of us walking up and down four stairs and he must have shot it 15 times." When I quip that she was lucky it wasn't David Fincher, who is famed alongside Stanley Kubrick for the number of takes he films, Sutherland shoots back: "I would do a scene 100 times if it was Fincher."
Given the fame of her family, I'm actually surprised by the number of people she  says she hasn't met. Her dad is sometimes  cited as being part of the Eighties Brat Pack, more for his partying than being in any of John Hughes' iconic movies. In contrast his daughter likes to keep things low-key: "I'm not someone if I was to see someone around that I would necessarily go up and say something," she explains. "There is a real time and place to do that. I think it's rare to find it. You don't want it to come across as being opportunistic. I'm not someone who is going to campaign for themselves. I truly believe, and it might sound naive, that if you work hard and approach things with heart, guts, intellect and bravery, then ultimately that won't go unnoticed and that is the most important way in which you can garner opportunities."
It also explains why jumped at the chance to work in Michel Franco's offbeat drama Chronic, in which she plays the estranged daughter of a male nurse who is accused of abusing his patients. The drama remains ambivalent and ambiguous about his guilt. It's a challenging work that started with Tim Roth, who plays the male nurse, beckoning the actress to the pub one afternoon. They talked about the part as Sutherland sipped on water.
 She also had a one-woman show The Skin of a Grape, in which she plays five characters, developed while studying at the Experimental Theatre Wing at New York's prestigious Tisch School of the Arts. She keeps on meaning to revisit it. "Honestly, it's never finished because I haven't had time so ultimately it hasn't been my priority, but it's is truly something I will revisit." However, with the critics singing her praises about her performances on Veep and her movie career taking off, it's unlikely that the necessary moment of respite is going to come any time soon.
'Veep Season 4' airs on Sky Atlantic from 15 July and the whole season will be available on demand at Sky Box Office
Reuse content