Having devoted so much of his career to making shows about spooks, it makes sense that Stephen Garrett should be working with the greatest spy writer of all.
It was John le Carré's work that first convinced the co-founder of television company Kudos that an MI5-based series could be "a bit like" a cop show "only bigger", and Spooks, one of the most successful TV drama and film franchises of the 21st century was the result.
When Garrett surprised the TV industry by walking out of Kudos two years ago, he was promptly approached by The Ink Factory, a company set up by Le Carré's sons Stephen and Simon Cornwell and advised by the great author himself. The result of that collaboration is The Night Manager, a major BBC drama starring Hugh Laurie and Tom Hiddleston, based on Le Carré's 1993 novel. It is the first TV series to be shot in super-high definition 4K.
"That was the most wonderful conversation to have," Garrett says. "It was genuinely Le Carré who gave me the idea for Spooks and I have always been faintly obsessed with spy stories."
There is something "quintessentially British" about espionage, he says. "Because of Bond and because of Le Carré's work, the world associates Brits with spying; we are perceived as having a genuine talent for duplicity, deception and telling lies. It's something we should be incredibly proud of!"
Working with David Cornwell, to give Le Carré his real name, has been inspiring. "He is 85 and he has not just been the godfather of the project but actively involved at key stages." Le Carré attended the day-long read-through of all six scripts in the series, then went to the two-hour notes session that followed. "He even came to a cast and crew dinner afterwards and throughout it all was the sharpest, smartest person in the room, giving immensely classy notes about story structure, character and spycraft."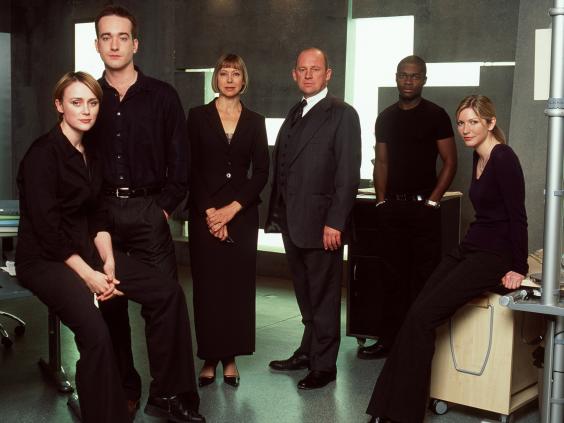 Le Carré was willing to accept a "radical reinterpretation" of his work, including even a change of sex of a central character. The intelligence operative Leonard Burr, a gruff Yorkshireman in the book, is played in the series by a heavily pregnant Olivia Colman, best known for the ITV series Broadchurch. The brave casting by the Danish director, Susanne Bier, presented a "huge challenge" in getting insurance to take Colman for filming in "Morocco and Majorca in the late stages of pregnancy", Garrett says. "But it struck us as a really inspired notion that a woman vulnerable in this dangerous male preserve [of spying] should be additionally vulnerable by virtue of being pregnant".
Le Carré himself was "thrilled" by the change, Garrett says. "He said to Olivia that if he were writing the novel again he would write it with Burr as a woman."
Garrett has founded his own production company, Character 7, and has other projects in development that also feed his spying fixation. The Rook, which he is developing with the Twilight creator Stephenie Meyer and her company Fickle Fish Films, is based on a fantasy novel by the Australian author Daniel O'Malley about an intelligence agency that combats supernatural threats.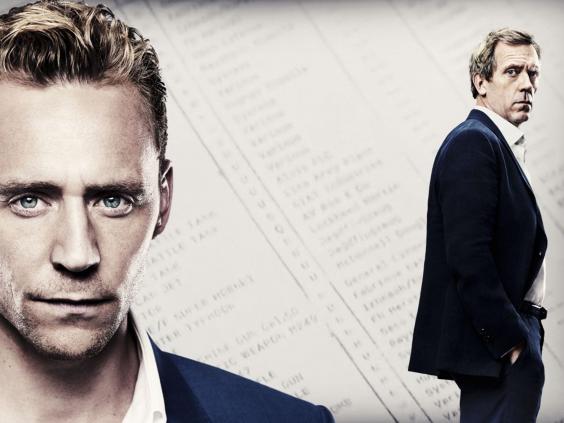 Garrett is pitching another Character 7 project, Shadow Play, as "Mad Men meets Casablanca". It's another spy series – of course – and set in Beirut in the 1950s, when that city was both one of the playgrounds of the Mediterranean and a hotbed of espionage.
We are, says Garrett, living in a great time for television drama.
"There is now an extraordinary opportunity for organically international dramas that are sweeping in scale and not parochial," he says. "Because of the new world order, with the Amazons and Netflix and Hulus who have seemingly unlimited resources and not fixed [schedule] slots, there's no shortage of opportunities."
Spooks, which began in 2002, was based on "self-contained episodes" in an era before viewers enjoyed bingeing on entire series, when tablets weren't yet invented. 
Culture news in pictures
Culture news in pictures
1/30 24 June 2016

US artist Joan Jonas poses during the presentation of her exhibition 'Joan Jonas: Stream or River. Flight or Pattern' at the Bitin Foundation in Santander, northern Spain. The display featuring experimental film and video-installation of pioneering Jonas will be open to the public from 25 June to 16 October 2016

EPA

2/30 23 June 2016

Evie Ferris and Georgia Scott-Hunter, Artists of The Australian Ballet next to one of Edgar Degas' iconic ballet dancer paintings 'Dancer with Bouquets' during the media preview for the 'Degas: A New Vision' exhibition at National Gallery of Victoria in Melbourne, Australia. The exhibition will run from 24 June to 18 September as part of the Melbourne Winter Masterpieces series

Getty Images

3/30 22 June 2016

Figures of characters from the comic series 'Uncle Walt' by US cartoonist Frank King are on display in the exhibition 'Pioneers of the Comic Strip. A different Avant-Garde' at the Schirn Kunsthalle museum in Frankfurt am Main, Germany. The exhibition that features the works of six primarily US illustrators created between 1905 and 1940, runs from 23 June 2016 to 18 September 2016

EPA

4/30 21 June 2016

(L-R) Actors Jonathan Holmes, Paul Moniz de Sa, Daniel Bacon, Chris Gibbs, Jemaine Clement, Penelope Wilton, Mark Rylance, Ruby Barnhill, Bill Hader, Rebecca Hall and Rafe Spall arrive on the red carpet for the US premiere of Disney's "The BFG," directed and produced by Steven Spielberg. A giant sized crowd lined the streets of Hollywood Boulevard to see stars arrive at the El Capitan Theatre

Getty Images for Disney

5/30 20 June 2016

Tony Bennett attends as the Friars Club Honors Tony Bennett With The Entertainment Icon Award - Arrivals at New York Sheraton Hotel & Tower in New York City

Getty Images

6/30 19 June 2016

A woman walks in front of the paintings 'Without title' (1960), left, and 'Come closer' (1960), right, during the opening of the exhibition 'Xanti Schawinsky - From the Bauhaus into the World' in Magdeburg, Germany. The exhibition starts on 21 June and lasts until 25 September

AP

7/30 18 June 2016

Recording artist Johnny Bond (L) and Van McCann of Catfish and the Bottlemen perform onstage at Firefly Music Festival in Dover

Getty Images for Firefly

8/30 17 June 2016

Students from both the Richmond and Covent Garden schools perform for Prince Charles, Prince of Wales, in his role as President of The Royal Ballet, as he visits The Royal Ballet School, White Lodge campus in Richmond Park in London

Getty Images

9/30 16 June 2016

A part of the installation 'The Floating Piers' by Bulgarian-born artist Christo Vladimirov Yavachev known as Christo is seen on the Lake Iseo, northern Italy

REUTERS

10/30 15 June 2016

A unique outdoor gallery has been revealed in Hampstead Heath, to mark the return of the Affordable Art Fair in London. The colourful 'running gallery' previewed seven of the artworks going on show at the fair this week from 16 – 19 June. These works, along with thousands more original pieces will be going on sale as the fair opens – all priced between £100 - £5,000

Oliver Dixon/Imagewise

11/30 13 June 2016

The artwork 'Accumulation: Searching for Destination' (2014-2016) by Japanese artist Chiharu Shiota is on display at the show Unlimited in the context of the international art show in Basel, Switzerland. Unlimited is Art Basel's exhibition platform for projects that transcend the limitations of a classical art-show stand, including out-sized sculpture and paintings, video projections, large-scale installations, and live performances. Unlimited is curated by New York-based curator Gianni Jetzer. The Art Basel exhibition is open to the public from 16 to 19 June

EPA

12/30 12 June 2016

A costumed artist performs with fire during International Kiev Fire Fest show. Teams from Greece, Belarus, Lithuania, Slovakia, USA, Czech Republic, Scotland and Ukraine, take part with their fire-shows in the two-day festival in Kiev

Getty Images

13/30 14 June 2016

A man leaves his house as anotherone walks past murals painted as part of a program of the municipality that aims at rescueing public spaces of the historical center in Mexico City. The murals were made on shops' metallic shutters

AFP/Getty Images

14/30 11 June 2016

People look at an art installation named "Fog Assembly" by Danish artist Olafur Eliasson in the castle of Versailles, near Paris

Getty Images

15/30 10 June 2016

Tomatoes float in an aquarium which is part of an artwork entitled 'Something that Floats/Something that sinks' by Japanese artist Shimabuku during the 13th Triennial of smale-scale sculpture in Fellbach, Germany. The exhibition runs from 11 June until 2 October

EPA

16/30 9 June 2016

Swiss artist, Olaf Breuning, stands in front of his artwork 'Text Butt' (2015) in the NRW-Forum in Duesseldorf, Germany. The retrospective can be seen in Duesseldorf from 11 June until 21 August

EPA

17/30 8 June 2016

An artwork entitled 'Hang it all' by Colombian artist Gabriel Sierra is seen during the exhibition 'Under the Same Sun: Art From Latin America Today' at the South London Gallery. The gallery is the final venue on the exhibitionís international tour, following the Guggenheim Museum, New York in June 2014 and the Museo Jumex, Mexico City in November 2015

EPA

18/30 7 June 2016

An interior shows British artist Michael Landy's artworks in the exhibition 'Michael Landy. Out of Order' at the Museum Tinguely in Basel, Switzerland. Landy is one of the Young British Artists (YBAs) generation that emerged in London in the 1990s. The exhibition runs from 8 June to 25 September

EPA

19/30 6 June 2016

A Banksy mural is left painted on the side of one of the classrooms at Bridge Farm Primary in Bristol. The 14ft piece, showing a child with a stick chasing a burning tyre, was discovered at the school along with a letter to the caretaker and was said to be a thank you by the elusive artist after the school recently named a house after him

Getty Images

20/30 5 June 2016

More than 6,000 Colombians pose in the nude for American art photographer Spencer Tunick at Bolivar Square in Bogota. Tunick, famous for his pictures of huge crowds of naked people, convinced more than 6,000 Colombians to strip down in Bogota's main public square - all in the name of peace

Getty Images

21/30 4 June 2016

Bulgarian artist Christo poses in front of the monumental "Mastaba" art work at the Maeght Foundation (Fondation Maeght) on the opening day of the exibition in Saint-Paul, southeastern France. The exibition takes place from 6 June to 27 November

Getty Images

22/30 3 June 2016

Dutch King Willem-Alexander attents the opening of the SONSBEEK '16: transAction, an international contemporary art exhibition in Arnhem, The Netherlands

EPA

23/30 2 June 2016

A sculpture by Colombian artist Fernando Botero is displayed during the opening of an exhibition entitled 'Botero in Hong Kong' at Central district. The outdoor public art installation showcases nine monumental sculptures by Botero from 3 June to 14 August

EPA

24/30 1 June 2016

Everything by my side, a theatrical performance that sees actors in white beds whisper to individual audience members, created by Argentinian artist Fernando Rubio, is unveiled as it makes its UK debut at Canary Wharf in London. Free to the public from 1-3 June. Everything by my side is presented by LIFT, a London-wide festival of international performance and it is the first time the work has been shown since New York City in 2014

PA

25/30 31 May 2016

Visitors look at the painting 'The Unequal Marriage' (1862) by Russian artist Vasili Pukirev during the exhibition 'The Secrets of Old Paintings' at the Tretyakov Gallery in Moscow, Russia. The exhibition is open from 1 June to 27 August as part of the project 'The Tretyakov Gallery opens its store rooms'

EPA

26/30 30 May 2016

The view of an art installation by the artist group Wanda Barcelona, which is made of 8,000 sheets of A0 paper at the 'Drupa' print media trade fair in Duesseldorf, Germany. Drupa, the world's largest trade fair for print media, takes place from 31 May until 10 June 2016 in Duesseldorf

EPA

27/30 29 May 2016

Musician Alice Cooper and Johnny Depp of Hollywood Vampires perform onstage at Hessentags-Arena during the 56th Hessentag in Herborn, Germany

Getty Images

28/30 28 May 2016

Bosnian artist Vedad Trbonja stands in front of the mural painting of David Bowie during the unveiling ceremony in Sarajevo. The mural is a result of a four-month work of a Sarajevo's group of artists led by Vedad Trbonja. According to its creators, this is the largest mural in the world, dedicated to British rock legend, David Bowie

Getty Images

29/30 27 May 2016

An image of an indigenous Australian man is projected onto the sails of the Sydney Opera House during the opening night of the annual Vivid Sydney light festival in Sydney

Reuters

30/30 26 May 2016

A woman walks on steps lined with plastic cups, an art project of four college students, in Wuhan, China

Reuters
Such formats now "barely exist and no one is really looking for them", says Garrett.
However, he adds that technology isn't always helpful to a TV producer. It has made the creation of suspense so much harder.
"There's no doubt that new technology in general, and computer screens in particular, make a certain kind of storytelling very difficult," he says.
Cybercrime has become the "greatest manifestation" of modern villainy yet "no one has yet found a way to make that interesting" on film. Similarly DNA was a great breakthrough for mankind but a setback for spy and crime writers, and would make a classic tale such as Dial M for Murder unworkable, he claims. "Technology has messed with storytelling in quite a big way."
The ubiquity of mobile phones in real life has made it hard for a suspense writer to create any sense of a character being alone. 
"Jeopardy and that sense of genuine isolation has become much harder to create in the modern world. That classic scene of the girl in the nightdress alone in house ... you end up establishing in some very clunky way: that her phone has run out of juice or she's in a mobile black hole," he says. 
"Pre-1985 is a good time to tell stories where you want genuine tension, because you can get rid of these hideous devices."