"Maybe it's because we both have wrinkles here," says actress Trine Dyrholm, pointing to the skin around her eyes, when I tell her that an English journalist has dubbed her "a Danish Helen Mirren". Physically the resemblance to Mirren is more remarkable than a few smile-lines, and is accentuated by Dyrholm's distinctive short blonde bob, so familiar to devotees of the addictive Danish television drama The Legacy and the result of her being cast directly after a movie in which her hair was cut short. "I was in Love Is All You Need with Pierce Brosnan and I was playing a Danish hairdresser who had breast cancer – it was a romantic comedy..."
In case The Legacy has passed you by, then all I can say is that I'm deeply sorry. Showing on Sky Arts, and therefore not universally available (although there is always the box set), the first series was one of the best TV dramas of the past year or so. There were no murders or dodgy politicians and any of the other staples of Scandi-noir; in fact the show was about an artist and her family. Shocking.
The Legacy, whose Danish title Arvingerne translates as "the heirs", follows the fallout from the disputed will of an internationally famous sculptor – and old hippie who had children with three different fathers – Veronica (played by veteran actress Kirsten Olesen) dies of cancer.
Eldest daughter Gro (played by Dyrholm), an ultra-efficient career curator – is expecting to inherit the family home, a rambling country house, to turn into a museum to house her mother's art collection. Eldest son Frederick (Carsten Bjornlund), an uptight lawyer, also expects to inherit the house for his growing family; and footloose younger son Emil (Mikkel Boe Folsgaard) wants money from his inheritance in order to pay off the Bangkok mafia. Oh, and Emil also had a fling with Frederick's wife, Solveig (Lene Maria Christensen), his sister-in-law.
But it is a daughter who was given up for adoption as a child, an unworldly local florist called Signe (Marie Bach Hansen), who is named Veronica's sole heir in a "deathbed will" – a shock decision that disinters a family history of secrets and lies. Or as The Legacy's creator, Maya Ilsoe puts it: "You don't know your family until you inherit with them."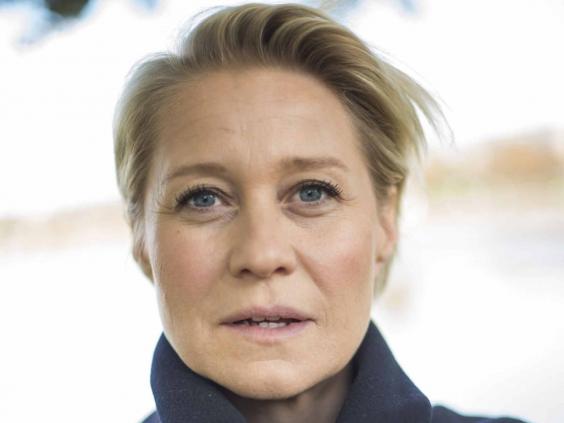 "Gro's the practical one and if Gro hadn't been there her mother wouldn't have been such a great artist," says Dyrholm, over an "open sandwich" at a restaurant in Copenhagen. "She was brought up with the feeling that art is more important than children, and she now has to find her own way in life. What is left? The museum idea fell down. She can't put her mum on a pedestal any more – she has to find out how to live my own life. I think that she loses her moral compass."
Forgery appears to be Gro's speciality – first the signature on her mother's unsigned will, and then her mum's sculptures, to fund her brother's release from a Thai jail.
"She's trying to do the best thing, it's not always the right thing," says Dyrholm. "What I like about the show is that the sympathy moves from one character to another."
The comparison with Helen Mirren is not only physical, but reflects the fact that Dyrholm, 43, has starred in so many major Danish movies, from the 1998 Dogme 95 classic Festen to the Oscar-nominated A Royal Affair and the Oscar-winning In a Better World. But it is The Legacy, made by the Danish state broadcaster that also made The Killing and Borgen, that has brought her to the attention of a British public.
"I was in London and I was recognised. It was so surprising to me," she says. "There was a guy in the airport with his family when I arrived and he just loved the show, and he wanted a photo and he was shaking – he was so sweet. And there was an old lady sitting in a restaurant... I was surprised to be recognised in London because we know that the other series [The Killing, Borgen and The Bridge] have been on BBC4 and we know that Sky Arts is smaller."
Indeed. I recall asking Sue Deeks, the BBC commissioner single-handedly responsible for the kick-starting the whole Scandi-crime import boom when she bought The Killing, why she had not bought The Legacy. Her response was that "we can't buy everything", and I can see why she might have plumped for 1864, the ambitious Danish history epic that recently finished its run on BBC4. After all it had many of the faces from The Killing and Borgen. But I still think that The Legacy is the more accomplished drama – and one not without its own historical perspective. After all, one of the themes of the show is the legacy of what Dyrholm calls "the 1968 generation", one that is perhaps more prominent in Danish life than in the UK.
Her close friend Sofie Grabol (Sarah Lund in The Killing) spent her teenage years in a commune, for example. And, in The Legacy, the family home is almost a character – it's a boho-hippie art commune, where Gro's father, Thomas (the excellent Jesper Christensen), lives in a caravan and creates his own unusual musical instruments when he's not stoned.
"I grew up in an environment which was not so hippie-ish and yet my parents were teachers and I went on demonstrations," says Dyrholm. "It was quite political, free actually, in many ways – I had a very open-minded childhood."
Dyrholm has been famous in her home country since she was 14 and represented Denmark in the 1987 Eurovision Song Contest – you can check her out on YouTube, looking very professional and grown up in a Michael Jackson-style uniform jacket and white baggy pants. "It was an uptempo jazz number called 'Dancing in the Moonlight'... Denmark didn't make it to the final," she says. "I did childrens' radio from when I was 12 to 17 – I made songs and jingles which is why I was connected to the composer."
The second season of The Legacy begins one year on from the end of the first, with a very alternative christening (the identity of the parents is a bit of a tease in episode one so I won't spoil it). Emil is still languishing in jail, Signe is forging ahead with her hemp farm, with no sign yet of her handball-playing ex-boyfriend, Frederick and Solveig are acclimatising themselves to reduced circumstances, Thomas is still stoned and Gro – well Gro has been up to no good with her mother's sculptures.
"The second season is kind of the aftermath of the war – the war within the family – a new order has been established," says Dyrholm. "The first season was about where you come from, and the second season is how you live with that, and the third season should be something about what kind of imprint you leave."
There's going to be a third series then? "Yes, it starts shooting in January," she says.
"What I find very interesting is how we connect with our legacy – we all have genes and parents. When my father was dying I connected with all the people I know – all my closest friends and a boyfriend who had lost his parents – and then you realise that you are not alone. Hopefully that's what Legacy does, it connects with that collective." And to underline her point, Dyrholm tells me that her six-year-old son (with her partner, director Niclas Bendixen) is called Axel, after her grandfather,
She leaves to go home and bone up on her German for an audition for a film. "I cannot speak the language but I can learn the lines," she says. "I've done it before." Already in the can is the movie she has just made with Thomas Vinterberg (Far from the Madding Crowd, and co-founder with Lars von Trier of the Dogme 95 movement), called The Commune. "It's a look at life in a Danish commune in the 1970s," she says. "I'm wearing a wig; it's nice to have long hair again."
'The Legacy 2' starts on Sky Arts on Friday
Reuse content