On Sunday night, Sky Living's annual coverage of the Oscars will kick off just as it always does, with several hours of red carpet interviews. The flash bulbs will flash, the stars will glide down the carpet in gowns by Givenchy and shoes by Jerome C. Rousseau. Occasionally they'll pause, and graciously allow a reporter to shove a microphone in their face. Or will they?
Whether the producers of Oscars TV coverage have noticed or not, there's been a mood change on the red carpet over the last few years and it's a change which many date back to the introduction of the 'mani cam'. That's the name the E! channel gave to their contraption, a sort of mini-catwalk, down which actresses are encouraged to "walk" their fingers, to show off their manicure. High profile actresses including Julianne Moore and Jennifer Aniston have straight up refused to take part, while at last year's Golden Globes Mad Men star Elisabeth Moss presented only one finger; her middle one.
It wasn't only the mani-cam, either. That was just the latest on a list of red carpet indignities that women in the entertainment industry have complained are unfairly visited only upon them. At the 2014 Screen Actors Guild Awards, Cate Blanchett ducked down to the level of a cameraman who was panning lasciviously up her body to ask "Do you do this to the guys?" Then, during this year's Golden Globes, co-host Amy Poehler helped start the #AskHerMore Twitter campaign to encourage journalists to avoid the dreaded: "Who are you wearing?" conversation starter.
True, red carpet rudeness is an injustice that mainly afflicts the wealthy and famous, but it's an injustice nonetheless. Perhaps the best solution involves making red carpets less, not more hospitable. Remember Dennis Pennis? The unforgivably rude 90s interviewer once asked Emma Thompson, "Any plans to make any tampon commercials? Because you love doing all this period stuff…" and that was one of his kinder questions. Still, you could never call him predictable. Until she passed away last year, Joan Rivers could also be relied upon to liven up an anodyne Oscars ceremony with some caustic carpet commentary. Her show Fashion Police continues, but no one does it like the queen of mean.
The red carpets are in need of a revolution, but anyone complaining about the maltreatment of those who walk them is missing the point. At least the 'slebs get some free champagne after their ten minutes of torture. It's the viewers at home, sitting through umpteen versions of the same dull conversation who really suffer. They're the ones who need a change.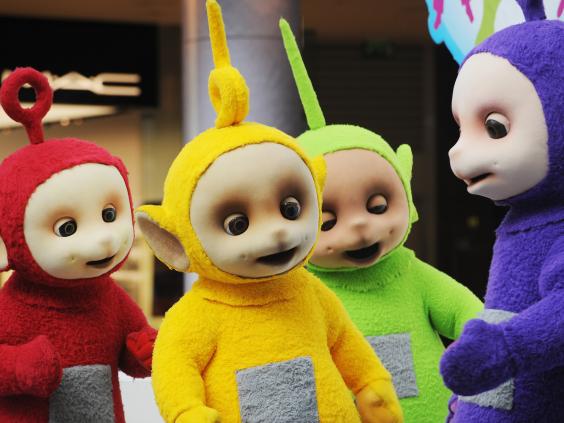 Don't let nostalgia cloud your view of children's telly
As a child, I'd often wake up before 5am on the weekends, tiptoe to the living room and park myself about six inches from the TV. This was in the days before 24-hour television, so being up early meant patiently staring at that BBC test card of the creepy clown doll for what seemed like an eternity. What a relief it was when the cartoons finally started. Sharky & George was my favourite, not because it was the best, but because it was the first.
The television programmes we remember from childhood hold a special place in our hearts, but this fondness often has more to do with nostalgia than merit. Note the mournful tone adopted by Teletubbies creator Anne Wood regarding the upcoming remake: "All my programmes are like my children," she told this week's Radio Times. "It's like seeing a child remade in somebody else's image." Cheer up, Anne! After all, it's not like they're remaking Maid Marian and her Merry Men or Count Duckula, or any of the true classics from my era. Now, that really would be a travesty.
CATCH UP
EastEnders: Episode 1, BBC iPlayer
As part of the 30th anniversary celebrations, iPlayer have made EastEnders first ever episode, from February 19, 1985, available to view in full. It's essential viewing if you want to catch all the references in Thursday's special episode. Was Ian Beale ever so young? What do you mean, he still looks about 12?
Saturday Night Live, Auditions Tape montage, YouTube
As the name suggests, American comedy institution Saturday Night Live is live every week. So when they want to celebrate a major anniversary, they've got to do something different. This montage of the audition tapes of the famous was the best part of last Sunday's special show. 
The Romanians are Coming , 4oD
The bogeymen of UKIP's nightmares get a human face in this unusual, three-part documentary series on immigration. The difference is that it all comes from the point of view of the immigrants themselves, including a brilliantly blunt narration from proud Romanian gypsy Alex Fechete Petru.
http://www.channel4.com/programmes/the-romanians-are-coming
UKIP: The First 100 Days. 4oD
This mockumentary about a UKIP government generated thousands of complaints and accusations of political bias. It certainly doesn't present a positive picture of Farage's party, but then arguably that was the balance. When Channel 4 broadcast Steph and Dom Meet Nigel Farage, back in December, many complained of a different sort of bias.
http://www.channel4.com/programmes/ukip-the-first-100-days
Reuse content