From Porridge to The Likely Lads, writers Dick Clement and Ian La Frenais have created some of British comedy's most indelible characters.
Now the duo are to return to British screens for the first time in a decade with a new sitcom that imagines the reign of a freshly crowned monarch whose conflicted personality bears close comparison to Prince Charles.
Clement, 77, and La Frenais, 79, whose television hits also include Auf Wiedersehen, Pet, made a move to Los Angeles 40 years ago, where they forged a new career writing movie screenplays.
But they have been lured back to British television by the prospect of a "Porridge-in-the-Palace" satire, called Henry IX. Like its illustrious predecessor Porridge – a prison comedy starring Ronnie Barker –the humour in Henry IX arises from a central character who cannot escape a confined situation.
The duo's first original series for British television since 2004 is "a single-camera series on a grand scale set in the fictitious, contemporary court of Henry IX, King of the United Kingdom".
It is described as an "almost universal story of a middle-aged man who is trapped in his life, except this one just happens to be the reigning monarch".
The best TV to watch in 2015
The best TV to watch in 2015
1/13 Game of Thrones

Sky Atlantic, April

HBO

2/13 Poldark

BBC 1, March

BBC

3/13 Fortitude

A murder mystery set in a close-knit Arctic Circle community, with an impressive ensemble cast -Sky Atlantic, January

Sky Atlantic

4/13 Banished

BBC 2, March

BBC

5/13 Ordinary Lise

BBC 1, March

BBC

6/13 Life in Squares

Phoebe Fox, James Norton and Lydia Lynch in 'Life in Squares'

BBC

7/13 Wolf Hall

BBC2, January

BBC

8/13 Better Call Saul

Netflix, February

Netflix

9/13 Mel & Sue chat show

ITV, January

Princess Productions

10/13 Mad Men, Series 7, Part II

Sky Atlantic, Spring

©Lionsgate

11/13 Dementiaville

This series of documentaries explores both the heart-breaking experiences of those with dementia and a ground-breaking new approach to their care - Channel 4, Summer

Georgie Scott/Age UK 2013

12/13 Morning Has Broken

More than a decade since Nighty Night established Julia Davis's reputation for caustic character comedy, she's back with a new creation on Channel 4

BBC

13/13 Cucumber/Banana

Sixteen years after Queer as Folk, Russell T Davies returns with two interlinked series about gay life in Manchester on Channel 4

c.Showtime/Everett/REX
Comparisons with Prince Charles and the way he is likely to reign when he eventually ascends the throne appear unavoidable when the show goes to air on the UKTV Gold cable-and-satellite channel next year.
"Our relationship with UKTV began when they produced a three-part 40th anniversary documentary on Porridge," the writers told The Independent on Sunday. "We enjoyed working with them and when we learned that they were moving into scripted series – over a very nice lunch in Soho – we immediately expressed interest.
"We pitched the idea of an alternative Royal Family. A second Soho lunch sealed the deal and Henry IX became our imaginary monarch."
Prince Charles has inspired other writers before now. King Charles III, the hit West End play by Mike Bartlett starring Tim Pigott-Smith as an interventionist King, is transferring to Broadway.
UKTV stresses that its monarch is entirely fictional.
Clement, from Essex and the Tyneside-born La Frenais have been described as "the Lennon and McCartney of comedy". They met in 1962 when La Frenais was an out-of-work insurance salesman and Clement was a BBC trainee.
A sketch about two cocky northern lads, penned for Clement's BBC director exams, impressed the corporation's bosses so much they were invited to turn it into a series, The Likely Lads.
Renowned for their naturalistic dialogue and ability to craft ingenious plots around larger-than-life characters such as Porridge's Fletcher and the abrasive Oz (Jimmy Nail) in Auf Wiedersehen, Pet, the pair eventually became disillusioned with British television comedy after their 1993 series Full Stretch proved a flop.
Simon Lupton, commissioning editor at UKTV, convinced the duo to return to small-screen comedy. He said: "I outlined the brief of 'modern mainstream'. I explained that it went without saying that, if they had something which might fit, we would of course be interested in exploring it with them.
"As luck would have it, they had been working on a project in the US that felt much more suited to a British audience and they were keen to see if it might be of interest to us. It was."
Always prolific writers, Clement and La Frenais are now working on further UK projects, including a BBC police drama set in the "swinging Sixties". They have also penned the screenplay for You Really Got Me, an official biopic of The Kinks directed by Julien Temple.
The film-makers secured financing for the project at the Cannes film festival, having acquired the rights to the band's catalogue of hits and the autobiographies of warring musical brothers Dave and Ray Davies.
The Best of Clement & La Frenais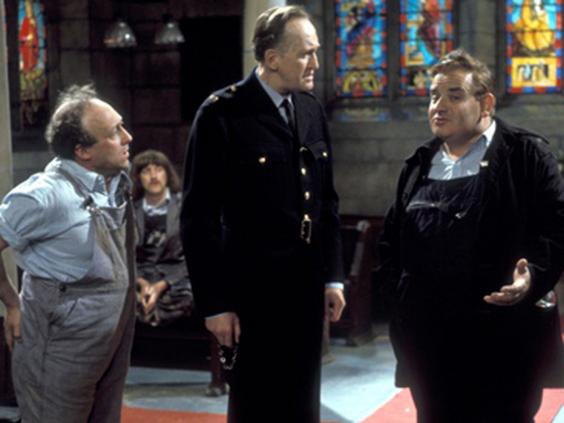 'The Likely Lads' (1964)
Born from BBC trainee Clement's first attempt at a comic sketch, the adventures of two working-class northern lads devoted to birds, booze, fags and football was influenced by "kitchen-sink dramas". The series became one of BBC2's earliest hits and returned by popular demand in 1973.
'Porridge' (1974)
Ronnie Barker's jailbird, Norman Stanley Fletcher, initially caused outrage amid claims the BBC was glorifying prison life. Mixing realism and gallows humour, Porridge soon became a favourite and spawned a spin-off feature film.
'Auf Wiedersehen, Pet' (1983)
Timely comedy-drama following a group of labourers forced to find work in Germany. It aired as UK unemployment hit three million. Made stars of Timothy Spall, Jimmy Nail and Kevin Whately. The ITV show was resurrected for the BBC in 2002.
'The Commitments' (1991)
Author Roddy Doyle collaborated with the screen-writing duo on the big-screen adaptation of his novel about a group of working-class Dubliners who form a soul band. A Bafta best-adapted screenplay winner for lines such as "The Irish are the blacks of Europe. And Dubliners are the blacks of Ireland."
'Flushed Away' (2006)
Animated film produced in  partnership with Aardman and DreamWorks about an upper-class rat. It featured the voices of Hugh Jackman, Kate Winslet and Andy Serkis. The Bafta nominated film was a critical hit for its witty screenplay.
Reuse content