I wish I could tell you that Freddy's BBQ Joint, as depicted in House of Cards, is a real place a la Breaking Bad's Los Pollos Hermanos setting Twisters - where you can go and demolish some ribs and plot to overthrow the government.
But not only is it not a restaurant, it wasn't even filmed in DC.
*Mildest of spoiler warnings*
The rib shack served as a weird metaphor for Frank Underwood's carnivorous approach to politics in season one of the Netflix show, and only became more important in the second when it's high profile customer brought the joint fame and its own range of sauces.
It was designed to show DC's less affluent side, but cast and crew headed to 2601 Greenmount Ave, Baltimore, Maryland to film exterior scenes, in an abandoned building even more dishevelled than the restaurant and with boarded up windows.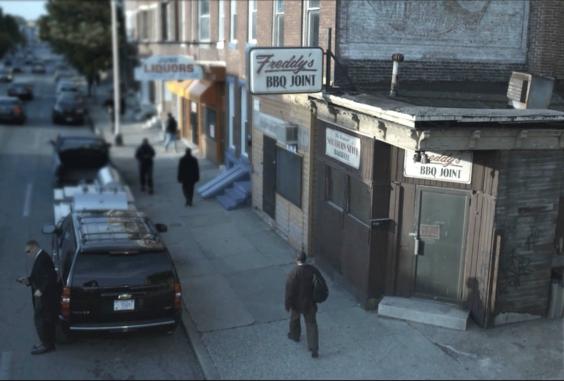 Given Freddy's' miniscule size it obviously made more sense to mock-up the interior of the restaurant, unlike Breaking Bad's famous eatery Los Pollos Hermanos.
Scenes involving Gustavo Fring's fried chicken drug front were filmed at Twisters in Albuquerque, with little being changed about the location and it becoming a hotspot for those fans making the pilgrimage to New Mexico even after the show ended.
Netflix released all 13 episodes of House of Cards' second season on Valentine's Day and has gripped subscribers since, with even President Obama getting involved in the binge watching.