With the Great British Bake Off Baked Alaska scandal now verging on full-scale riots - viewers taking to the streets burning effigies of Paul Hollywood and using scones as projectiles - the woman at the centre of it all, Diana Bird, has come forward to deny allegations of sabotaging Iain Watters' ice cream.
(We'll skip right past the macabre events of the scandal, but you can catch up on them here)
In an interview with the BBC that ran a full seven minutes and covered everything from adequate freezer storage to ice cream setting times and the ethics of making a man serve his dessert in a bin, Diana insisted Iain does not hold her responsible for his departure from the show.
"We were twelve amateur bakers, no prize money involved, why would I want to sabotage Iain's Baked Alaska?" she said.
"I was very pleased to get through the first week, everything after that was a bonus.
"Iain does not hold me responsible at all for his failed ice cream," she continued. "In fact he rang me three days ago to warn me that the knives were out.
"We were all in it for fun...this has made it look like some cut-throat competition."
Misunderstanding the self-parodic anger of viewers on Twitter, the BBC was moved to defend Diana, saying in a statement: "As shown in the episode, Iain became the fourth baker to leave the tent because he didn't present Mary and Paul with anything to judge in the showstopper challenge and both judges were very clear about the reasoning behind the decision.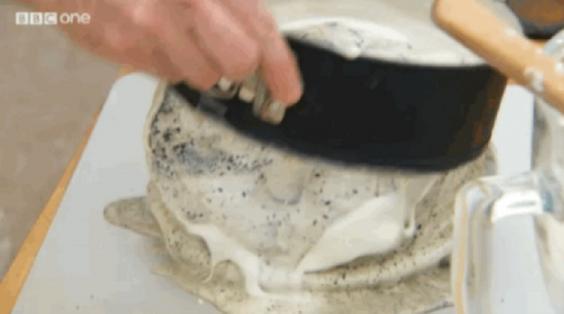 "Due to the extreme temperature in the tent that day, many of the bakers struggled to get their ice cream to set as seen in the episode. Diana removing Iain's ice cream from the freezer for less than a minute was in no way responsible for Iain's departure."
Hopefully this will extinguish the debate for now, at least ahead of the always contentious custard tart week coming up next Wednesday.
Reuse content