As filming continues on Orange Is The New Black season 3, the Netflix show has announced a cookbook that promises to serve up the "bites, booze, secrets and stories" from inside Litchfield prison.
Launching in September, the book will feature 65 series-related recipes, more than 100 photographs, and 12 sidebars that offer new details and insights into the characters, the sets, and the inner workings of the show.
The show isn't an obvious choice for a recipe book, given that Litchfield's cuisine is known for being fairly basic, nausea-inducing and occasionally tampon-filled, but I guess  they'll try and 'gourmet' it up a little.
"The recipes cover three square meals a day, plus snacks/sides, desserts, and drinks," a blurb on the OITNB website states.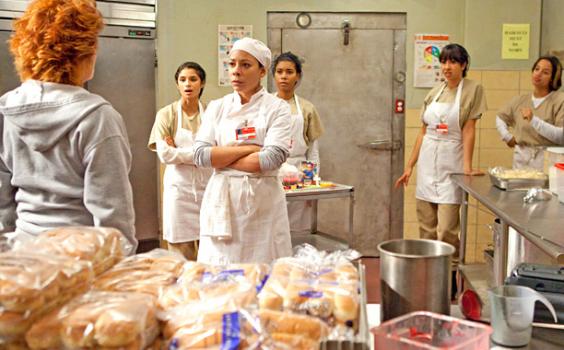 "They include Red's Chicken Kiev, Miss Claudette's Coconut Cake, and Prison Punch. The sidebars include Taystee's sug­gested prison reading list, the recipe for Red's Homemade Homeopathic Remedies, and a prison glossary."
"Chock full of in-depth information about the show, including recipe headnotes by the characters, DIY projects that emulate notable props, and prison factoids that help bring the show to life, this cookbook will bring a little piece of Litchfield right into your very own kitchen."
Orange Is The New Black season 3 is currently filming in New York, and is expected to feature less Larry Bloom and more Alex Vause.
Reuse content