Nick Hewer, the man whose eyebrows speak a thousand words, is set to leave The Apprentice after a decade of passing judgement on Lord Alan Sugar's wannabe employees with the merest twitch of a facial muscle.
Hewer, 70, who has served as PR advisor to the Amstrad mogul since 1983, has been on the BBC1 reality business show since it started in 2005. He said it was the "appropriate time" to hand in his notice, as his "stamina is not what it was". 
On the show Hewer is tasked, along with Baroness Karren Brady, with keeping an eye on the hopefuls and giving feedback on who to fire each week in the boardroom showdown.
He is notorious among fans of the show for his almost Shakespearean asides when the contestants get it wrong – as well as for his withering expressions of contempt.
Nick Hewer's eyebrow judgements
Nick Hewer's eyebrow judgements
1/10 What Nick's eyebrows say

'I'm reserving judgement, but I'm pretty sure you're going to fail badly'

2/10 What Nick's eyebrows say

'That was among the most stupid things ever to have been done on national television'

3/10 What Nick's eyebrows say

'Come on kids, make an effort'

4/10 What Nick's eyebrows say

'I'm watching you, Sunshine'

5/10 What Nick's eyebrows say

'Here we go again, another bunch of...'

6/10 What Nick's eyebrows say

'Oh pull the other one you muppet'

7/10 What Nick's eyebrows say

'Fire him, fire him now Alan'

8/10 What Nick's eyebrows say

'Wahey, that wasn't so bad?'

9/10 What Nick's eyebrows say

10/10 What Nick's eyebrows say
Hewer, who said his decision to leave was "relief tinged with regret", announced his was leaving as he filmed the final of this year's series.
Margaret Mountford, who was his fellow adviser when the show began, stepped down in 2009.
"I've been pondering my departure from The Apprentice for a while and have decided that year 10 is the appropriate time," he said.
"I've enjoyed being part of this wonderful television series for two reasons: firstly, because it's been fun and has opened up many unexpected opportunities for me, but more importantly, because I think The Apprentice is a truly valuable programme, teaching young people the basics of business - not in a classroom setting, but in a wonderfully entertaining format.
"And the winners each year validate the value of the show - talented, creative and hardworking young people, all of whom are making a great success of their businesses."
He added: "So I leave with relief, tinged with regret. Anyone can do what Karren and I have been doing, but it takes stamina to follow the candidates week after week, and my stamina is not up to those long weeks."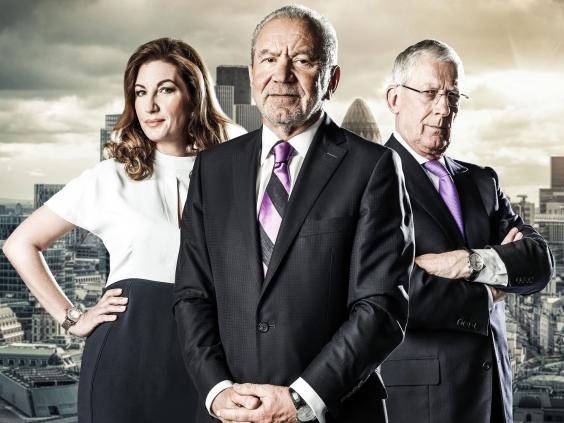 Hewer, who also hosts Channel 4 afternoon words and numbers game Countdown, questioned the abilities of the show's candidates last month and said they were "not the brightest business brains in Britain".
Hewer went into public relations in the mid-1960s and headed his own company for 30-plus years until it was sold in 1997. He has looked after Lord Alan's public profile since the early 1980s and the pair are "firm friends".
His appearance on The Apprentice has led to other TV roles, including presenting The Farm Fixer and The Town That Never Retired.
The Apprentice final will be screened on Sunday night at 9pm.
Reuse content