If proof were needed that money – lovely great heaps of it – doesn't herald immediate Earthly bliss then Channel 4's How to be a Young Billionaire offered it. Not that being wealthy isn't thoroughly smashing. It's just rarely enough to sate the business-minded brains of people like Julia, Josh or Robyn. These bright-eyed, young British tech-y things had taken their talents to California in order to make proper  wealth.
They wanted stonking piles of money. The sort of cash that puts you on a Forbes Top 10 high-roller list and has you shouldering Bill Gates by the oyster stall at non-profit organisation yachting galas. Notably, when the documentary opened all three subjects had, by most of the world's standards, beautifully comfortable lives. I'm just not entirely sure they realised that.
Julia, 21, lived in an exquisite Californian home with her parents. Days were spent on the beach; by night al-fresco dinners took place. Josh, 22, made his first million from the game MinoMonsters and lived between a vast, serviced apartment and the back seat of an Uber Exec car where he hustled for funding. When we met Robyn, 28, talking about her lesbian dating app Dattch at her sister's British home, the kitchen was one of those enormous, state-of-the-art, breathtakingly covetable affairs which made me weep actual emerald tears.
Yet none of them – self-effacing and likeable as they all were – seemed to know they were already "living the dream". Instead there was a steely determination to be the new billion-dollar name in tech. Julia's project was an app called Fess where cheerleaders could swap their darkest secrets anonymously. The idea made absolutely no sense to me whatsoever and I'm sure, as I'm almost twice Julia's age, this would thoroughly delight her. Why would anyone write their secrets down and tell the entire world if they wanted them to remain secret?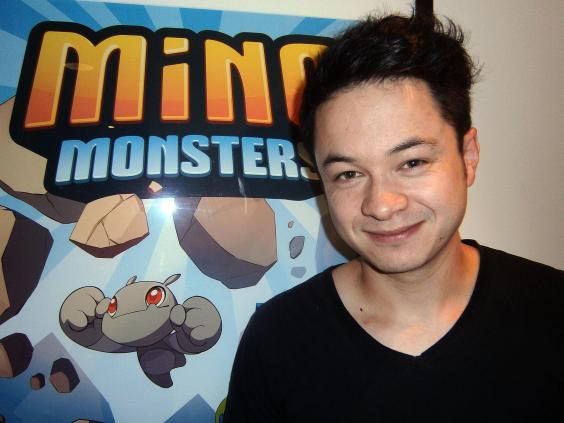 Not that Julia was up to much that needed to be kept secret. She was trying to work out how to print "Fess" across a thousand T-shirts and deliver them overnight to cheerleader camp dormitories. There weren't a great deal of giggles during this tense hour of television, although it was hard not to be impressed by the subjects' drive.
Josh spent much of the show speaking over Skype to venture capitalists, calmly and charmingly asking for a minimum spend of $5m. Knockbacks barely uprooted him. Josh's mother called from the UK to ask if he was enjoying Wimbledon, but he was so engrossed in work – in the hustle for money – he had not even noticed it was happening. Josh hung up and sat on his sofa alone, cuddling his faithful dog. He wasn't homesick, he assured the camera crew. This was just normal. His tech buddies were his family now.
There was a feeling with Josh that being the poster boy for hitting the overnight internet jackpot had been a slightly poisoned chalice. Making a successful game is only the start of the journey. From then on, a game either flourishes – relaunches, gains new players, maintains a buzz – or, in his words, "dies". Josh lived with the ever-present threat of his game's death. At 21, he is so youthful he has plenty of time to let his game die, go and see his mum and spend at least five years enjoying sunsets in the Seychelles and sleeping till lunchtime. His ambition seemed somewhat of a burden.
The best TV to watch in 2015
The best TV to watch in 2015
1/13 Game of Thrones

Sky Atlantic, April

HBO

2/13 Poldark

BBC 1, March

BBC

3/13 Fortitude

A murder mystery set in a close-knit Arctic Circle community, with an impressive ensemble cast -Sky Atlantic, January

Sky Atlantic

4/13 Banished

BBC 2, March

BBC

5/13 Ordinary Lise

BBC 1, March

BBC

6/13 Life in Squares

Phoebe Fox, James Norton and Lydia Lynch in 'Life in Squares'

BBC

7/13 Wolf Hall

BBC2, January

BBC

8/13 Better Call Saul

Netflix, February

Netflix

9/13 Mel & Sue chat show

ITV, January

Princess Productions

10/13 Mad Men, Series 7, Part II

Sky Atlantic, Spring

©Lionsgate

11/13 Dementiaville

This series of documentaries explores both the heart-breaking experiences of those with dementia and a ground-breaking new approach to their care - Channel 4, Summer

Georgie Scott/Age UK 2013

12/13 Morning Has Broken

More than a decade since Nighty Night established Julia Davis's reputation for caustic character comedy, she's back with a new creation on Channel 4

BBC

13/13 Cucumber/Banana

Sixteen years after Queer as Folk, Russell T Davies returns with two interlinked series about gay life in Manchester on Channel 4

c.Showtime/Everett/REX
The most positive of the three tales was Robyn's quest to create a dating app that attracted actual lesbians looking for romance, and not masturbating middle-aged men who wanted to waste a lot of their time. Robyn flew to New York and gave a short, witty speech to investors and the lesbian tech community on the subject of her friendship group's haphazard love-life.
Dattch – now rebranded as Her – was going to solve all the nonsense. No longer would lesbians spend all of their time on dating apps being cajoled to join in with straight couples. No more would they settle for dating the ex of an ex who they met via their flatmate's ex. There were millions of lesbians out there and Robyn intended to unite them.
Michael Birch, the co-founder of Bebo, loved her and offered her funding. "She was super-passionate," he said, from beneath a tumbling pile of locks. Michael, to whom so many went looking for funding, was like a missing member of Radiohead or a Magic Roundabout character. "My wife handles the chequebook side of things," Michael claimed when Josh visited him, looking for funds. I believed him, even if it sounded like a neat sidestep. Michael certainly was an ideas man, and judging by the size of the couple's town apartment, the arrangement was working well. No one on the entire documentary seemed remotely in touch with true happiness, but hopefully someone, somewhere, is working on an app for this.
Reuse content