And lo, another series of MasterChef, the never-ending BBC find-a-chef hunt. I have written about MasterChef, due to its acid reflux staying power, more times than almost any other show. Sometimes I fear I'll breathe my last, in the year  approx 2065, ancient and washed-out like an old negative, slumped forwards on my MacBook, mid-typing "Gregg was pushed on to set in his bath chair. He found the panna cotta  trying on his denture-inflamed stomatitis."
Perhaps the BBC's intention when commissioning MasterChef – endlessly, tirelessly, one strand blending into another, no change, no  deviation – is to shake off TV critics. One day, surely, we'll have nothing left to say? Perhaps the plan is that in order for British citizens to feel the full value of their licence pennies, every living being should have 15 minutes of fame cooking John Torode pasta (which he pronounces "pusta" and enjoys while wearing cowboy boots)?
Perhaps as Top Gear slides down the pan – naughty Mr Clarkson – MasterChef will simply shift up a notch in abundance. More MasterChef, endless MasterChef, OAP MasterChef, Mad Masterchef – Wacky Edition, Dogs Do Masterchef for Comic Relief.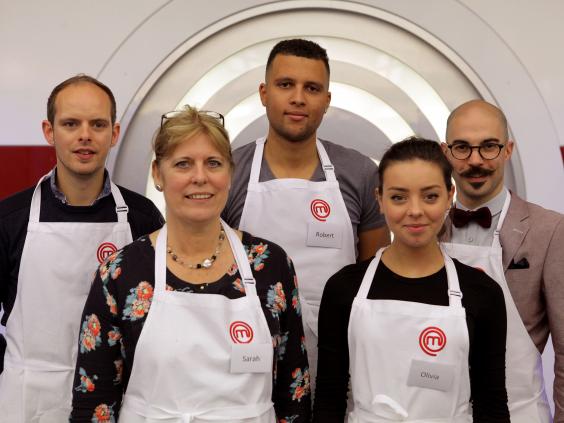 Or, my fantasy MasterChef show: MasterChef: Disgraced, a show purely for hospitality industry figures who have been "let go", banished from the culinary fold due to guest poisonings, alcoholism, workplace bullying or waitress frottaging. Each week, Gregg and John would give a series of burned-out, recent divorcees with bum dermatitis (aka chef's arse), a chance to explain why they burned the forearm of a Lithuanian kitchen porter with a hot pallet knife in a piece of workplace banter gone wrong. Each episode would end up rather like the time Oliver Reed appeared on Terry Wogan in the 1980s. Guest food critic would be me, alone, generally too drunk to eat but magnificently entertaining for two hours before passing out in a plate of veal jus.
Instead, though, we must endure boring old MasterChef amateurs: the one where lots of jelly-elbowed women called Harriet and Wendy smear pesto on plates like a Martian's skid mark. The one where jolly nice fellas called Nigel give up jobs as paediatricians in order to get on with the more noble task of titivating a crème brûlée with edible flowers.
MasterChef winners: Where are they now?
MasterChef winners: Where are they now?
1/10 MasterChef 2014: Ping Coombes

Ping entered MasterChef after being made redundant and now hopes to have a career working in food. She will be publishing her first book, Ping's Pantry, in October 2016, featuring recipes inspired by her childhood in Malaysia. Since winning last year she has also been training chefs for Scott Dunn Travel to cook excellent Malaysian dishes for their guests.

Shine TV

2/10 MasterChef 2013: Natalie Coleman

Natalie, 'the girl from Hackney that did good', has worked with the likes of Tom Kerridge, Michel Roux Jr and Marcus Wareing since being crowned champion. She continues to serve as a guest judge on MasterChef and has written her own book, Winning Recipes for Every Day.

Shine TV

3/10 MasterChef 2012: Shelina Permalloo

Shelina Permalloo launched her first cookbook 'Sunshine on a Plate' last July, drawing on French, Indian, African, British and Chinese-inspired Mauritian cuisine. She now hopes to open a Mauritian restaurant in London.

Shine TV

4/10 MasterChef 2011: Tim Anderson

Fusion fan Tim opened his first Japanese soul food restaurant Nanban in Shoreditch in spring 2013. His first cookbook Nanban: Japanese Soul Food has just been released.

5/10 MasterChef 2010: Dhruv Baker

Baker is one of the few MasterChef winners to go into the restaurant business, and is now a co-owner of Earlsfield Kitchen and The Jolly Gardeners in Wandsworth. He has written his own cook book, Spice: Layers of Flavour, and recently wrote a children's cookery book called Spice Story

Shine TV

6/10 MasterChef 2009: Mat Follas

Mat opened his own restaurant called The Wild Garlic in Beaminster, Dorset after winning the competition. He now has another restaurant at The Casterbridge hotel in Dorset

7/10 MasterChef 2008: James Nathan

Former barrister James has opened a restaurant, The Green Room, in Cornwall and has plans to open another larger one soon. One day he wants to develop a 'sushi, oyster and champagne' bar.

Shine TV

8/10 MasterChef 2007: Steve Wallis

Steve has moved into the commercial world and is now group head of culinary innovation at Two Sisters Food Group. He has been a brand ambassador for Rachel's Organic and The Co-operative Group and was consultant chef for Sainsbury's slow food movement

Shine TV

9/10 MasterChef 2006: Peter Bayless

Peter has worked in Michel Roux Jr's Le Gavroche and published a book called 'My Father Could Only Boil Cornflakes'. Nowadays he works as an independent chef and teaches at various cooking schools

Shine TV

10/10 MasterChef 2005: Thomasina Miers

MasterChef's first winner Thomasina has been the most commercially successful of all the winners so far, opening 15 branches of Mexican restaurant Wahaca. She has also written six cookbooks

Shine TV
The one no one really loves, but hey, it's here now for another 24 episodes. Ever-shrinking Gregg – all eyes and teeth these days – doing a good line in "I'm still excited about this format." I don't think he is. I think his agent is. There are no more words to say about chicken rolled in parma ham. If a turbot is pan-fried in butter and John Torode doesn't taste it, does it still exist? Don't start me on the utterly pointless "Let's do a service shift in a professional London kitchen" round. The round that bears no standing at all in the game show, and is instead just a chance to fill screen time watching amateurs having minor nervous breakdowns plating up poussins.
It must be stressed: there is literally no need whatsoever for any person to enter MasterChef in order to enter the world of kitchens. Entry-level cooking opportunities – if you can handle the hours, the abject misery and living on second-hand chips –are abundant. Open your bedroom window and shout loud enough and a harassed chef will drag you to a stove. The fact that this stark reality eludes most MasterChef entrants is a strong argument against their having access to naked flames and sharp instruments.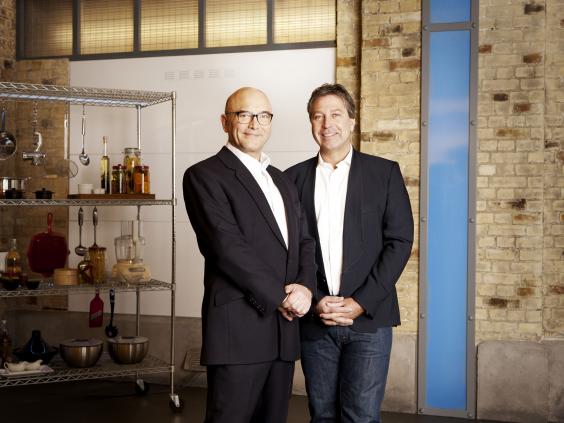 Yet, as this week's new series underlines, there is no shortage of berks clamouring for airtime. Here they come, parading their ostentatious moustaches, offering hard-luck tales, threatening us with their avocado cheesecake recipe. Here they come, telling us that their mother loves their cooking, presenting two big, unsightly, unchopped boiled carrots on a plate like warring angry penises.
The woman who served meatballs, forgetting to calculate how long meatballs take to cook, thus serving Gregg only the side salad, was granted clemency to try again. She then offered a fried fillet steak served with "crushed potatoes", eg, the sort of dinner one might cook for an ex popping by to tackle break-up admin as a purely goodwill gesture.
Minor changes to this series format include moments where the contestants chit-chat at their stoves. Instead of progress, it felt oddly like a television pilot. The one where interns from the TV company were dragged in to produce a taster tape. Still, cooking means the world to them. Cooking is, if you think about it, love. If they could only get a foot in the door, it would make their lives complete. When they inevitably find me dead at my computer, mid-reviewing MasterChef, please make sure people know: I just loved to feed people.
Reuse content