The first time I meet Richard Harrington is on the set of Hinterland, the chilling Welsh detective drama he's starred in since 2013. Fittingly for this Celtic take on Nordic noir, it's a grey July day in Ceredigion, west Wales, all moody skies and intermittent drizzle. The actor is coming to the end of a six-month stint filming the bilingual detective series, known as Y Gwyll (it translates as "the gloaming") in its native country.
The show is filmed in both Welsh and English, giving the actors double the usual workload. It first aired on S4C at the end of 2013, conveniently coinciding with the world's love affair with those dark – literally and figuratively – Scandinavian crime dramas. The likes of The Killing, The Bridge and Borgen, shows with dimly lit scenes, high body counts, chilling scores and trademark clothing for the lead detectives. All were cult hits in the UK and all contributed to making subtitles a normal, even coveted part of a viewing experience.
"We got on the crest of a wave," says a tired-looking Harrington, who plays maverick cop DCI Tom Mathias, a troubled man who has been exiled from the Met to darkest Wales. "What we were making was something really European, not British. We may have hitched a ride, but that will only take you so far: you have to build up your own momentum."
The momentum did build. The show, made by Cardiff-based Fiction Factory, has been sold to more than 150 territories, including runs on Netflix and free-to-air television in North America, where it bagged a top TV award last year. This is, in part, thanks to the tri-format catering for a broad audience. There are three different versions: an all-Welsh one (the third series of which aired on S4C in November), a bilingual version (which this interview is in aid of) and an all-English edition for the international audience. Money to make it came partly from EU funding, cash the crew say made the difference between it making it onto our screen and not.  
The style shares much with its Scandi contemporaries (though the production team say Hinterland was in the pipeline before many of those became big in the UK). Scenes are dark, deaths grisly and almost theatrical. "They're crimes of passion and despair, you have a degree of sympathy for the perpetrators," says Harrington. One episode saw the body of a woman in a red dress carefully arranged on ethereal-looking marshland. The lead duo, Mathias and DI Mared Rhys, played by Mali Harries, both have skeletons in their closets. In Mathias's case those are that he's haunted by family tragedy, is plagued by depression and takes his work home with him, often letting emotions impair his professional judgement. Or, as Harrington puts it: "He's a very compassionate bloke."
Unlike the English detective show Broadchurch, which is known for its light amid the shade, there is little to no humour in Hinterland. "You may get a couple of smiles out of him, f**king hell, I try," Harrington jokes of the third series. (Spoiler: I've watched it, he doesn't quite do it.)
Locations too are almost universally creepy: ramshackle cottages and downtrodden farms surrounded by acres of fields and rugged hills inland. Then grey seas and that otherworldly marshland on the coast.
The day's setting is no less atmospheric. We're at Highmead Hall near Llanybydder, a town on the banks of the river Teifi, that marks the boundary between Ceredigion and Camarthenshire. This is not typically tourists' Wales, although since the show's success, they get busloads coming to visit the locations.
We're in an imposing but dilapidated grey stone building with spires, parts of which date back to the late 18th century. The setting itself is eerie, with peeling paint on the walls and damp that pervades the rooms and leaves everyone wearing their coats indoors. Rooms are lined with shelves stuffed with files and old books. Closer inspection shows that some of the books are copies of the Quran. The building was most recently an Islamic school, closed over fears of radicalisation after a former student, Michael Adebowale, was one of two men jailed over the killing of fusilier Lee Rigby in 2013. Before that it was a boarding school for children with special needs and prior to that, a psychiatric hospital and private home.
Today, it's been fashioned into a modern-day mental health hospital and Mathias and Mared are there to investigate a suicide. I watch as one short corridor scene featuring Mathias is shot four times in Welsh, then in English. Hours of work translates to less than a minute on screen.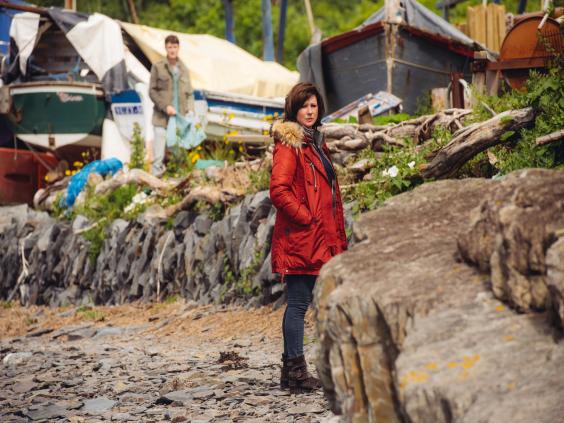 Though he went to a Welsh-language school, Harrington says he isn't fluent (unlike Harries who speaks Welsh at home with children and husband, Matthew Gravelle, currently on screens as Broadchurch's Joe Miller). "You've got to have a f**king command of the language really or it rips you apart," he says later, characteristically sweary, sitting in a back room of the local rugby club ­– the crew's canteen for the day – surrounded by trophy cabinets and photos of burly blokes running around in the mud.
"It's very difficult for me to flit between the two, I'm not clever enough for that really. I've never got used to it. I swear, blame other people." He says he's learned not to be so angry about it, but you sense its something that is still gnawing away, even after so many weeks on set.
"It's like you're on a rollercoaster and it's the best ride in the world, then for some reason you derail and you can't understand why that happened." Just when he's sounding a bit thespy, we see a flash of the sort of humour he probably wishes he could bring to the Mathias role. "I don't know how anyone has sex in the Welsh language, it would be like playing pool with a bit of rope."
Harrington also admits to finding the police procedural element, so closely studied by many actors playing detectives, to be tedious. "If I could have painted eyes on my eyelids I would have done," he says of the enforced research. "They probably get really pissed off with me as I touch everything and contaminate everything I shouldn't, but I don't think it's about that." I think what he's trying to show is that like Mathias, he will not conform.
He also sounds very much like a man who needs a holiday. For the past three series the cast and crew decamped to Aberystwyth for six months, all living together. He would get visits from his two sons, who he shares with ex-partner Nerys Phillips, but it sounds as if time was filled in the local pubs, training for his next race – he's a keen marathon runner – or playing in Hinterband, a group made up of various members of the cast and crew, with Harrington on drums. They gigged in local venues and got a dedicated following for a time.
When asked about his dream role by another journalist, he waxes lyrical about joining an established show for a short stint. "Nothing gives me greater pleasure when an actor comes in as a guest role and grabs it by the balls. And you think, 'I wish I was playing that'." Or maybe just not a part that demands so much out of you
We meet again some months later, this time in the drawing room of a swanky London hotel surrounded by cakes stands groaning with flower-adorned pastries and dainty sandwiches. We're several worlds away from the rugby club, and he looks visibly more relaxed. Or maybe just different, because instead of Mathias's uniform of shirt, tie and brown wax bomber (Mared got a more distinctive red parka), he's in a grey sweatshirt, jeans, Nikes and a wax jacket that look a bit more fashion than Mathias's version – and also like most thirty-somethings I know who work in media and live somewhere towards east London. He's also in black-rimmed glasses that add to the off-duty look. And while he has the face of a man who has lived, shall we say, without Mathias's deep furrows, he seems a youthful 42.
I mention that he appeared worn-down on the set visit: "I'm not an actor who likes to take his work home," he says. "I can pretty much switch on to a job, but we weren't home. We were all staying in each other's pockets. You couldn't get away from it. If we weren't doing that we were in a band together."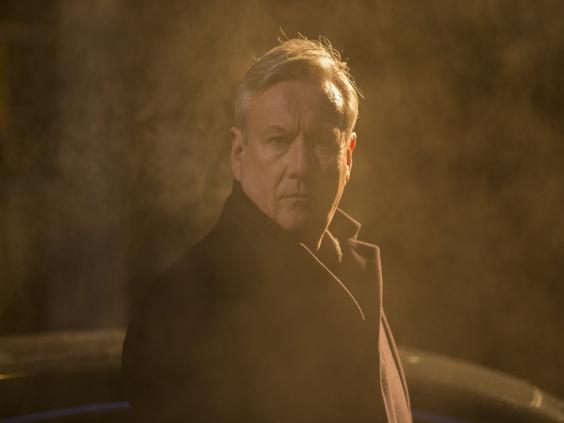 While an engaging and interested interviewee – he remembered where I sat in the rugby club and asks me questions about my degree and where I got my coat from – he doesn't make eye contact for the majority of our half-hour chat; instead, when I ask a question, he looks down at the plate of afternoon tea spoils, concentrating on articulating what he wants to say. I can't decide where he seems more at home: Wales or London. I settle on both. And neither.
Brought up in Merthyr Tydfil, south Wales, he struggled with academic subjects at his Welsh-speaking school and always preferred acting, winning a part on period drama The District Nurse in the mid-Eighties, when he spent time in London. He was expelled from school for a marijuana-related incident (according to one interview, for making a "Camberwell Carrot", as made famous by Withnail and I). At 17, he got a role as a gay rent boy in BBC film Daffyd, which bagged him a Bafta Cymru for best actor. Parts followed in some the sort of TV roles you usually see on a jobbing actor's CV: Casualty, Holby City, Spooks, Dalziel and Pascoe, Silent Witness. Then in 2011, he joined the cast of Lark Rise to Candleford as Gabriel Cochrane, a former foundry owner fallen on hard times. Then the show was axed and he found himself on the dole, before the Hinterland gig came along. In between filming in Ceredigion, he also fitted in playing Captain Blamey in two series of Poldark.
Now though, thanks to Hinterland's international appeal, doors have opened in the States. In the past six months, he has done some stints in LA and bagged a top agent, but he has yet to secure a job and says that it's like "starting again". He tells me that he has consciously steered clear of the Brit pack out there, and that the friends he has made are from outside the industry. So far, so maverick. Then, just when I'm imaging him having a solitary, non-starry life, he mentions that on his most recent visit he stayed rent free in another actor's home. When I ask who it was, he will only say that I would have heard of them but won't divulge further.
He's going for US parts and is working on his voice again. "I've always been pretty good at accents, speaking with the Welsh vernacular, you make such an effort to make the sound. I find lots of other accents quite lazy and withdrawn."
"I think because of the musicality of the Welsh accent, I can pick up pretty much anything. I've always been like that, as a child, I would go and stay with my cousins in England and I would come back with sounding British."
His linguistic identity preoccupies him. "My accent now is not typical of where I come from, they don't have as many vowels as I possess. I'm really happy with the way I sound now, but I think I've found my natural accent. When I'm in LA now, I never deviate from my voice anymore, I sound like me, which is really, really welsh and I'm proud of it."
Most recently, he's put his dexterity to good use and got to do one of those guest parts. He played a Geordie judge in the last ever Inspector George Gently, the BBC1 detective series starring Martin Shaw. Shaw was a household presence in Harrington's youth as he watched Shaw in crime drama The Professionals "as a snotty eight-year-old kid" with his beloved mother.
"I lost my mother nearly three years ago and when I met him [on the set of Inspector George Gently], I was amazed about how overwhelmed I was to be in it," Harrington says. "I was telling him every single day. I think I got on his nerves a bit."
Next up he is filming BBC and Netflix drama Requiem, a six-part psychological thriller by the producers of The Missing, set in Newport. As for the future of Welsh drama in Brexit Britain, he's optimistic. "I think Wales needs to dig deep and find a voice now and get into bed with lots of people," he says. "A country needs a platform to show how rich its culture is. I'm hoping everything will be all right. There's a wealth of talent out there and it seemed like we were going in a really good direction and Wales has always felt very European in lots of ways. [Leaving the EU] doesn't make us less European, it just seem the goalposts have changed a bit and no one seems to knows how it's going to be."
Despite having worked for two decades, he doesn't get recognised and likes it that way. "Beards, haircuts and glasses can change a face completely," he says. In his spare time, he continues to run: he's done the Marathon de Sable, a six-day 251km ultra-marathon and an event so hot that his trainers melted on one of the legs. He did the LA 26-mile race this March. Much to his chagrin, his time was three hours and 50 minutes, fast by most people's standards. "It was awful. I normally go to the bottom of the garden and shoot myself if I come over 3.30. The thing about a marathon anyone can do it but you get to 18 miles and that's when you get find out. And I got found out miserably."
His parting comment to me is to tell me a funny, rude joke, involving a play on words on "dictaphone". I'm not quite sure I've got the measure of Harrington, but it sounds like, Brexit or not, there will be much more screen time to add to the complex picture. 
Hinterland returns on BBC1 Wales on 5 April at 9pm and on Catch-up on BBC iPlayer. It will air on BBC4 in May
Reuse content