Marine experts are investigating after the number of dolphins being washed up on the Cornish coast increased six-fold in a year.
In the two-week period from the start of January, 25 strandings were recorded by volunteers from the Cornwall Wildlife Trust, compared with just four in the first two weeks of last year. 
According to the Cornwall Wildlife Trust, 61 whales, dolphins and porpoises were found dead around the local coastline in the first three months of 2016, the highest number since 2006.
Ruth Williams, marine conservation manager at the Cornwall Wildlife Trust, said a single cause for the marked had not been established, and that she and a team of marine scientists were in the process of examining and assessing the dolphin corpses in a bid to tackle the issue.
"It is very unusual to have such high numbers. The cause of death isn't black and white unfortunately," Ms Williams told The Independent.
"Some animals have got very obvious evidence externally, others are a more grey area, so you need to rely on postmortems, but unfortunately the Government only pays for a small number — only 20 a year in Cornwall — which is restrictive.
The marine expert said one potential explanation could be that there are more dolphins closer to the shore — meaning the rate of discovery when they die is higher.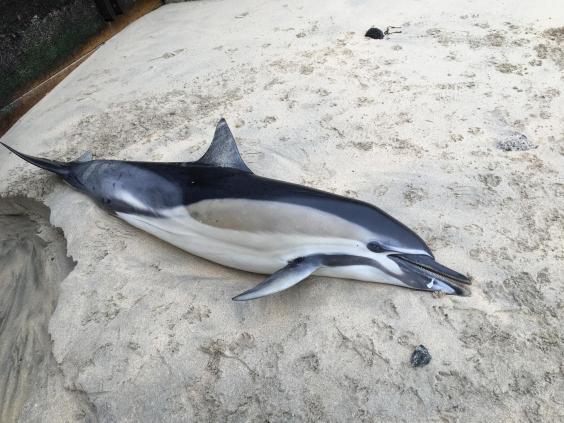 "There has been a high number of dolphin sightings recently. Fish do move around, so the fact that they are close to shore isn't completely unusual," Ms Williams said.
"It could mean we are seeing the deaths more prominently. When they die further out, only around 10 per cent will wash up on beaches."
In December, researchers found that dolphins in Florida were putting themselves at increasing risk of injury and death by getting too close to humans.
An analysis showed that whether being fed or scavenging human left-overs, the animals were exposed to serious danger when they ventured near boats and fishing lines.
Ms Williams said pollution was also likely to be playing a significant role in the rise in dolphin discoveries, as well as attacks by the bottle-nosed species against smaller dolphins.
"Pollution is a major issue, particularly the effects of PCBs, which is a fairly nasty chemical that has got long life in the marine ecosystem and it's not toxic so much to the animals themselves, but it reduces their immunity making them more susceptible to other disease.
"There are also a lot of dolphins that have been quite severely bullied by bottle-nose dolphins. Bottlenoses are known to attack smaller animals. We don't know if it's food-related or a sexual aggression or a mistake identity of infanticide.
"We examine every animal that washes up on the beaches and assess each one individually and look into it in as much detail as we can. We ask anyone who sees anything to report it in so we can get that evidence."
In response to the rise in numbers, Dr Lyndsey Dodds, head of marine policy at the WWF-UK, said: "Porpoises and dolphins are threatened by a range of impacts from pollution, underwater noise from construction and boating, collision with boats and bycatch from fishing.
The most incredible nature moments ever caught on camera
The most incredible nature moments ever caught on camera
1/6 Weasel riding woodpecker

This picture of a weasel riding a woodpecker is pretty incredible. This is what the amateur photographer who took it, Martin Le-May, has to say about it: "As I walked, I heard a distressed squawking and I saw that flash of green. It immediately occurred to me that the woodpecker was unnaturally hopping about like it was treading on a hot surface. Lots of wing flapping showing that gloriously yellow/white colour interspersed with the flash of red head feathers. Just after I switched from my binoculars to my camera the bird flew across me and slightly in my direction; suddenly it was obvious it had a small mammal on its back and this was a struggle for life"

All pictures by Martin Le-May

2/6 A bumblebee and a hummingbird impaled each other to death

"This bumblebee was impaled by this hummingbird. They were both killed instantly," Andy Katz, who spotted the clash, wrote, failing to mention that the two had previously been embroiled in a chase through the streets that saw 15 cars and two trucks wrecked and a shoot-out in a nearby park

Andykatz14

3/6 Meteor over Loch Ness

This stunning image of a shooting star is what award-winning photographs are made of – but the man behind the lens said capturing the sight was an "absolute fluke". John Alasdair Macdonald, a tour guide in the Scottish Highlands, caught the meteor on film, on the west shore of Loch Ness. Mr Macdonald had taken his camera outside to capture some photographs of the stars on what he described as a "beautiful night". But as he clicked away, the meteor soared right into his  sights

4/6 Pregnant Mascarene Petrel

A unique photograph has been taken of a bird with a visible egg showing after experts sent to study a critically endangered Mascarene Petrel on a remote Indian Ocean tropical island encountered an undeniably pregnant member of the species

Hadoram Shirihai

5/6 Black Sea Devil anglerfish

Researchers in the US have released what they believe to be the first video footage showing a bizarre-looking Black Sea Devil anglerfish in the wild. As anglerfish live in the deep sea, they are very rarely seen in their natural habitat, and fewer than half a dozen have ever been captured on film or video in the wild, according to experts at the Monterrey Bay Acquarium Research Institute (MBARI)

Monterey Bay Aquarium Research Institute

6/6 Pine marten

Dave Pearce's photograph is the first confirmed sighting of a wild English pine marten in a century

Shropshire Wildlife Trust
"We await with interest the scientific analysis which will hopefully explain the alarming increase of these species washing ashore.
"These events underline why we must have proper protection in place and we call on the UK government to urgently bring forward the designation of Special Areas of Conservation for harbour porpoise as required under the EU Habitats Directive and highlighted as a significant gap by the European Commission.
"Implementation and effective management of marine protected areas is vital to the bio-diversity of UK seas and the social and economic benefits they provide."