You may not want to dive in, but as it wends its lazy way just west of downtown Cleveland into Lake Eerie, the Cuyahoga river looks, well, sparkling. Rowers take double-sculls on to its waters. Upstream some whitewater stretches have become a destination for kayakers.
This is the river that used to catch fire, so extreme was the pollution that clogged it. The worst blaze, in 1952, caused $1m in damage to boats, bridges and even riverside buildings. When Time magazine wrote up a smaller fire in 1969, an appalled government took heed, passing the Clean Water Act and the Environmental Protection Agency, EPA, which now enforces pollutant standards on industry.
That the United States woke up finally was duly celebrated by President Barack Obama late last month when he unveiled his plans to force deep cuts in omissions of carbon dioxide from America's power stations, many still burning dirty coal. He specifically mentioned the improved air in Los Angeles, where as an 18-year-old he once choked trying to go for a run, and the resurrection of the Cuyahoga.
CO2 emissions: a growing concern
Supported by climate change deniers in the Republican Party, fossil fuel interests will do their utmost to block Mr Obama's CO2 regulations in the courts. With luck, they will eventually fail, but that does not mean that America can yet say it has redeemed itself after decades of environmental negligence. 
New sales figures show Americans rushing to buy bigger cars and SUVs again as petrol prices plummet. And the negligence of the past is not always easy to remedy. I spend my weekends on another once-vandalised river, the Hudson. Because of PCB dumping decades ago by General Electric we still can't eat the fish that swim in it.
Two time zones away from the Cuyahoga, a tragedy is unfolding in the Colorado Rockies. And it's the EPA that's responsible. Waste water from an abandoned gold mine near Silverton, Colorado, is spilling into a small tributary called Cement Creek; this runs into the Animas river, which eventually joins the San Juan river. The spill happened when a crew working at the site on behalf of the EPA accidentally knocked a hole through a dam that was holding the toxic stew in place.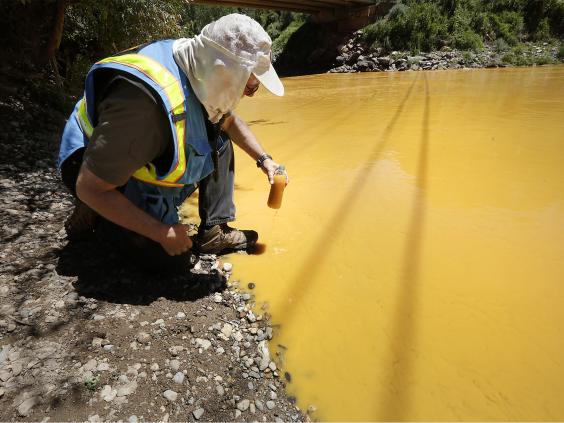 Nothing caught fire this time, but as three million gallons of contaminated effluent escaped at a rate of 550 gallons a minute, the Animas was turned a horrifying orange. In the past few days, the noxious plume, containing a cocktail of heavy metals, including arsenic, lead and cadmium, has entered the San Juan as it leaves Colorado for New Mexico and Utah.
The long-term impact has yet to be fully calculated, but it has been a scary week for those along the rivers. Disaster declarations remain in place in Colorado and New Mexico. Even though the orange hue had mostly dissipated, the Animas remained closed. People living close to either of the rivers were forbidden from using water from their wells, even for showers or baths.
The crisis may be especially grave for the Navajo Nation, for which the San Juan river is not just sacred but also feeds its agriculture industry. This week, ranchers and farmers on the huge Navajo reservation scrambled to stop drawing from the San Juan to water their livestock and their crops.
The Navajo declared it will take legal action against the EPA. "They are not going to get away with this," Russell Begaye, president of the Nation, said. "The EPA was right in the middle of the disaster, and we intend to make sure the Navajo Nation recovers every dollar it spends cleaning up this mess and every dollar it loses as a result of injuries to our precious Navajo natural resources."
Gina McCarthy, the EPA administrator, was due to meet state and tribal officials in Durango, south-west Colorado. On Thursday she will visit spots along the San Juan in New Mexico. "It is really a tragic and very unfortunate incident, and EPA is taking responsibility to ensure that the spill is cleaned up," she said leaving Washington. "I am absolutely, deeply sorry that this ever happened."
So far there is no sign of riverine wildlife dying off. But what happens next is unclear as some of the metals sink to the river beds. "It is really good news that we know that the initial plume has passed," Dan Olson of the San Juan Citizens Alliance said. "However, as a community we still have so many questions that have not been answered. Namely, what was the deposition left behind? And what are the potential health ramifications?"
The Denver Post, meanwhile, notes that hundreds of gallons of toxic water are still leaking every minute from other abandoned mines in the mountains. "These mines are draining as we speak," Bruce Stover, director of Colorado's abandoned mines reclamation programme, told the paper. "We had a disaster last week – a surging amount of water coming out. That same amount of water is coming out over six months and harming the Animas. That water is coming out 24/7."
Flames over the Cuyahoga became a catalyst for a new era of environmental awareness in the United States, celebrated in the REM song named after it. "Let's put our heads together and start a new country up/Underneath the river bed we burned the river down."
There are no songs yet for the orange Animas and fouled San Juan. But both rivers are reminding America that it still has a lot of cleaning up to do before it can call itself environment proud.
Reuse content