Hush descends on a house in rural Hampshire. Dignitaries and guests dressed predominantly in navy blazers have squeezed into an upstairs room. They have come to drink tea and enjoy a buffet of salmon and potato salad – and to catch a glimpse of something very rare. An emperor penguin is about to end its final march from a windswept ice shelf in Antarctica here, in a glass case now concealed by brown parcel paper.
"How often is one likely to receive an invitation to unveil a penguin," asks Quentin Wallop, the 10th Earl of Portsmouth, as he prepares to reveal the dead bird of undetermined sex with the help of his wife, the Countess of Portsmouth. "I don't think one can say, I declare this penguin open, so I think I'll just confine myself to saying… welcome to Hampshire!"
Wallop, who lives nearby in Farleigh Wallop, pulls off the paper wrapping, which briefly threatens to envelop him. There is polite applause. The penguin is beautiful. Its chest is cream and golden, its head angled towards a fluffy grey chick. Had it not died less than two years ago, it would now be starting its walk from the pack ice to its nesting area. Instead, it's here in Hampshire, frozen for ever.
More unlikely than the penguin's new home is, perhaps, its final, 10,000-mile journey to this room. A triumph of logistics and good fortune, it was possible thanks only to the collaboration of: a multimillionaire peer of the realm; a senior British diplomat more used to keeping peace in the South Atlantic; an enterprising professor inspired by 100-year-old eggs; and a one-eyed butcher-turned-taxidermist from Essex, known as "Steve the Stuffer".
The story begins here, where it ends, at Gilbert White's House, the former home of the 18th-century naturalist. It lies in Selborne, a quiet village east of Winchester, and now serves as a small museum that includes an exhibition dedicated to Captain Lawrence Oates. He, you'll remember, was the cavalry officer who achieved hero status in death after leaving his tent "for some time" to help save his starving fellow explorers, led by Robert Falcon Scott, during their doomed race to the South Pole in 1912.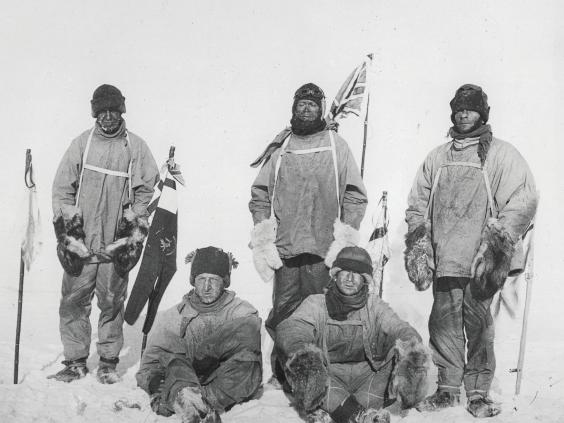 Much less well-known, however, is an equally perilous journey that was concerned with science rather than empire. It was undertaken a year earlier as part of the same Antarctic expedition. In those days, it was thought that the emperor penguin, of which few people had even seen a photograph, was one of the most primitive birds. Studying its embryo, scientists believed, might reveal vital clues about evolution and a link between birds and their reptile antecedents. They needed the eggs to prove it.
After laying her sole egg, the female emperor passes it to her partner, who rolls it with his beak on to his feet, smothering it under his fleshy stomach. While the female dashes to sea in search of food, the male stands for as many as 90 days, losing half his body weight as he huddles with other males in constant darkness, fierce winds and temperatures as low as –60C. It was into this environment that Edward Wilson, Scott's chief scientist, led a mission to retrieve five eggs. Two of them would break as the men returned in what they would later describe as the "worst journey in the world".
"It was, I think, just an example of total British dottiness," Lord Portsmouth says in his speech before the grand reveal. "A group of men risking life and limb... just to collect five eggs."
It was in such a spirit – of adventure and the quest for knowledge – that the Oates Collection has collected replicas of the eggs, which are guarded by the Natural History Museum in London, as well as a set of penguins. They stand together, stuffed on a shelf – King alongside Chinstrap, Gentoo and Macaroni. Yet the grandest and tallest of them all remained elusive. "We needed an emperor," says Philip Geddes, one of the museum's trustees.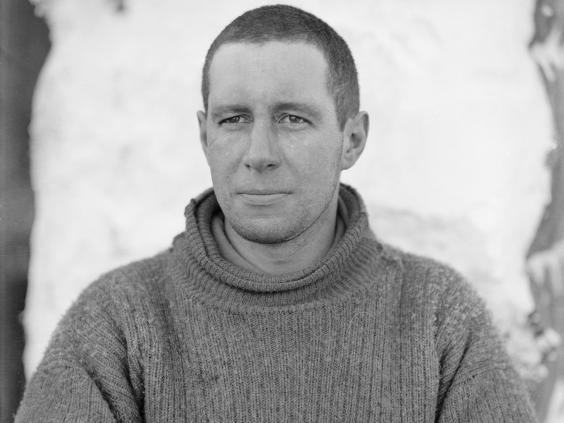 Acquiring a penguin is not easy, least of all for a small museum in Hampshire. Hunting one, as Scott and Oates might have done, was not an option. And even if a dead bird could be found, it would need to be retrieved before scavengers swooped, sent to a taxidermist, stuffed, and transported to Selborne in accordance with strict international laws governing the movement of animal specimens.
Undaunted, Geddes emailed Professor Paul Rodhouse, a marine scientist and senior board member at the British Antarctic Survey, which had worked with the museum before. Could he help? "I didn't have a lot of hope," Professor Rodhouse recalls. "But I emailed our logistics administrator and said: 'I don't think there's a chance but could you put in a request that if a dead adult emperor is found in good condition, it could be collected for us'?"
The Halley Research Station is the very modern legacy of Scott's early endeavours. A line of interconnected mobile modules sit on skis on the Brunt Ice Shelf, floating on the Weddell Sea as the British Antarctic Survey's base and laboratory. When winter ends in August and the sun appears for the first time in months, staff take celebratory trips to Windy Bay, where they marvel at the penguins.
"With any luck, they will find a dead adult in good condition," Professor Rodhouse wrote in an email to Geddes. "Indeed, a competition is already in hand to identify the person who can collect the best corpse." The winner: the base's doctor, Caria Findlater, who was to find, sooner than anyone expected, a recently deceased penguin during a second visit to the colony the following month. The team dug a temporary tomb in the ice outside the station and buried the bird. Months later, on New Year's Eve, they retrieved it, wrapped it in a duvet and packed it in a case for the journey aboard RRS Ernest Shackleton, the supply ship to the base, to the Falkland Islands, almost 2,000 miles to the north-west. There it would meet its taxidermist.
Steve Massam grew up in Hadleigh, near Southend-on-Sea in Essex. As a boy of seven, he began experimenting with dead animals brought in by his family's cat. Later, after an early career as a butcher, he became a freelance taxidermist. Some years and several stuffed giraffes and lions after that, he answered an appeal by the Falkland Islands Museum for a taxidermist to train locals in the discipline. He travelled there for six weeks. Twelve years later, he's still there. "It's quite common for that to happen here," he says by phone from his workshop.
Professor Rodhouse had already asked Massam, who remains the only taxidermist on the Falkland Islands, if he would stuff an emperor penguin. Massam agreed, but had doubts that a specimen could be found, and estimates that no more than 10 or so emperors have ever been stuffed. "The trouble is, the scavengers usually pull them to pieces before you see them," he says.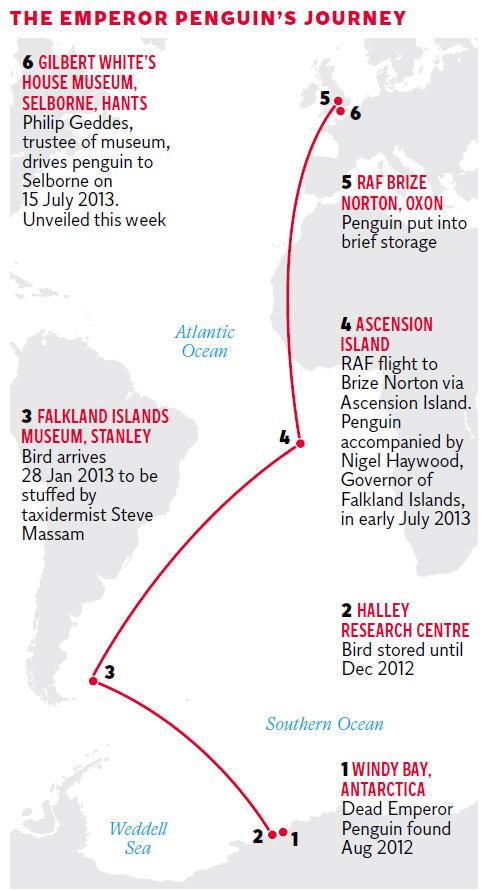 When the animal arrived, Massam was busy, so he put it in the museum's deep freeze. Some weeks later, his tools sharpened again, he retrieved the bird and waited a week for it to defrost. After carefully peeling away the skin as it hung from the ceiling, Massam set about preparing it. "When you turn the skin inside-out, you have to remove the grease from around the quills of the feathers, which are very prickly, while trying not to dislodge any of them," he says. "That took me four days alone."
Massam, whose work reveals nothing of his blind right eye, calls the next stage "tailoring in reverse – you've got a suit and you have to make a body to fit it". He shaped dampened material called wood wool around an armature made of wood and metal. The method dates back to Oates' era but, to get the final look right, Massam had the added benefit of photography and video revealing every feather and movement of the living animals (one earlier specimen stuffed for the Natural History Museum by a less well-informed taxidermist apparently now resembles an "Edwardian butler").
Using a chick that had endured a winter of 20 years in the museum's freezer, Massam modelled his mannequins as a pair, slipped the skins back on and sewed them up. His work was done, but he had not been able to complete it in time for the birds to board the annual British Antarctic Survey supply ship to Britain. It was a blow for Geddes, whose life and conversation had come to be dominated by the penguin. He could not wait a year for the next boat. At his local village pub one evening, a friend of his, a retired Army brigadier, offered to raise the problem with his friend, Nigel.
Nigel Haywood is a Sandhurst graduate with a voice that is equal parts Fry and Laurie. He is also the Governor of the Falkland Islands. Last year, amid new tensions that spread after the 30th anniversary of the Falklands War, Haywood responded to fighting talk from Argentina with a referendum, which showed overwhelming support for continued British rule. As a diplomatic crisis simmered, he also took the call about the penguin. "I remember vividly going into Government House and saying, right, you're going to like this one," he recalls in Selborne, where he has come to see the animal. "We've got to get an emperor penguin from Steve the Stuffer to Selborne."
His Excellency's staff spent a week working with Geddes and the British Antarctic Survey to prepare the paperwork required to get the penguin to Selborne by other means. The documents included "a licence to transport one penguin and chick (Aptenodytes forsteri) to Selborne under the Importation of Animal Pathogens Order 1980, issued by Defra". It demanded, among other things, that the penguins be packaged "so that they fully comply with the requirements of the Post Office".
On 15 July last year, Haywood was due to travel to Britain for a meeting aboard a scheduled RAF flight from Stanley to RAF Brize Norton in Oxfordshire, an 18-hour journey. "The easiest thing in the world seemed to me for the penguin to be part of my luggage," he recalls (Falkland Islanders receive a generous baggage allowance of 56kg; the penguin consignment weighed 40kg).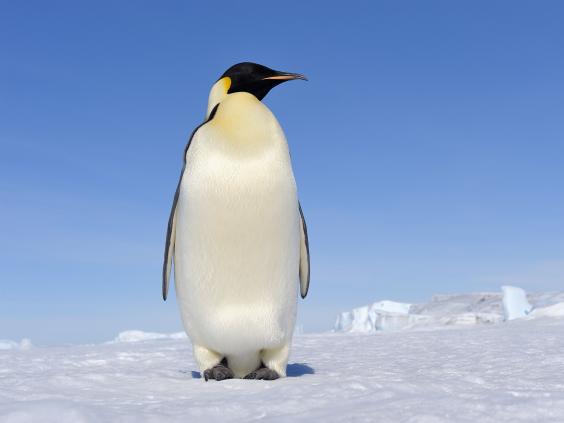 A few days after the penguins completed their first flight, Geddes arrived in his car with more paperwork required to release them for the final leg of their journey. A glass case was commissioned and space cleared in the Oates gallery before the unveiling on Monday, also the anniversary of Oates' birth and death. It brings to an end a two-year odyssey of which, perhaps, a Victorian explorer would have approved.
For Lord Portsmouth, an Antarctic enthusiast who paid for the taxidermy, operation penguin has been a triumph of British determination in the modern age. "Now that we seem to have become a nation of food hygiene inspectors and state-sponsored busybodies, it's just wonderful to come to a place like this and reflect on the heroes we once produced," he says.
Geddes says the penguin was at one point going to be called Quentin, but Lord Portsmouth demurred. Instead, local schoolgirls won a competition to name them. The adult, which Steve the Stuffer thinks is female, will be called Aurora. Its chick is Pepper. "It was wonderful, absolutely marvellous," Geddes says of the event, as the blue blazers march out. "I've stood and looked at this bird and thought about it for such a long time... I rather see it as a curious symbolism. Because the story of Antarctica is so gripping but, also, it isn't dead. We still have people going there, risking their lives to achieve something, living on the edge in the way these beautiful penguins do all the time."
Reuse content