The trial of two migrant workers accused of murdering a pair of British backpackers in Thailand last year has opened amid allegations Thai authorities coerced the accused into a confession and mishandled evidence.
Hannah Witheridge, 23, from Norfolk, and David Miller, 24 from Jersey, were found dead on 15 September on a Koh Tao beach.
Post-mortems revealed that Ms Witheridge, who had been raped, died after being struck on the head while Mr Miller was killed by being struck on the head and drowned.
Thai authorities arrested two Burmese migrant workers, Zaw Lin and Wai Phyo, both 22, after a frantic two-week investigation following the discovery of the body.
As the trial of the men opens today the families of Ms Witheridge and Mr Miller have flown to Thailand's larger Koh Samui island, where the trial is expected to conclude in September. Verdicts will be returned in October.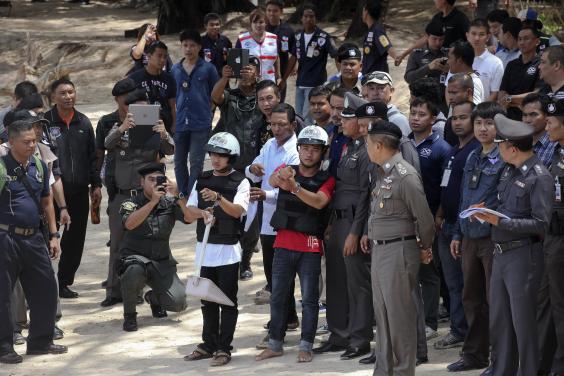 The two Burmese migrants, bar and restaurant workers, retracted their original confession – made shortly after their arrest – claiming they had been intimidated and beaten.
Their legal teams alleges Thai authorities failed to properly collect evidence at the crime scene, threatened suspects and witnesses, and accused the prosecution of failing to share key forensic evidence with the defence ahead of the trial.
Thai Royal Police deny any wrongdoing.
Evidence collected from the beach, including semen from Ms Witheridge and cigarette butts, was claimed by the authorities to link the migrant workers to the case but advocates for the men requested that the evidence be reviewed.
The trial is expected to open with a decision from the judge on this matter.
"We're confident that the request will be allowed as it is key to a fair trial," Andy Hall, International Affairs Adviser for Migrant Workers Rights Network, told CNN.
"(The forensic evidence) is the main evidence for the trial. We haven't seen any evidence (besides the disputed DNA samples) to link them to any of the crimes."
Alongside the Thai investigation, UK authorities have been involved in the case – although a Met Office spokesperson emphasised to The Independent that their involvement was strictly limited as observers.
"We hope the truth will be revealed," defence lawyer Nakhon Chompuchat told reporters before walking into the courtroom today.
"We hope the mechanism of justice in Thailand ... will have the same standards of international countries."
Additional reporting by Press Association
Reuse content