Kris Cook was almost half-way into a cycling challenge when the 36-year-old suffered a cardiac arrest and died in front of his girlfriend, Nicola Tait. The incident during the Ride London-Surrey 100 on 10 August made national headlines, inspiring thousands of strangers to leave donations at Mr Cook's online charity page.
The following month, at an event in the cyclist's hometown of Woking, audience members said the celebrity psychic Sally Morgan appeared to invoke his spirit, describing a bicycle, a man called Kris with a "K" who wore Lycra shorts, and the name Nicola.
Today, as separate allegations were made about violent and homophobic threats by Ms Morgan's husband in an encounter with a psychic-awareness campaigner, Ms Tait described her distress after being alerted to the Woking event by audience members.
"This has now upset myself and family a lot to hear the account that was told that evening to hundreds of people," she told the Woking Advertiser. "I am left to feel upset, betrayed and even more confused... I do not think any of us should have to suffer any more or be put through any more pain."
Ms Morgan, 63, is a renowned psychic who appears frequently on TV and tours the country with sell-out live stage performances. Princess Diana and George Michael have been among her celebrity fans, but she has critics, too.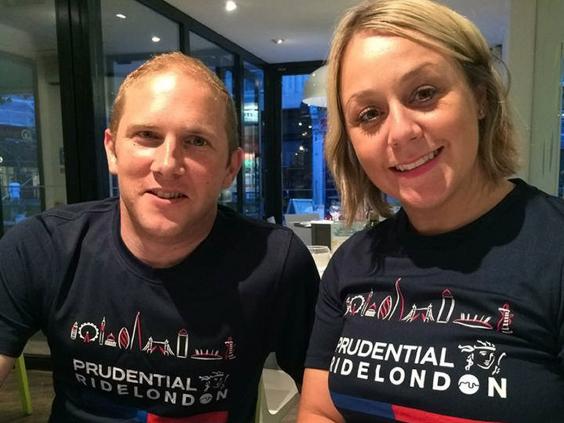 Sharon Griffiths was at the event in Woking, and alerted Ms Tait via Facebook. "Kris was the first spirit that came through," she said. "[Morgan] said she wanted to put it out there because his name was spelt unusually with a 'K'. She said she could see he was wearing tights...  [and] was getting the name Nicola."
Ms Griffiths, 29, who said she went to the event "with a lot of hope" after her father's death in February, added: "After the interval, [Ms Morgan] said Kris was coming back and showing her a bicycle. She said she could see he wasn't wearing tights, but Lycra cycling shorts."
A spokesperson for Sally Morgan Enterprises (SME) said neither Ms Morgan nor the company had been aware of Mr Cook's death. A statement continued: "[We] have been in contact with Nicola Tait, given her the transcript of the message and have offered to assist her further should she wish to speak with Sally... this is a private matter."  The dispute comes as a video has emerged online in which John Morgan, who is also his wife's manager, verbally abuses and threatens a man who had been handing out leaflets to people arriving at one of her shows in London.
Mark Tilbrook began attending the psychic's shows in Manchester, where he lives, in March. His leaflets, entitled "Look after yourself", offer advice to people attending any psychic with the hope of hearing from someone who has died.  "I wanted audiences to have the information they needed to make informed decisions about what they're seeing," Mr Tilbrook, 30, said.
Mr Tilbrook said Mr Morgan did not agree and in Manchester "came out and told me to fuck off and that he would punch me if I didn't leave".
Video: Sceptic Mark Tilbrook confronted by family of Sally Morgan
Mr Tilbrook said he faced repeated threats at a subsequent show in Liverpool. Before a third show in London on 30 April he concealed a camera in his jacket. In the video, Mr Morgan approaches Mr Tilbrook and warns him that he is being sued for libel. Mr Morgan then makes threats including, "I'm gonna knock you out one day" and "one day you're gonna be lifted and you'll disappear somewhere". Daren Wiltshear, Mr Morgan's son-in-law, then arrives. Mr Morgan says: "Right, so I'm gonna hit you in a minute, I'm gonna knock you out." Mr Wiltshear adds: "I've seen him do it, and you really don't want him to do it." After further legal threats, Mr Morgan says: "You know, you look pale. Are you on drugs or has someone shagged you too much? One of your boyfriends been up your arse?"
When Mr Tilbrook, who has continued to hand out the leaflets, blogged about the encounter, he said he received a notice of legal action from Ms Morgan's lawyers. He eventually contacted the Good Thinking Society, founded by Simon Singh, the science writer who has faced legal threats himself, including from Ms Morgan. Mr Singh also put Mr Tilbrook in touch with his lawyers and Good Thinking has launched a "psychic awareness month" inspired by Mr Tilbrook's actions. Mr Tilbrook agreed to publish the video online and volunteers are handing out versions of his leaflets at psychic events every day in October.
"What Mark is doing is incredibly and utterly reasonable," Mr Singh said. "He's just asking people to think about what they're seeing... to be given such abuse and physical threats is just shocking."
In response to questions about the video, Sally Morgan Enterprises said "it would like to apologise for any offence caused by the material. Since April 2014, Mark Tilbrook has targeted Sally Morgan's live performances, handing out leaflets to audience members. On several occasions theatre staff have had to call the police in order to get him removed".
It added: "Due to the continual presence of Mark Tilbrook and John Morgan's ever-growing concern for Sally, he reacted angrily and out of character. Sally was not aware of the comments made in this video. She is very upset by the events, does not condone any of the behaviour."
Mr Tilbrook says he has never seen the police, nor ever been "removed" from a Morgan event. He adds: "I have never approached John Morgan or anyone from Sally's team when handing out leaflets. On every occasion they have gone out of their way to approach me."