I think it was during episode three that I nodded off during the showstopper round. A man in his early 30s, dinner on a tray, slippers on feet, desperately trying to stay awake to watch a Welsh prison governor with a goatee try to make a lion out of some bits of bread. I probably had some food down my front. 
And yet, that unplanned snooze notwithstanding (I caught up the next day on iPlayer, of course), I am a Bake-Off sceptic turned addict who is just about young enough to be Mary Berry's grandson. I am also, therefore, a big part of the reason for the show's runaway success as we approach the business end of series six. It's crazy how popular The Great British Bake Off has become. It started modestly in 2010 with around two million viewers. Reviewers were unconvinced. In a scathing column, the Daily Telegraph dismissed it as "a budget X Factor for diabetics". But after consecutive leaps, the same format, with the same presenters and judges, has pulled in 12 million viewers this series – figures of which Simon Cowell can now only dream. On average, Bake Off is drawing 2.5 million more viewers than last year – about the same number that The X Factor has lost. Moreover, fans are increasingly young, in defiance of logic and modern TV trends.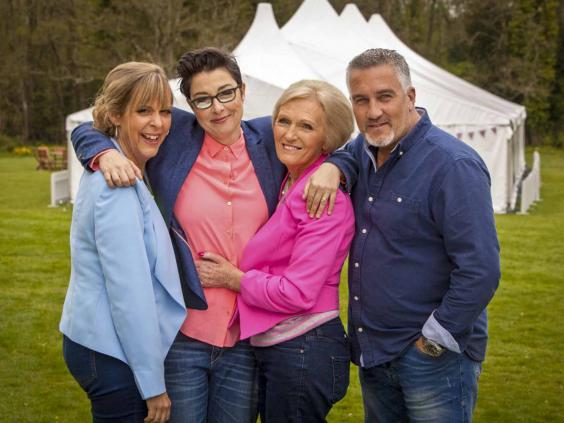 A colleague's student daughter, another convert, reports leaving a friend's 21st birthday party with a group of fellow Bake Off nuts at university last week to watch grown-ups pipe cream into pastry "horns". She's even finding ways, which may not be legal, to watch old episodes online. Meanwhile, young office workers up and down Britain are getting fat thanks to their own bake-offs and more than a third of viewers are under the age of 35. Just about sneaking into that bracket, I can tell you why audiences keep growing and why a lot of them are young. It starts with a fear of missing out. After five years of resistance, I felt ground down, like an organic spelt flour, by the annual water cooler chat about scandals involving baked Alaskas and the unexpected thrill of watching stuff rise slowly. So I abandoned my usual debauched Wednesday night routine and ditched my prejudice against nauseatingly middle-class Twee-V (I still stop short of Strictly). But now there's no going back. I came to learn what all the fuss was about; I stayed for the Spanische Windtorte and Nadiya's facial gymnastics. Yet Bake Off is about more than the cakes and the characters, however enticing they can be. As escapism, there can be nothing as sweet, as easy to relate to, or as free of any real jeopardy than watching a bunch of sometimes boringly normal people with relatively ordinary talents (it's baking, not playing the violin) struggling to make stuff in a beautiful marquee. 
When things risk getting more serious than a contest involving icing sugar should, Mel and Sue are there to keep it real. Yes, they can be annoying – I hate the way that they say "ready, set, bake!" every episode – but their dusting of comedy remains a key ingredient. And the recipe for success, which emerged at the height of the recession, is equally appealing to any age group, at a family-friendly 8pm. Bake Off bridges seasons and the back-to-school gloom, as well as generational divides.
Above all, it's warm, like a televisual bath. As judges, Paul and Mary don't know how to do nasty. Susan Boyle would have had a much nicer time, had she been better at making structurally integral eclairs than singing "I Dreamed a Dream". In reality TV terms, Bake Off is as guilt-free as "hot" Tamal's sugar-free polenta cake from episode five, when Nadiya emerged as my favourite to win. This week, she will do battle in a chocolate-based quarter-final. I'll be there, sitting like a schmuck in my slippers and my best "indoors jumper", any residual sense of cynicism long since sieved out of me, and I'll probably stay awake. 
Judge me – I don't care.
Reuse content