We have the world at our fingertips. Look at us all! With our Instagrams, Hipstamatics and Twitpics. With our Facebooks and Tumblrs and hashtags. We're blogging and vlogging and tweeting and humblebragging. We're updating our statuses and taking our selfies while uploading our lives on to USB sticks and burning a CD for backup just to be sure. It is gridlock on the digital highway and we have all come of information age. So what do we choose to do with all this power? We make mouse mats from that blurry photo we just took of our pet Labrador.
The cover of a recent issue of Time magazine heralded the arrival of "The Me Me Me generation". It has become an accepted fact that 10 per cent of all the photos ever have been taken in the past 12 months. Put these two things together and you begin to understand the craze for personalised items that reaches its peak at this gift-giving time of year and, perhaps, its nadir in those 30in x 40in canvas prints of barefooted families that really set off the wall above the sofa.
But before we get too sneery, let's admit that we've all done it. A calendar for grandma. A jigsaw for the niece or nephew. A mug for dad. Which of us can claim to be free from the me-ification of a well-chosen gift here and there? They are affordable, useful and each is unique.
Dr Ruth Mugge is an associate professor of consumer research at Delft University of Technology in Holland. In 2009 she conducted a study into the attachment that Dutch students felt towards their bicycles and whether there was a difference between the group who customised their bikes with paint and motifs, and those who didn't. She found that although the products were essentially the same, those who had personalised their bikes felt stronger attachment to them and considered them to be more valuable and irreplaceable.
"It is the same with products that have our photographs on," she says. "People invest time and effort in these items and because of that they become an extension of their identity and a means of self-expression."
So my family wanting to drink out of mugs with our photos on is not a sign of our egocentricity spiralling out of control? "I don't think so," she says. "When I was a child we had lots of photos and we'd give pictures to others in our family. People like to share positive experiences with one another. From a psychological perspective, these are the things that make us happy. The icons or symbols of our personal relationships trigger our subjective wellbeing."
And what better gift to give than something that triggers wellbeing? Which explains the rise and rise of specialised personal-product printing – an industry that has survived and thrived through recession. Because while you can now make that magic mug materialise in Boots or your local branch of Snappy Snaps, the smartphone boom means we are far more likely to download an app or visit a website and bring our vision to life with nothing to do but wait for it to pop on to the doormat a few days later.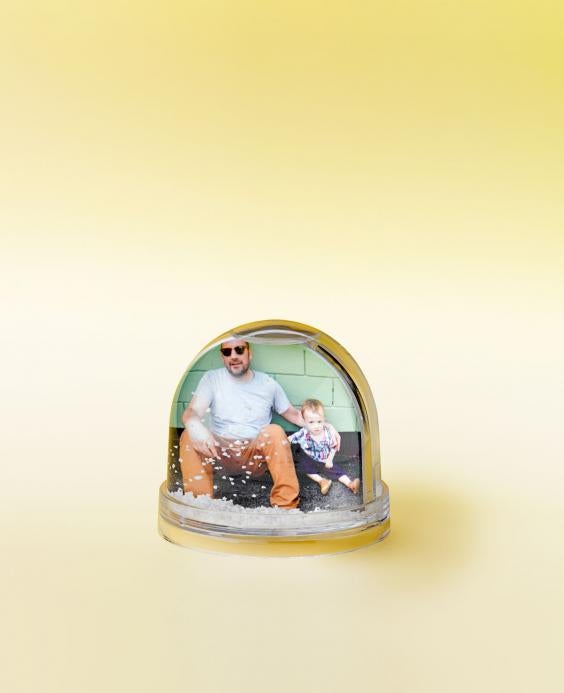 Enter the likes of Vistaprint, Snapfish, Shutterfly and PhotoBox, the last of which covers Europe, Canada, Australia and New Zealand and employs about 400 extra staff at this time of year to cope with an estimated 2.5 million orders in December alone.
Now a sprawling enterprise with factories in London, Paris and Guernsey, the PhotoBox empire comprises four main businesses (PhotoBox, which makes posters, "Photobooks", mugs and mouse mats etc; MoonPig, which specialises in personalised greeting cards – and annoying jingles; StickyGram, which turns Instagrammed photos into magnets; and Paper-Shaker, which concentrates on invitations and baby-announcement cards and so on).
PhotoBox's revenue last year was £147.6m, a year-on-year growth of 16 per cent, which is some distance away from the company's beginnings in a shabby lock-up in London's Clerkenwell in 2000. "About a year in, I got this horrible feeling that we were too early," says Graham Hobson, 48, the company founder and chief technical officer. Hobson got the idea over breakfast with his wife one Saturday morning in 1999. "I said, 'I think digital cameras are going to be a big thing. Kodak and Boots don't do digital prints and wouldn't it be sad if future generations never got to touch, hold and share printed photographs.' My wife said, 'Don't give up the day job,' but I told her, 'I think I have to.'"
Hobson rented a garage, bought a Fuji Minilab Frontier printer, attached a dial-up modem and waited. "The website launched on 11 May 2000. That day I got one order for £2.70. I remember it well; it was 10 pictures of planes taken at an air show. Digital photography then was mainly for hobbyists and semi-professionals."
The introduction of Apple's iPhone in 2007 changed all that. Suddenly, we were all walking around with decent digital cameras in our pockets. Business boomed and Hobson had also by then fully exploited the fact that his customers wanted gift ideas. He'd invested in heat-press technology that enabled him to print on mouse mats, T-shirts, coasters and placemats. Then, someone had the idea of producing an online template for a calendar. "That," says Hobson, "was our killer product."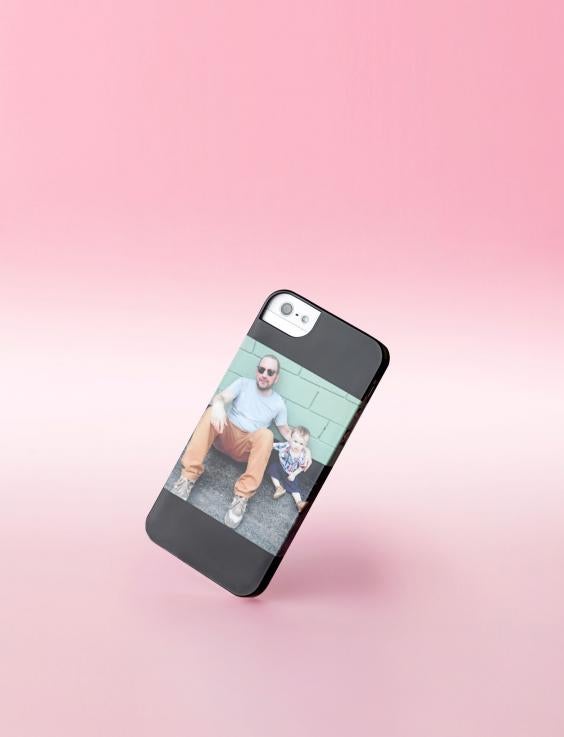 The company's latest "killer product" is the smartphone case cover. "We sold a million within eight weeks of launch last year," says James Lawrence-Jones, the UK technical production and supply chain director at the company's factory in the Park Royal area of west London. While the smell from the nearby McVitie's biscuit factory permeates the air outside, around us machines are churning out pictures from all over the world that will be sent out as photographs or printed-on products.
The most exciting thing about this sort of business is that nobody knows what is going to happen next. The managing director of PhotoBox declared recently that, "Eighty per cent of the products we will be selling in five years' time don't even exist yet." And in the corner of Lawrence-Jones's office is a shelf full of the shopping tote bags and cushions that will no doubt see the light of market soon. Is there anything they won't print?
"Saucy is OK – we do lots of T-shirts for stag parties, for example – but we obviously have to draw the line at certain images," says the customer experience director Helen Ellis.
Quality control is key to PhotoBox's business, and if the company doesn't think a picture is good enough, there will be somebody in the customer-service team who will speak whatever language is required and make contact with the recipient before going ahead with production. "The motivation for this business is not just to sell people products, but to realise the emotional value," says Hobson. "I have friends who have ordered Photobooks and I've heard the stories of what happens after they are given. There's always tears involved. We like to make our customers cry. That's why we're here."
That and to make products that will bear our images long after we are gone. Because life is ephemeral, but a mouse mat is for Christmas and for ever after.
With thanks to all at photobox.co.uk
Reuse content