Few of us would describe our home as a "concrete oasis amidst the yin-yang complexion of living in the City" but those are the exact words of one resident of the Barbican towers in the City of London.
"Bustling with City workers during the week, then a relative ghost town at weekends. [It's] the best of both worlds," adds the resident, only identified as Nigel. That is the pleasure afforded to those lucky (and frankly, wealthy) enough to live inside an icon of modern archiecture. 
Nigel is among tenants to be featured in Residents: Inside the Iconic Barbican Estate, a new book which gives an inight into the lives inside 22 of the homes. Designed by architects Chamberlin, Powell and Bon, the Barbican complex was built during the 1960s and 1970s. The estate contains an arts centre, and a public library. The flats cost between £350,000 for a studio to upwards of £1.5million.  
The Independent spoke to photographer and resident Anton Rodriguez about what it is like to capture the lives lived out inside the concrete behemoth. 
Residents: Inside the Iconic Barbican Estate - in pictures
Residents: Inside the Iconic Barbican Estate - in pictures
1/29 Eleanor & Tomos

"I used to walk past…before I understood what Brutalist architecture was, and even though I thought it was a weird, futuristic council estate full of keen gardeners, I felt drawn to the building."

2/29

Anton Rodriguez

3/29

4/29

5/29

6/29 Lucy & James

"Our flat has my favourite of all Barbican windows; the ground floor lounge is double height, faces the lake and has an inverted arch window. Watching ducks out of the window is a pure joy."

Anton Rodriguez

7/29

8/29

9/29

10/29

11/29

12/29 Marianne & Wayne

"We love living here and have found it to be a fantastic place to bring up children. The residents' gardens have played an important role in that."

13/29

14/29

15/29

16/29

17/29 Nigel

"A concrete oasis amidst the yin-yang complexion of living in the City; bustling with City workers during the week, then a relative ghost town at weekends- the best of both worlds."

Anton Rodriguez

18/29

19/29

20/29

21/29 Olivia & Adrian

"I love so many things about the flats; the ambitious features like the hand-textured concrete, the calm podium walkways… and countless smaller details, like the deliberate shadow gap where the internal walls meet the ceilings."

Anton Rodriguez

22/29

23/29

24/29

25/29 Olivier

"I cannot imagine living anywhere else in London anymore. Once you move to, and experience the Barbican…you never leave."

Anton Rodriguez

26/29

27/29

28/29

29/29
Why is the Barbican such an iconic building?
I think it's an iconic building because it's a Brutalist building in the heart of the City of London. Also because it's much more than a residential estate, it's a city within a city. There's not many places in London where you can live and sometimes not leave for many days.
Why were the flats revolutionary when they were built?
Every detail was thought through by the architects, from the utility cupboard next to the front door for your rubbish collection, to the heated concrete floors and compact kitchens that Brooke Marine, yacht designers, worked on with Chamberlin, Powell & Bon.
Is there a particular style that lends itself to the design of the apartments?
Not so much, it's all a matter of personal preferences. I've been in such a mix of interiors within the Barbican, from mid-century to Victorian. That is what I like about this project, its allowed the public an inside glimpse into the inner of the estate and shows the personal taste of each resident.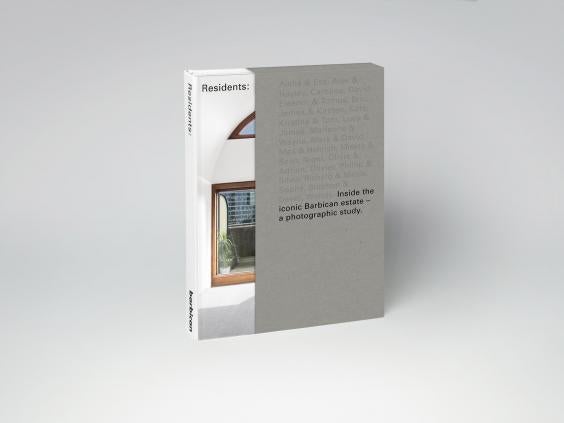 What is the most shocking flat in the book? Anything particularly "out there"?
I wouldn't say any of them were shocking, but some are out there. I personally loved "David" the architect, he has bright green carpets with yellow walls, I don't think I could ever be that daring with paint choices but when you see someone who has done it, it looks fantastic
What do you say to people who still dismiss the Barbican as ugly?
Look at my book! [laughs]. I guess I often say "Don't judge a book by its cover", Although the exterior is brutalist can often be seen as depressing, it's completely the opposite once you have actually spent time within the estate/centre. We have a lakeside area, residents gardens, children's playground and beautiful quality of light inside our flats.
What do you hope people will take away from the book?
That we're not all rich snobs [laughs]. There is large mix of different classes and people within the Barbican. Not everyone is an artist and there are such things as families living here. I would just like people to give it a chance, and not judge it by its exterior.
Residents: Inside the Iconic Barbican Estate is out now. 
Reuse content