Uniforms, and uniformity. Those were the overriding themes of the autumn/winter 2015 menswear collections, played out in rapid-fire across the catwalks of London, Milan and Paris (with a brief stopover in Florence, for those suited to suiting).
In fact, scratch that. They're the overriding themes of menswear as a whole, the foundations that much of the industry was built on. British tailoring is rooted in military garb, its much-vaunted precision a reflection of painstaking officers' standards.
That's only one kind of uniform. There are others, too. Modern sportswear is the uniform of the professional athlete. It's remarkable, at least to me, that so many men choose to pack themselves into a tautly tailored suit reminiscent of a City banker when they're off track and field. Meanwhile, those trackies and trainers have, in turn, become a uniform for quite a different tribe: disaffected youths swigging cider in bus shelters.
Autumn/winter menswear collections 2015
Autumn/winter menswear collections 2015
1/8 Autumn/winter menswear collections 2015

Valentino

2/8 Autumn/winter menswear collections 2015

Rick Owens

©Valerio Mezzanotti

3/8 Autumn/winter menswear collections 2015

Raf Simons

4/8 Autumn/winter menswear collections 2015

Christopher Shannon

©2015 Christopher Dadey

5/8 Autumn/winter menswear collections 2015

Bottega Veneta

6/8 Autumn/winter menswear collections 2015

Craig Green

©2015 Christopher Dadey

7/8 Autumn/winter menswear collections 2015

Prada

©Monica Feudi/Feudi E Guaineri

8/8 Autumn/winter menswear collections 2015

Alexander McQueen
There's safety in numbers – a pack mentality among many blokes. My use of the word "tribe" just then felt entirely appropriate because, like the Sharks and Jets of West Side Story, dress helps to demarcate what side of the fence you sit on. Friend or foe? Kindred spirit or arch enemy? That's reflected in high fashion, too. It's a bit like a rock concert: if you like the performer, you buy the T-shirt. Or, in fashion's case, the several thousand-pound suit. They're uniforms not only to identify friendly troops, but to help craft your own identity.
That said, we're talking fashion. The natural instinct for many is to chafe against the restrictions imposed by a uniform. Perhaps that's why the latest round of menswear collections twisted and turned (and occasionally tortured) the tropes of menswear to avoid uniformity, while still providing an instantly recognisable uniform.
Raf Simons's winter collection, with its torn hems and moth-eaten sweaters, evoked a sense of student disarray. The hems, however, were exquisitely lined; the holey sweaters intarsia-knit. It felt like Simons captured youth and pinned it, like a butterfly, under glass, preserving it for eternity. Junya Watanabe cleverly chopped and patchworked the archetypal tuxedo, while Rick Owens was inspired by the costume of black-and-white post-war U-boat films. Think Das Boot, in cashmere.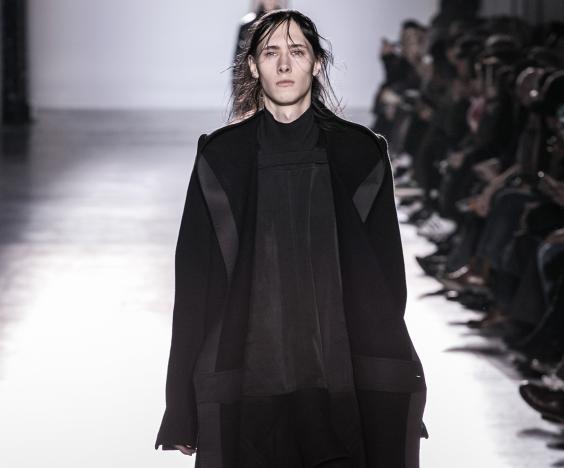 I'm not referring to the genitalia seen bobbing, like sea-urchins, through "portholes" (back to that uniform theme: Privates on Parade), but to nautical classics such as pea-coats and Shetland knits, which Owens carved away to send them crashing wave-like around the body. He added go-faster stripes of sequins (four stripes instead of three) as an "failed attempt at order".
Interestingly, portholes of open space puckered the surfaces of knitted sweaters in Craig Green's London show a week earlier. The idea was protection and vulnerability, Green said, not the order of those windows on to trembling flesh (placed higher than Owens's, they just flashed a gash of toned torso) but of the collection as a whole. Cotton jersey was knotted together like sutured war-wounds, army fatigues reconfigured with trailing ties and flaps of fabric covering the flanks in a palette dominated by fatigue green and a brutal scarlet. Suddenly, those cut-outs looked like bullet-wounds. It was subtle, nuanced, and certainly more interesting than a simple use of camouflage or khaki to denote man as warrior. If Green's men were soldiers, you weren't sure if they were on the winning or losing side.
War. What is it good for? Making men look sexy. So say the history books: everything from the first tailored garments in the 13th century, to slashing in the 16th, came from the sex-appeal of the swaggering, victorious soldier.
I was reminded of the extravagant, exaggerated battle-slashed clothes of all those 16th-century noblemen in Christopher Shannon's show, of all places. He ran the poppers normally fastening the sides of tearaway scally tracksuit bottoms in strips up and down his polyester shell-suits, allowing wearers to deconstruct and reconstruct at will.
Battling, sportswear-clad teenagers are the lawless soldiers of urban estates, marauding and pillaging at will. At least, according to the Daily Mail. Shannon wasn't glorifying their exploits, but with plastic bags wrapping heads like combat scarves and sweaters bearing slogans such as "Broke" and "Thanks 4 Nothing", he was reflecting a dark facet of the reality of 21st-century society.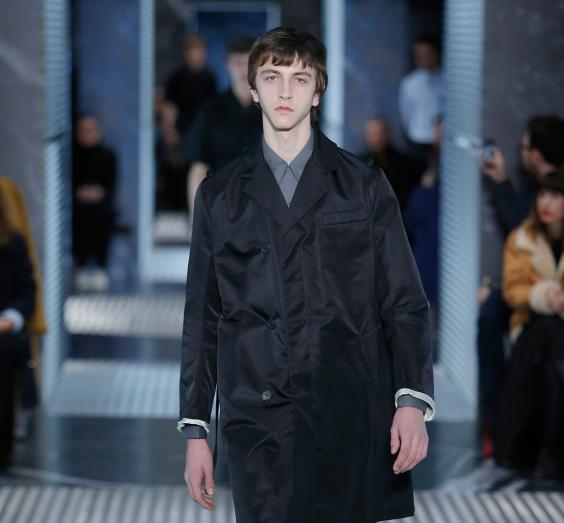 There are lighter uniforms, though – next winter isn't all war (to wear) and famine (to get those cheekbones). In Milan, both Bottega Veneta and Gucci sought to evoke the uniform of the artist. Or maybe arriviste – there's nothing cheap about the wares proffered by either of those labels. The penniless types that their skinny silk scarves, billowy man-blouses and painstakingly rumpled jackets sought to evoke couldn't afford a keyring from these designers.
But both Bottega's Tomas Maier and Alessandro Michele, the designer who was announced on Wednesday as both the hand behind that show and Gucci's new creative director, are good with an arty palette – chartreuse with yolk and a pillowy marshmallow pink at Bottega; ink, sage green and ochre at Gucci. Even bought bohemian rhapsody can have a certain dishevelled flair.
There was nothing dishevelled at Prada. If there was a crease – say, giving a nylon shirt a boxy volume in the sleeve, or precisely pleating a skirt on the womenswear paraded alongside the men's – it was entirely intentional. The uniformity of Prada's offering harked back to the introduction of the label's signature Pocono nylon backpack in the early Nineties.
That backpack heralded the advent of minimalism and, after a crafty mood for the label's spring womenswear show, this was a return to the beauty of the man-made, the flat-packed. Those clothes looked crisp, square, two-dimensional. Were they utopian, or dystopian? Like all next season's uniforms, they were a bit of both.
Reuse content