I started out this season with thoughts of the Middle Ages – even before Dolce & Gabbana educated us on the Norman conquest of Sicily in 1061. Namely, I was thinking of the pourpoint, a 14th-century garment with a gargantuan padded chest, designed to be worn under the extreme convex breastplate of a then terribly newfangled invention, plate armour. It was the first time the body had been radically altered by the cut and construction of a garment. And it was for men.
That puts paid to many people's assumption that fashion's transformative power is restricted to the realm of women's clothes – corsets  and crinolines, bustles and bombast. The London designer James Long based his autumn/winter 2014 collection on cosplay, a pastime where practitioners don arcane costumes to emulate characters from comic books and cartoons.
The same could be said of menswear as a whole. Not just the suiting, which so often feels like Dickensian fancy dress rather than real clothes for real blokes, but many designers' preoccupation with sports-suiting. Few men are permanently, perennially clad in such extremes. The middle ground is where real men's wardrobes lie. It's where the most successful of the season's collections sit, too.
Middle ground doesn't, by definition, mean middle-of-the-road. Clothes that appeal to the real lives of real men don't negate fantasy. It's like cosplay: you dress for the life you hope to make a reality, not the other way round. And, of course, tailored suits and tracksuits both mean work: in the office, or in the gym. Surely it's more exciting to make clothes for men to play in. That sounded a bit wrong, but you get my gist.
That said, my definition of middle ground is, probably, more fluid than most people's. To my mind, JW Anderson struck the perfect balance. Ignore the  shoes – high-heeled high-jinks to distract attention and net a few headlines – and focus on the sweaters in camel, or skinny intarsia, the double-breasted coats, the boxy jackets. They were real. For some, too real, but it was nice to see clothes winning out over concept. Sarah Burton's autumn/winter outing for Alexander McQueen was similarly satisfying. If sometimes the McQueen menswear has fallen into convoluted dramatics, this time it was well contained and sharp. There was a gothy, street undercurrent – the show was staged in the church that once housed the Limelight club, to set the tone perfectly – and even when the clothes were brocaded or embroidered, they never felt precious.
There's nothing precious about what Craig Green does, or Christopher Shannon. At least, these don't feel like clothes to be entombed and guarded. Shannon's show was a scally orgy of Bri-nylon tracksuits and fag-packet intarsia knits. But every piece was canny, intriguingly cut. Stealth intelligence. It looked like brainless sportswear, but was anything but. Craig Green's extraordinary hand-painting was applied to hardy cotton canvas. He eschewed his trademark constructions and instead elongated his line to the floor. Interestingly, both offered skirts for men. But they were masculine skirts, swaggering, packed with machismo. They were convincing. That's something I always find difficult when designers put men in skirts.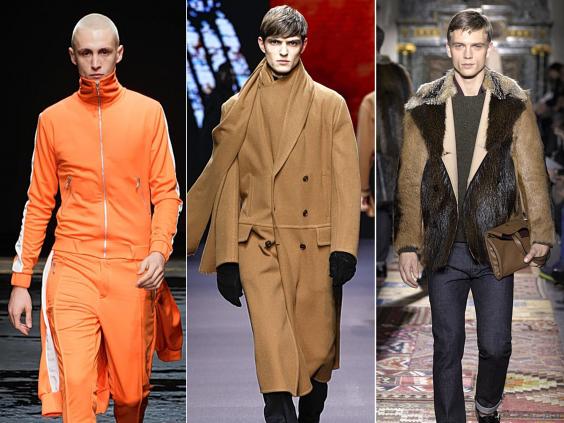 Miuccia Prada didn't skirt her subjects, but she did feminise. The feel was cabaret, a sly sensuality, the menswear underscored rather than undermined by the presence of women on the catwalk. You drew a parallel between the skinny stretch-chiffon skirts of the female models and the fine-gauge knits of their male counterparts. Bonnie and Clyde for him and for her, with a sleazy touch of Christopher Isherwood's Berlin. It made compelling viewing.
Valentino wasn't sleazy in the slightest, but Maria Grazia Chiuri and Pierpaolo Piccioli's approach to menswear is equally about fusing traditionally feminine notions with the demands of a 21st-century masculinity. That didn't mean skirts, but homme couture, drawing on the house's traditions of handicraft, but translated on to a male form. A clutch of its clutch coats were handmade in the Valentino atelier in Rome's Piazza Mignanelli. The price, like the couture, will be haute. But men are willing to pay for that luxe.
Tomas Maier's Bottega Veneta and Stefano Pilati's Ermenegildo Zegna retail a similar fusion of unapologetic luxury with apoplexy-inducing prices. Maier's show was cut skinny in stretch cashmeres, tailoring tugged so tight it resembled thermal underwear. There was a feel of the street, though it was Sloane or Della Spiga rather than Coronation, even with those luxury long-johns. Pilati's showing was odder still, the designer distracting attention from his clothes with a blaring, glaring background projection. Why all the fuss? Perhaps it was Pilati's ultimate show of confidence in his abilities as a designer: he's happy to distract us from the clothes, because he knows they're great. Ultimately, beautiful as the clothes were, the show wasn't a satisfying fashion experience. Pride comes before a fall.
Confidence is Raf Simons's greatest asset. He's the most influential menswear designer in the world. And, I would argue, the best. The confidence  behind his winter show saw him share the limelight, his catwalk bow and even his label with the contemporary artist Sterling Ruby. The label is rechristened Raf Simons/Sterling Ruby for one season only, the clothes born out of a creative partnership that melds together the aesthetics of these two disparate talents. The results were extraordinary, and urgent, with text and graphics pasted across garments, models marching on thick-soled sneakers, neither fashion nor art compromised. "Father" was the word that recurred the most, as if Raf were asserting, subtly, his status as  the father of a new breed of contemporary menswear. He's the only man who deserves the title.
Reuse content