Fashion frequently turns to the oddest of figures to influence its flights of fancy. Collections have been inspired by a time-travelling Edie Sedgwick winding up in 17th-century Holland; by the chance meeting of Elvira and Scarlett O'Hara, or a 1920s couture show attended by Princess Pocahontas. This spring's key heroine may be a little less impossible, but she's no less incongruous. She's Cherilyn Sarkisian – the artist better known as Cher.
Don't frown, or smirk. Cher's style was everywhere on the spring/summer catwalks of fashion's most important designers. The most explicit incarnation surfaced at Marc Jacobs' spring show for Louis Vuitton, where models sported towering feathered headpieces by milliner Stephen Jones, inspired by Cher's 1986 Bob Mackie Oscars ensemble. The rest of the outfits paid similar homage, predominantly black, frequently transparent and bedecked with spangles. Louis Vuitton meets Las Vegas.
Jacobs' name-checked Cher as one of the Louis Vuitton collection's muses, but he also cited Liza Minnelli, Barbra Streisand and the French revue performer Zizi Jeanmaire in his show-notes. The ultimate dedication was: "To the showgirl in all of us."
Indeed, If Cher is the figurehead of this style, a somewhat simpler to digest tag is just that – showgirl. It was evident in a Ziegfeld Follies-esque flurry of feathers, fringe and frills, in the crystal tassels trembling across the surface of sequin flapper frocks at Miu Miu; in the brassieres embroidered on to the outside of sweaters and coats at Prada. Maison Martin Margiela spliced up paillette-strewn bustiers and trussed them across cashmere tailoring, while Alber Elbaz played out his entire Lanvin collection in multi-coloured metallic lamé that resembled Quality Street wrappers. Tom Ford bedazzled crotch-length boots and buttock-skimming mini-dresses with shattered mirror fragments, cabochon gems or just Chantilly lace beaded to within a millimetre of breaking point. Turn back time, and Cher could easily be sporting them in a rock video.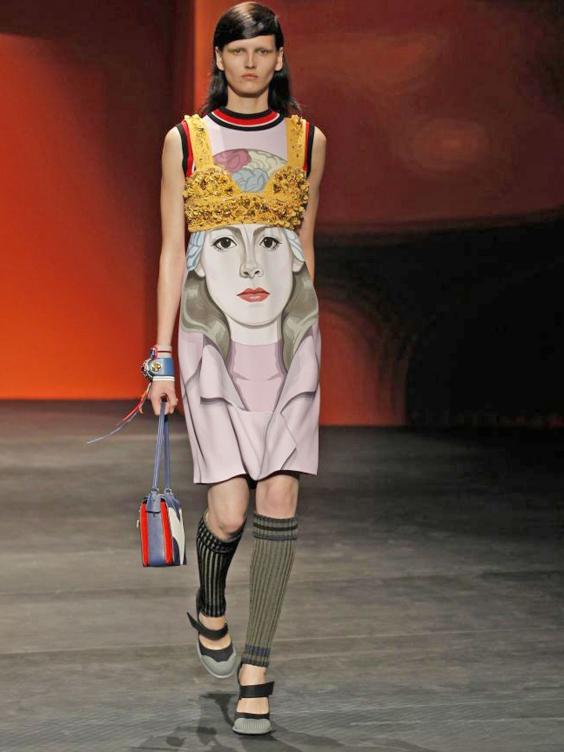 It's easy to scoff at the notion of Cher as a style icon – tacky, even tasteless, are the words that are often thrown around about her attire, particularly her 1980s Bob Mackie ensembles, which mostly consisted of cling-film taut chiffon, strategically flecked with microscopic beads to keep them legal, rather than decent. They were mocked, dubbed "worst in show" at various red carpet events, while praise was heaped on the then-tasteful taffeta poufs and the slinky but nondescript evening columns. But there's something about those jumped-up, vajazzled body-stockings that still register. They are daring, audacious. And Cher looks like she's actually enjoying wearing them.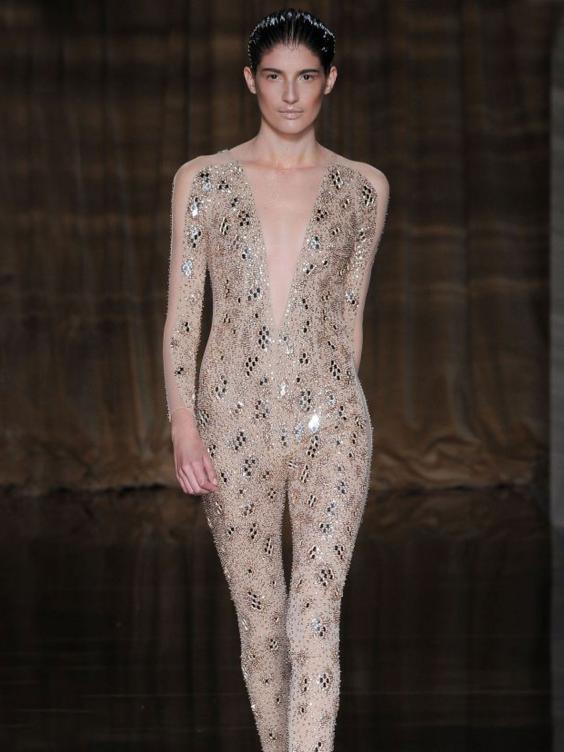 Despite naysayers, Cher has impeccable fashion credentials. Spotted by the late Diana Vreeland, the legendary former editor of US Vogue dubbed "the oracle of opulence", Cher also modelled for the prolific photographer Richard Avedon. Between 1972 and 1975, Cher appeared on the cover of Vogue five times. In 1999 – 15 years ago – she was officially honoured by the CFDA for her influence upon the fashion world just as the glitz blitz so associated with her sartorial extremes began to creep back into vogue.
Coincidentally, that whole turn-of-the-century "ghetto fabulous" thing has also begun to be revived. Look at the logo-laden collection Alexander Wang sent out in New York; at the gobstopper-sized jewels clattering across Prada's shift dresses and coats; at the obnoxious amount of fur swathed over any and every surface, regardless of the season. It's been building for a few years – it was inevitable that Cher, patron saint of the paillette, would materialise to take on the mantle of the queen of camp.
Of course, for some designers, life truly is a cabaret – and showgirl excess never goes out of style. Foremost in the Cher style-stakes is Julien Macdonald, a designer who has whipped up rhinestone-encrusted dresses for everyone from Shirley Bassey to Cheryl Cole to Cher herself. He normally sends a couple of dozen dresses out a season and calls it a collection. That's not criticism, just commentary: Macdonald has a niche. A sequin-studded, fishnet-smothered niche, crammed with loyal customers that he shamelessly indulges every season.
Cher's extravagant headgear
Cher's extravagant headgear
1/4 Cher's extravagant headgear

Cher's headgear in 1985

Rex Feature

2/4 Cher's extravagant headgear

Cher's headgear in 1999

Rex Features

3/4 Cher's extravagant headgear

Cher's portrait in 1985

4/4 Cher's extravagant headgear

Cher's extravagant headgear in 1991

Rex Feature
"The ultimate showgirl is Dita Von Teese," says Macdonald, when asked about contemporary showgirl style. "She is avant-garde; a pin-up star-turned-modern showgirl. I would also say Kylie Minogue is sexy and showgirl-esque – the way she takes reference from the Moulin Rouge and the Folies Bergère." The designer, nicknamed "Jazzy Jules", could be talking about himself, though – especially as both Von Teese and Minogue sport frocks he has, more often than not, had a hand in creating. Minimalism has no place on a Macdonald catwalk – or, indeed, on many others for this spring.
Perhaps that's the reason for this season's explosion of "Cher style". Fashion loves nothing more than a volte-face and this season's surfeit of sequins is the polar opposite of our hitherto obsessive interest in the seam details on plain camel coats. The fashion world's embracing of Cher's showgirl shenanigans is a great, gaudy celebration of ostentation and display.
That's not to say that the expensive, Céline-influenced minimalism that has proliferated over the past few years was intended to be invisible, of course. "We all dress to show off whether we are minimalist or maximalist," reasoned Marc Jacobs when discussing his Cher-ish Louis Vuitton collection. "We are creatures that want to show off, like peacocks that spread their feathers to attract attention."
Some people's feathers are just bigger and brighter than others. And more frequently sewn into a towering Bob Mackie headpiece. 
Reuse content