8.00
Dawn in Milan. Or at least, my dawn. Actually, my Milan should have dawned about an hour and a half ago: I'm late for a date, with Giorgio Armani. Not the man, but the brand, and its spring/summer 2015 womenswear show. Normally, that isn't an issue in fashion terms – everyone is late for shows. Even Armani's events, which are staged with the pomp, circumstance and painstaking precision of a military parade in a totalitarian dictatorship, run 30-45 minutes behind. Come the show's official start time of 10am, roads will be closed around his gargantuan Brutalist concrete headquarters on Via Bergognone, still-snaking traffic directed by uniformed policemen.
Armani celebrated his 80th birthday last July, while this July, his only child – his business – turns 40. That child is a success any father would be proud of, with revenue in 2013 for Giorgio Armani S.p.A. totalling £1.61bn. That company is still 100 per cent owned by Signor Armani: the figure spikes to an eye-watering £5.73bn if you include Armani's myriad licensing agreements. Wander through the monolithic Armani megastore on Milan's Via Manzoni, and you'll see plenty of examples, from Armani chocolate to Armani Fiori – an odd forest of foliage stripped, bent, wired and twisted into abstract, minimalist contortions that defy the laws of nature.
There's also beauty, which is the reason for my (relatively) early rise. Armani will reveal their latest beauty innovation: make-up based on the catwalk collection. Which sounds odd, but given the minimum year-long development time of most make-up ranges, it's rare that the stuff in shop so directly reflects the clothes on the rail. As if to force the point, Armani are embedding fragments of fabric from the collection's garments in the lids of their eyeshadows. They also form neat pouches around their lipsticks.
Backstage with Giorgio Armani
Backstage with Giorgio Armani
1/7 Backstage with Giorgio Armani

Linda Cantello is the international make-up artist for Armani

Giorgio Armani

2/7 Backstage with Giorgio Armani

The theme for Armani's Spring/Summer 2015 collection show was sand

3/7 Backstage with Giorgio Armani

Armani's latest beauty innovation is make-up based on the catwalk collection

Giorgio Armani

4/7 Backstage with Giorgio Armani

Armani's Spring/Summer 2015 collection was a sea of beige

Jason Lloyd Evans

5/7 Backstage with Giorgio Armani

The make-up look is matt and powdery, apparently reflected in the clothes, which is a running Armani theme

Giorgio Armani

6/7 Backstage with Giorgio Armani

There was a wash of signature Armani beige across every face

Jason Lloyd Evans

7/7 Backstage with Giorgio Armani

Giorgio Armani and the models at the Spring/Summer 2015 show

Giorgio Armani
"Mr. Armani gave us the fabric at the end of May, beginning of June, and said 'this fabric is going to be in my collection'," recalls Johan Lundin, international marketing director at Giorgio Armani Beauty, the day before the show. "We created a specific team at the factory who spent the summer trying to glue it on a compact. Finding a way to customise the packaging. Then tomorrow Linda's going to give me all the different shades she uses. We go to a specific colour person in the factory and she's going to basically produce that."
Linda is Linda Cantello, one of those make-up artists whose name resonates loudly in the fashion world. She helped determine the catwalk make-up for Tom Ford's Gucci collections in the Nineties, helping to launch a cavalcade of gold-shadowed, bronzed-cheeked girls on nightclubs throughout the world. Today, she is the international make-up artist for Armani. Which means that she is the woman who devises the make-up for one of the most exacting eyes in fashion.
9.05
A confusing 15 minutes later at the backstage entrance to Armani – heavily guarded with a metal gate nudged ajar by a burly security guard, accents inside a gaggle of English, French and mostly Italian. The front of house at Teatro Armani, the space where Armani hosts the Milanese shows of his mainline and Emporio Armani lines, is a polished concrete monolith, but behind the scenes it is more workaday. Cantello is already deep into her work. Armani's shows are some of the longest in fashion – this one clocks in at 86 looks when it is presented an hour later. I spoke with Cantello the day before, as conversation backstage is nigh-on impossible. She has to be ready to change anything and everything as required.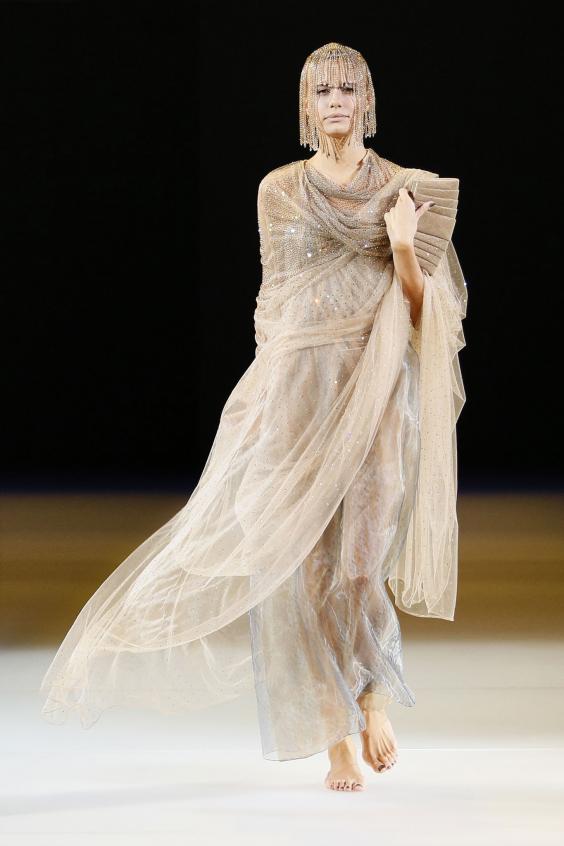 "You have to leave your ego at the door and understand that you're working for him and it's his vision," she says. To help her do this, she has an enormous mobile laboratory – a glossy white fibreglass monolith they dub the Colour Lab – filled with pigments that enable her to tweak colours to Mr Armani's exacting eye. It is the colours Cantello devises backstage that will be rushed out for L'Oréal to manufacture – compressing the catwalk-to-consumer schedule into barely six months.
"No make-up company has done this before, that's what is so amazing," says Cantello, eagerly. "They're existing formulas, but all the colours will basically be new. They were born yesterday..." – she means in the test-run for the show, undertaken on Thursday evening – "...no, they were inseminated yesterday! I'm obsessed with child birth. I had an interview yesterday with a Swedish magazine and he translated me as saying, 'Invention is as difficult as giving birth without an epidural!' I don't think I said that..."
9.21
Cantello and an industrious team continue to perfect the models' make-up. There aren't any clothes in view – they are held in a hangar-like room immediately behind the show space, whereas Cantello's make-up is completed in a slick, optic white room, halfway between an operating theatre and a dentist's waiting room. Models lounge, staring listlessly into mirrors, paper sketches beside each, delineating the show's forthcoming looks.
"The theme for the show is sand," says Cantello, simply – and, as you'd imagine, there's a wash of signature Armani beige across every face. The look is matt and powdery, apparently reflected in the clothes, which is a running Armani theme. "I think in the beginning there were a lot of links in there... they had names like face fabric, luminous silk and organza," says Cantello. "There is still the inspiration from the fabrics, but I think it's not so scholarly. We dream a bit more."
9.36
Cantello, looking harassed, walks over and smiles. She begins to talk to an assemblage of journalists – she mentions mystery, a desert mirage and swipes a hand, artistically dabbed with spots of beige, over one of those sketched faces – before an assistant talks to her, animatedly, in Italian. "I have to go, sorry!"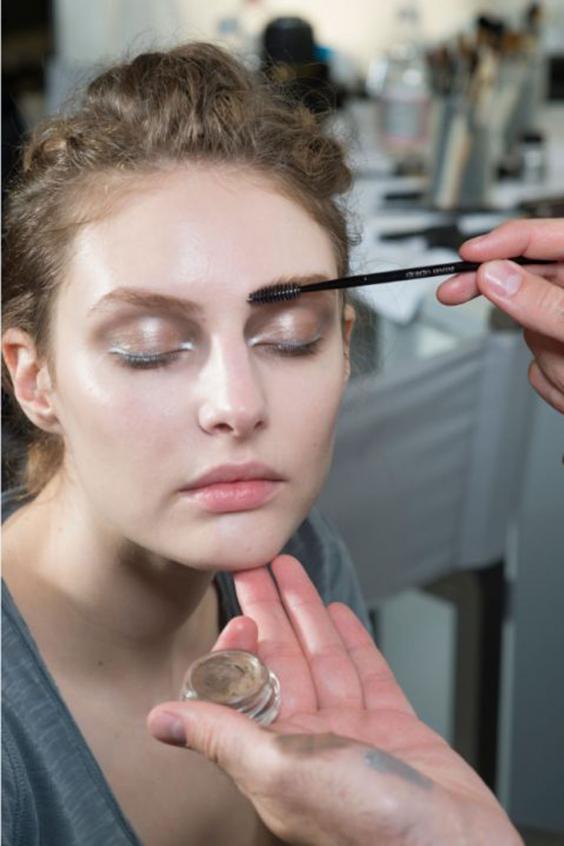 The day before, Cantello had commented on the spontaneous nature of creating make-up for the shows. I asked her if the make-up could change last minute. "It could," she allows. "I remember one time when journalists came while I was actually doing the brief and Mr Armani came running back down going, 'No! No! No! No!' It was about eyeliner. 'Too heavy, too heavy!' I was giving all these interviews, and saying 'okay' to him – like a child. I had to wipe it all off."
She smiles. "Sometimes he says things to me and I think, 'why would I do that?' Once, he wanted me to shade the forehead taupe – and he saw that I wasn't doing it, I was pretending to do it. In the line-up he said, 'You have to do it!' So I shaded all the models' foreheads. And when I saw them on the runway and they had those turbans on, it worked. You could see they had a taupe forehead and these really intense eyes."
9.50
The models are being dressed. The clothes are a sea of beige – the same colour that Cantello has veiled their faces with, the same shade inset into the lid of the trial compact proudly on display alongside her Colour Lab. Johan Lundin stands at the back of the room: after the show, Cantello's specific Armani shades will be transported to L'Oréal's factories, and then translated into colour for the masses. Those colours are all Armani-approved. There's nothing left to chance. His bestselling foundation isn't dubbed "Maestro" for nothing.
"His aesthetic is so clear," says Cantello. "It was very interesting yesterday because we did the make-up test... there were ten shades and there was only one shade that we mixed up that was an Armani [manufactured] shade. He chose that one, but he didn't know that that was the Armani shade – how weird is that?"
I spot the actual jacquard from the Armani Runway make-up compact – the one Armani knew he was going to use in May, before showing his two spring menswear shows, before designing his spring Emporio Armani womenswear collection, or finalising the winter Armani Privé collection he presented during Paris's haute couture week in July. It's sewn into a pair of loose trousers.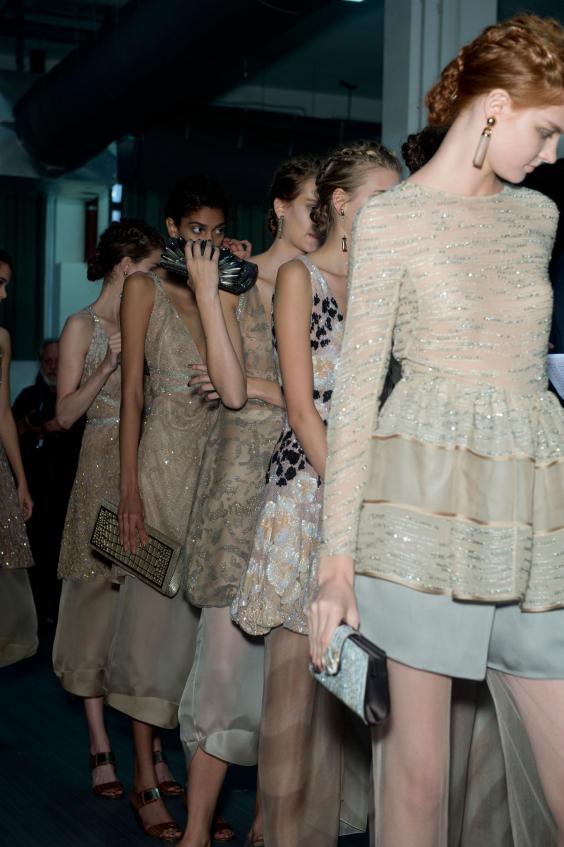 Mr Armani himself is seemingly omnipotent – tweaking models' garments, adding a bracelet, removing a bag. His white hair is luminescent against a dark backdrop, his voice is low. Occasionally, I hear him say "Dai" – Italian for "Go" – albeit with an additional sense of urgency: Come on! Let's go! At one point, he compresses the pleats on an organza gown. His gestures indicate that they should sit flatter, to flatter. He mimes against himself, and two seamstresses leap forward to sew them into the new place. Garments are removed, looks reworked as the models queue and early press and buyers begin to filter into the space on the other side of the barriers separating Armani land from its audience.
"It's funny: he has these little tips and touches up the make-up; he always touches it," comments Cantello. "I think he would have been a very good make-up artist, actually." Perhaps it's Mr Armani marking his territory, ensuring the Armani look is exactly as he requires, determined by his own hand?
10.22
The show is, of course, running late. Mr Armani is endlessly adjusting the models' clothing. A crowd hangs behind, lunging to pass him anything he desires, like the jostling, backbiting courtiers who chivvied for favour at the coucher of Louis XIV. Others merely watch, voyeuristic, fascinated by the dance. I do the same – feeling like a spy inside an empire. Which, of course, I am. Armani's profile, with its neat but prominent nose, is like a Cocteau sketch, above a body dressed in his habitual uniform of navy blue.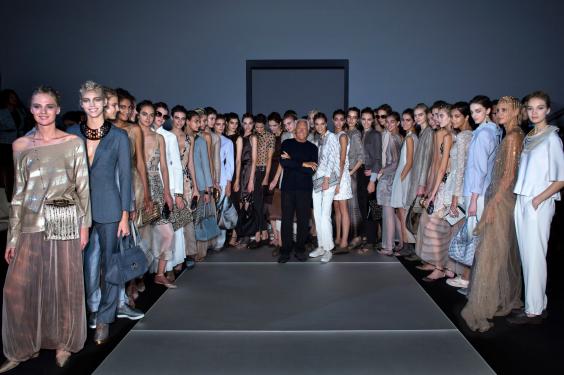 Armani's soft voice raises once, only. "Basta photo." The backstage photographers are ushered out, as preparations continue. As opposed to the ear-splitting din that normally precedes a catwalk show, all is quiet. When a mobile phone trills, it elicits frowns, as if it rang out in a cinema. Or a church.
The lights drop as the show readies to begin. Cantello peers intently at faces, powdering some. Mr Armani is positioned by the catwalk exit: his are the last eyes on each model before they walk out. The show soundtrack begins to throb.
The Maestro is ready for his close-up, again, 40 years after the first.
The Armani Runway Collection Spring/Summer 2015 beauty range is available now, exclusive to Selfridges
Reuse content