Tomorrow, in the swish  ballroom of London's Dorchester hotel, fashion's great and good are set to gather. That's nothing new for the Dorchester – the hotel has housed famed and fashionable names from Marlene Dietrich and Elizabeth Taylor (whose preferred suite, the Harlequin, was installed with a pink marble  bathroom especially for her) to Lady Gaga and Prince. The musician, that is – not one of the Royals.
However, this time the fashion focus is on the Dorchester, not its guests. Tomorrow marks the fourth annual award ceremony of the Dorchester Collection Fashion Prize, established by the hotel group in 2010 to discover and support emerging fashion talent. It's not just about recognition: the prize awards a designer £25,000 to help further their business. In the  inaugural year, that went to Thomas Tait – then a fledgling Central Saint Martins graduate, now an internationally respected name and London Fashion Week staple. Daphne Guinness was one of the judges, and is just the woman you could imagine donning Tait's highly structured and resolutely monochrome creations.
This time round, the Dorchester has tapped the likes of the jeweller Stephen Webster, the footwear designer Rupert Sanderson, the milliner Stephen Jones, and the fashion director of Tank magazine and because.com, Caroline Issa, to pass their discerning eyes over a quartet of young talents.
"Fashion is not only about the clothes, it's about the experience, and the Dorchester can provide that," Stephen Jones says. "The Dorchester brings international glamour." There's definitely an international flavour to the finalists: this is the first year that the award has been opened to designers based in France, Italy, Switzerland and the US, as well as the UK – indeed, wherever there's a Dorchester Collection hotel. Incidentally, those hotels include the Beverly Hills Hotel, Le Meurice, and the Hotel Principe di Savoia. No slouchers allowed.
The finalists come from as far afield as China, Brazil and New Zealand, though, ironically, all are based in London. "I do love that all the nominees happen to be London-based – that happened with luck, not by design given the global jurors," Caroline Issa says. "But I think it says something about London as a breeding ground for creativity and fashion businesses to note for the future! It makes me very excited for London's future."
Here, then, is a one-on-one with each of the foursome who make up the Dorchester Collection Fashion Prize 2013 shortlist.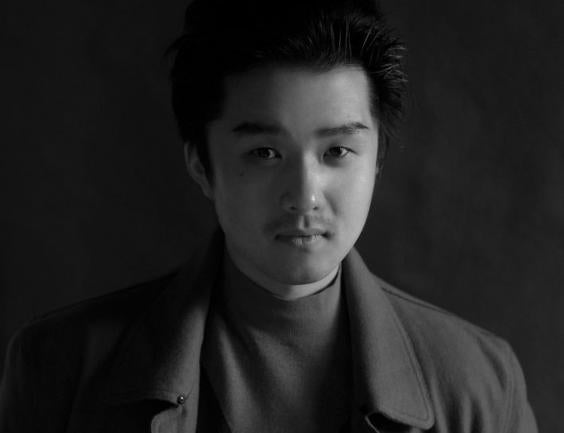 Huishan Zhang
"She is a well-travelled  international woman who understands craftsmanship and culture." That's how Huishan Zhang describes his ideal  client. Apparently, she's a female version of him. The designer, born in Qingdao, China, moved to London to study at Central Saint Martins via a stint at Dior. He brings some of that couture refinement to his clothes, fusing delicate laces and silks with details evocative of his Chinese heritage. His spring/summer 2014 collection was a meshing of photographer Man Ray, 1930s couturier Madeleine Vionnet, and Chinese mathematics. Sounds a bit obtuse, but really it was about slinky, embellished clothes, lots of lace, and a brilliant palette of jade, cobalt and coral. That fusion of East and West is a tried, tested and sometimes trite fashion formula, but Zhang's background means he approaches it with a fresh eye. "My signature embroidery is a pattern of interlocking figure of eights," he says. "In Chinese culture, eight is good luck and brings prosperity."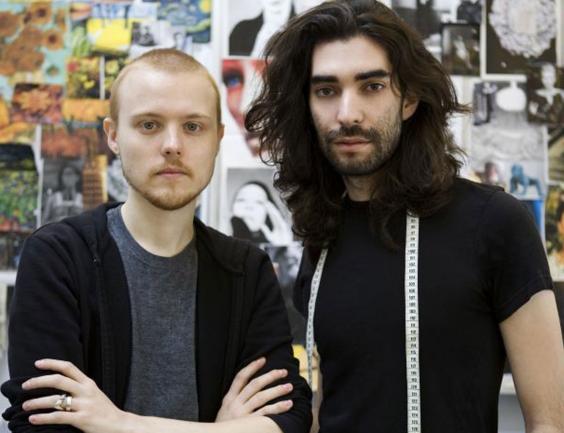 Fyodor Golan
As with so many misleading fashion monikers, the label Fyodor Golan is actually not one man, but two: Golan Frydman (on the right of the picture) and Fyodor Podgorny (on the left). As in Dostoyevsky, yes. But Podgorny is Latvian and Frydman Israeli. Combined, they've worked with Richard Nicoll, Raf Simons, Issey Miyake, and Alexander McQueen. The last is the one they're compared to most, given their predilection for dramatic silhouettes and intricate surface detail. That's one hell of a legacy to live up to – especially given Fyodor and Golan's youth. Example: their spring/summer 2014 collection – "We call it 'Electric Children' with the spirit of the Nineties," the designers say. Surely the revival of that decade will send shudders through those old enough to remember McQueen's first shows. It actually meant that the duo produced clean, sleek silhouettes tinged with the Nineties Minimalism of Helmut Lang, albeit still with plenty of painstaking feather embroideries. The Fyodor Golan label was launched on a high, the twosome winning the 2011 Fashion Fringe prize. They could be on a winning streak.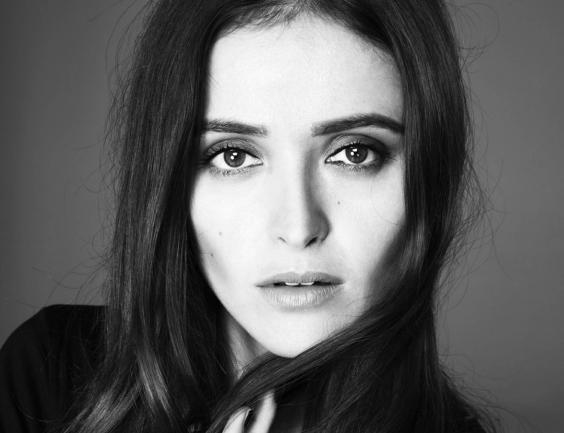 Barbara Casasola
The newest of these names in the London Fashion Week schedule – her debut was barely a month ago, with her spring/summer 2014 show – Barbara Casasola  nevertheless has an impressive heritage. She's studied in London and Milan, worked for Roberto Cavalli in Florence, then moved to Paris to serve a stint at Lanvin before launching her own label in 2011 in Brazil, where she was born and raised. "In Brazil, we have a certain Modernist tradition that informs most of what I do," Casasola says. "It's modern and pared back, for sure, but also sensual and romantic without being too nostalgic." Casasola's work revolves around sleek lines and clean surfaces in luxurious fabrics. "Nineties Helmut Lang meets Madame Grès. In a weird way," is her succinct and suitable summary. She's also got quite a relationship with the Dorchester herself. "One of my most memorable nights in London was a dinner at the Dorchester with a group of people that are close to my heart… It meant that I missed my morning flight!"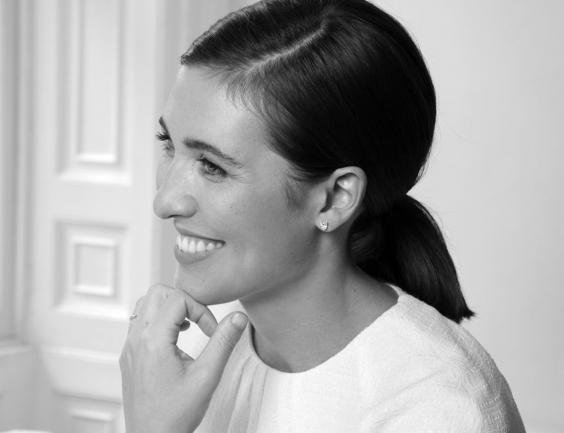 Emilia Wickstead
Her label is barely four years old, but Emilia Wickstead is probably the highest profile of the finalists. Why? Because a certain Duchess (of Cambridge) has been donning her garments and popping up on multiple international best-dressed lists. Hence Wickstead's star is firmly in the ascendant. New Zealand-born but London-based, in 2011 Wickstead expanded her made-to-measure line into a ready-to-wear label, now stocked at net-a-porter.com, matchesfashion.com and Selfridges. "Emilia Wickstead is for stylish  and spirited modern women," the designer says. It's also resolutely grown-up, a British counterpart to Oscar de la Renta or Carolina Herrera. That means it's very expensive – fitting, given the Dorchester's clientele. "Absolute luxury and elegance – but always with punch," is her summary of what the Dorchester means. It's an apt description of her clothes, too.