What is the eternal fascination with frocks of the rich and famous? I ask myself that as I trawl auction house sales devoted to the stuff. Example: today, bids close on christies.com for a rhinestone-encrusted suit created for Liberace in 1978, identical to one worn for his first major television special, Leapin' Lizards, It's Liberace!
It's just one lot in a Christies' online-only auction devoted to "Pop Culture", juxtaposing Lee Liberace's suit with the oddest of ephemera: an Andy Warhol-signed Campbell's soup can (an actual can, not the artist's famed impressions of), a spoon bearing John Lennon and Yoko Ono's signature, and original Sex Pistols concert posters.
But fashion – or, rather, clothing – makes up a surprising number of the lots, from Tommy Cooper's fez to stage costumes worn by Britney Spears, Lady Gaga and Freddie Mercury.
What is it that's so compelling about famous people's old clothes? Or famous people's old tat, generally?
Auctions of the accoutrements of Elizabeth Taylor and the Duchess of Windsor fetch astronomical amounts, as did the old clobber donated to a Kensington charity shop by David and Victoria Beckham, snapped up by unscrupulous customers and flogged for five or six times the original price on eBay. The estimate on the Liberace suit is a conservative couple of grand – Gene Kelly's grey wool suit, worn while whirling around a lamppost in 1952's Singin' in the Rain, will be auctioned in Dallas on Friday and is expected to rake in more than $20,000 (£12,190).
Those prices are presumably commanded by an abstract assumption that, by some kind of sartorial osmosis, the garments have been imbued with the essence of wearers past. It's kind of justified. After all, nothing gets closer to you than your clothing – at least, nothing you can legally sell.
The pull of the exhibition Isabella Blow: Fashion Galore!, currently on show at London's Somerset House, is that almost every garment was worn by the famed fashion editor herself. They're pock-marked with fag burns and food stains to prove it. The curators talked about the overpowering smell of Blow's signature fragrance, Robert Piguet's Fracas, that emanated from the garments as they handled them, like a manifestation of Blow's continual presence through cloth.
This is all very fetishistic – in the original, anthropological meaning of the word. That is, the attribution of "magical" powers to an inanimate object, like a tribal talisman, rather than any sexy stuff.
I would argue that there are two kinds of collectors that stalk these auction house sales. Both are motivated by fetishes. One kind is drawn by that aura of celebrity – the idea of living vicariously through another person's belongs, large or small. It's the association that matters, rather than the item itself.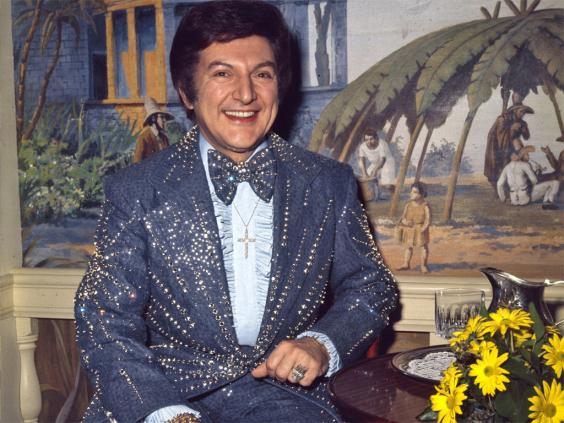 The other people – such as myself – couldn't really give a damn who wore it, nor when. The obsession (and yes, it is obsessive) is focused on the object itself. That ties back to fetish, the magical power of the object, although the power is derived from the physical object itself, rather than its past owners.
That's a hefty load of intellectual cant to justify my lust for a Liberace suit – a suit that, honestly, I would like to wear. I'm not sure where, or when, but I wouldn't be keeping it in the box. It's like the other "formerly owned by" item already hanging in my wardrobe, an outré, gilt and crystal-encrusted sweater formerly owned by Lyn Revson, the late wife of Revlon magnate Charles Revson, from Christian Lacroix's spring/summer 1992 haute couture. That's a great back-story, sure. But ultimately, it's the sweater itself that got me sweating. µ
Reuse content