Dedicated followers of fashion generally frequent only the ritziest locales of London, Milan and Paris: Milano's megabucks Via della Spiga, for example; Paris's Avenue Montagne; and London's Bond Street. Right? Wrong. Wrong for autumn/winter 2013, at least. It seems the fashion flock is taking a saunter down to Sesame Street, Fraggle Rock and Wimbledon Common – at least, the part inhabited by the Wombles. The Cookie Monster and Madame Cholet are the muses of the season. Fashion's gone all Fraggle-y.
The evidence is overwhelming. Just look at Fendi, which showcased shearlings dyed Muppet mauve and highlighter blue. They may be childish, but the price tag isn't – they're about seven grand. Likewise, Fendi's "Bag Bugs", the house's name for fuzzy gonks with tufts of bright hair, designed to hang off handbags, like Muppet babies, or the team mascots sported by Blockbusters contestants. Fendi recently expanded them into a capsule collection of leather goods, including handbags, coin-purses and wallets, appliquéd with beady monster eyes. Other labels have got in on the fun, too, with Emilio Pucci and Roksanda Ilincic showing pastel shearlings, and the venerable house of Louis Vuitton offering fluffball handbags smothered in marabou. Maybe Jim Henson has a new fashion consulting gig?
These "Fashion Fraggles" have been creeping up on the sartorial horizon for a fair few seasons. The trend started with Miuccia Prada – her spring/summer 2011 collection featured plain black cotton flapper dresses worn with bold, bright fur stoles in unreal shades of tangerine, pea-soup green and sky blue.
Come spring 2013 and Phoebe Philo – fashion's other trend-setter – sent out high-heels smothered in Big Bird yellow and Elmo red. It only took a season for everyone else to get on board the playbus. There's something a bit monstrous about fashion's Fraggles, if we're honest. It sounds like the sort of ridiculous, unwearable catwalk micro-trend that never makes it past the end of fashion week. But Fashion Fraggles already walk among us.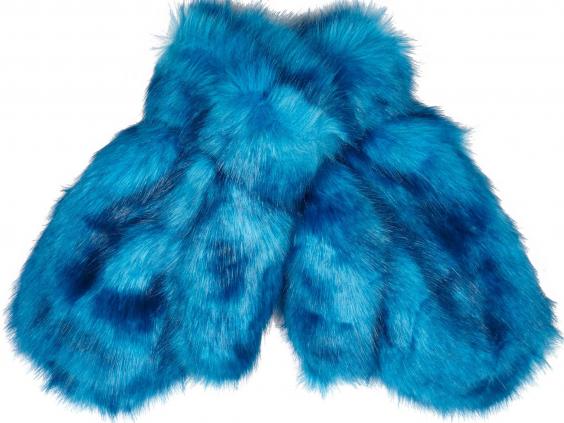 Those Fendi Bag Bugs are a sell-out success, with other labels offering their own light-hearted takes, both high-end and high-street. Topshop Unique's fuzzy-wuzzy fur clutch, and the humbug-stripe stole the store created in collaboration with Meadham Kirchhoff, are perfect Fashion Fraggle clobber. Those accessories, alongside oven-mitt-sized faux-fur mittens or brightly coloured fluffy hats, are easily adapted into the everyday attire of the Faux-Fraggle. The what? A Faux-Fraggle is anyone who doesn't have the nerve to sport a neon-coloured faux-fur coat, but would like to add a touch of fun to their wardrobe.
The fun is fundamental. Maybe that's why it's fashion's British contingent– the designers and stylists renowned for their sense of humour – who are leading the charge.
Take London designer Giles Deacon – he has created bags in the shape of toy dinosaurs, and others studded with boggle eyes. His label used to feature an illustration of "Eek", a wide-eyed mouse-cum-house mascot. His autumn/winter 2013 collection was inspired by the grandeur of St Paul's Cathedral, but he still managed to cram in a distinctly Muppety jumbo leopard-print in neon pink. A new generation of London designers is also creating frivolous fashion with a Fraggle feel.
Ashley Williams is the breakout Fashion East star whose catwalk shows have included shift-dresses emblazoned with Elvis's face and cuddly-toy clutches in the shape of bunnies and sharks. She has even created a faux-fur racoon-shaped clutch inspired by the Ever After High doll franchise. You couldn't get less serious if you tried. In fact, you could: Williams says the bags are inspired by old pyjama cases, and that her favourite Muppet is Oscar the Grouch (she used a distinctly Grouch-y green fake fur in her latest winter collection).
Williams's fuzzy sense of fun is an aesthetic shared by Hannah Weiland of faux-fur label Shrimps. Shrimps? Yes.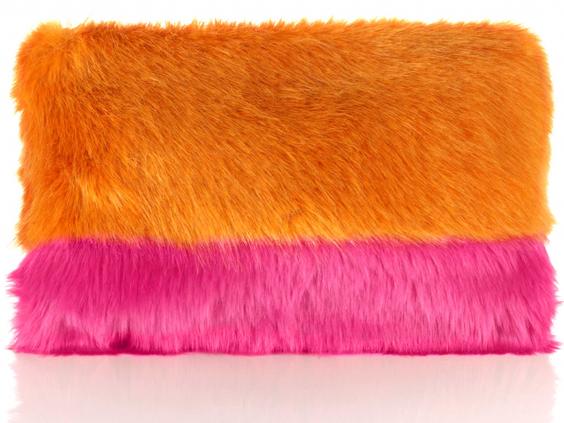 "Shrimps was a childhood nickname. I chose it because I liked the contrast of the pink, crunchy shell of a shrimp compared to the soft, fluffy faux fur," reasons the articulate Weiland, a former history of art and textiles student who launched her range of synthetic fur coats and handbags this year.
Her ideal customer? Grayson Perry – hence the title of her bicoloured "Grayson" clutch. Her inspirations? Art, collage, colour, dogs.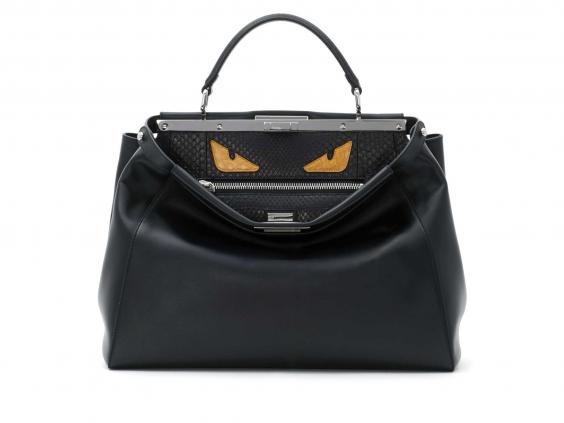 "I hate it when things are taken too seriously," says Weiland. "I love British fashion because I feel even the more established brands have an underlying sense of humour."
The great thing about the Fashion Fraggles is that no one is laughing at them. If you've got the chutzpah to sport a giant blue faux-fur coat, you're well aware that you resemble one of Henson's finest. You're in on the joke. "There is a definite relation between the Cookie Monster and my autumn/winter 2013 Pallas coat," says Hannah Weiland, grinning from ear to ear.
"People often tell me that I look like I'm from Monsters, Inc or the Cookie Monster when I wear my coats; I take it as a compliment!"
Reuse content