It started, as so many things in fashion do, on the red carpet of an awards ceremony.
In this case it was at the Billboard Music Awards in May, on the back of Taylor Swift, who was wearing a flared jumpsuit with sliced-out panels around the midriff. Quick to take credit for it was Nasty Gal, a US-based "fast fashion" retailer with healthy, predominantly web-based sales – turnover increased from around £16.5m in 2011 to over £65m in 2012 – and the "Frisco Inferno" design that Swift was wearing immediately sold out after the label Instagrammed the credit to their 1.6m followers.
The only issue? It wasn't what Swift was wearing – it was an original spring/summer design by Balmain. Nasty Gal's version was so "good", even they couldn't tell the difference.
The offending post has since been deleted from Nasty Gal's social media, but not before it drew worldwide attention to the endemic and ongoing issue of fashion copies. It's nothing new: the Chambre Syndicale de la Couture Parisienne, Paris fashion's governing body, was established in 1868 partly to protect the then-new notion of "high fashion" from piracy. At the height of its powers in the early 20th century, the Chambre Syndicale meted out tough punishment. Unauthorised copying of designer fashion by the likes of Dior, Balenciaga or Chanel could result in prison time.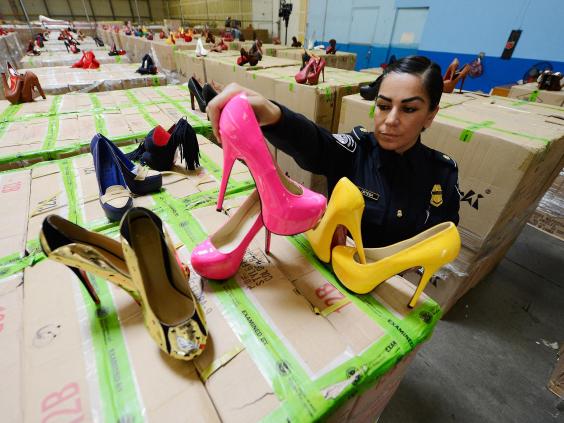 Yet, even then, rip-offs were rife. Chanel herself said: "If you want to be original, be ready to be copied." (She'd seen the legion of lookalike cardigan-suits flooding womenswear in the 1950s, faking her instantly identifiable style.) And Olivier Rousteing, Balmain's designer, echoes her: "I'm really happy that Balmain is copied," he says. "When I did my Miami collection and we did the black and white checks, I knew they would be in Zara and H&M." Balmain is even collaborating with the latter on a cut-price range: Balmain copying Balmain.
Zara was one of the brands approached for this piece, along with other high street names. None would comment – but one PR for a major mass-market brand did say, off the record, that "we are a design-led brand rather than a catwalk copy machine; however… there are always things that slip through the net." So it seems some retailers don't even know they're selling copies (especially when brands buy from outside manufacturers who filch concepts from up-and-coming designers).
Besides, many retailers have no qualms at all. The phrase "catwalk copy" is thrown about with abandon – implying that you're getting a great deal. And of course price is at the crux of much of this copying: a Balmain jumpsuit retails for £1,305 on net-a-porter.com; versions can be yours for just £27.99.
Is it ethical? Not really. But it is legal. Or at least the law is blurry – especially because it varies from country to country. Julie Zerbo consults on fashion law and the business of fashion, as well as digital and print publishing, in addition to running the New York-based website The Fashion Law. "In the United States – and the laws are different here in terms of fashion designs than elsewhere in the world, particularly when you're comparing New York's international fashion counterparts – the Copyright Act protects most creative things," Zerbo states. "However, it does very little to protect fashion designs as a whole – specifically, a garment or accessory in its entirety – because it does not protect utilitarian items."
In the UK, copyright again does not extend to the functional (under which dress is lumped with the likes of washing machines and chairs), but design rights can cover clothing. Indeed, the EU Designs Directive offers protection to "unregistered community designs" – regarding "the appearance of the whole or part of a product resulting from the feature of, in particular, the lines, contour, colours, shape, texture and/or materials of the product itself and/or its ornamentation" – for three years from the crteation of a piece.
Plenty of designer labels also take to the courts to protect what they can – namely, trademarked elements, such as logos. Are here, says Zerbo, is the crucial difference between copies and counterfeits: "A counterfeit is a garment or accessory produced by a company that is knowingly and deliberately using another's logo, print, name etc… almost always paired with the company's intent to deceive the consumer by presenting itself as another brand."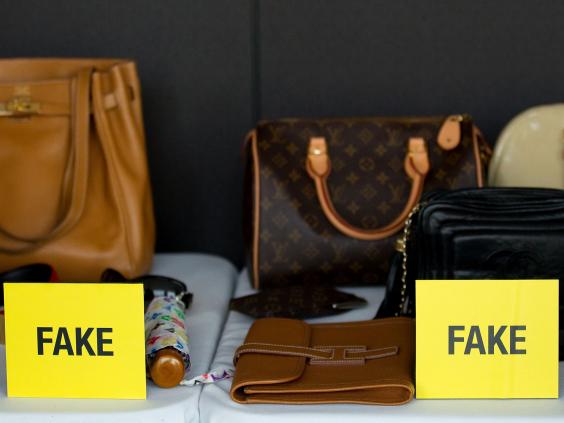 It's big business: the global market for counterfeit goods (which includes not just fashion, but everything from cigarettes to pharmaceuticals) is estimated to be worth £420bn, and has cost the European fashion industry approximately £5bn over the past 20 years.
Nevertheless, fashion's lawsuits are getting mixed results. Christian Louboutin trademarked his distinctive scarlet soles in 2001 with the World Intellectual Property Organisation (WIPO) and has fought vehemently to protect them, litigating against brands from Yves Saint Laurent to Zara. The rulings are hazy. (New York ruled that Louboutin has the right to a red sole, but only when it contrasts with the rest of the shoe; but that is also being challenged in a Belgian court.)
In February this year, Gucci lost a lawsuit alleging that Guess had infringed on their trademarks, while in May, Louis Vuitton lost the right to trademark its Damier checkerboard pattern. The design was ruled to be in the public domain, as "a basic and banal feature".
That all sounds confusing, but Zerbo boils it down some: "A good example, I think, of what can and cannot be protected via copyright law comes in the form of a Mary Katrantzou dress.Her prints are original and so they would be protected via copyright law: if someone were to copy one of her prints and put it on a dress, that would be illegal. [But] if they were to copy one of the bell-shaped skirts from her A/W 2011 collection, or a lampshade skirt from S/S 2011 – which is a design that she is very much known for – that is perfectly legal. That's not protectable." And neither, one assumes, is Taylor Swift's jumpsuit.
Reuse content