As we grow up, we learn that fairy tales, folklore and fantasy stories don't all end happily ever after, which makes them a surprising source of inspiration for brands that are selling a luxury lifestyle. Wealth, after all, is meant to be the great protector. But it seems there's an appeal to darker, bewitching tales that, if not inherent or endless, certainly resonates right now.
In recent seasons Valentino's creative directors Maria Grazia Chiuri and Pierpaolo Piccioli have garnered much acclaim for their elevated take on traditional homespun detailing and a folkloric aesthetic. The brand offers its customers – many of whom are real-life royalty – a refined romanticism that has a sharper edge than the sweetness and light of the label's eponymous founder. It is no coincidence that this new signature has greatly influenced the way that women dress today.
Meadham Kirchhoff is another design duo that has established its collections as carefully choreographed vignettes, often with an underlying narrative of nervous energy and anti-conformism. This season, there was no in-your-face morality tale, but the clothes were the stuff of dreams nonetheless, thanks to the intense attention to surface detail, embroidery and embellishment that make the pair's creations anarchically expensive for an emerging label.
Many designers allowed their fantasies to run wild this season, not least Dolce & Gabbana, which in its inimitable way, used "Enchanted Sicily" as the inspiration for a collection that borrowed liberally from the lands far, far away, brought to the page by the Brothers Grimm. Hoods, capes and peasant dresses were peppered throughout a collection that used familiar fairy-tale elements such as wrought-iron keys and bewitching woodland creatures as elaborate surface decoration.
Justin Thornton and Thea Bregazzi of Preen incorporated imagery from a more recent, but no less nostalgic, source with their Star Wars-referencing, Seventies-silhouetted collection. They were not the only designers to work with Disney and Lucasfilm this season, as the Rodarte sisters Laura and Kate Mulleavy, whose work has long carried a sprinkling of science-fiction, adorned their mythology-inspired gowns with images of Darth Vader, Yoda, and R2-D2 and C-3PO.
At Alexander McQueen, a scene of intensely wild beauty lit by moonlight was the set for a collection that seemed to come from another world, as Sarah Burton embraced the savage side of fairy tales as well as nature's power to bewitch.
"This time of year lends itself to the magic of fairy tales," says Shadi Halliwell, the group marketing and creative director for Harvey Nichols, which has dedicated the windows of all seven of its UK stores to an "enchanted forest" theme. "We all dreamt of being the princess in the Disney fairy tales, but our advanced selves know that an air of mystery is more empowering."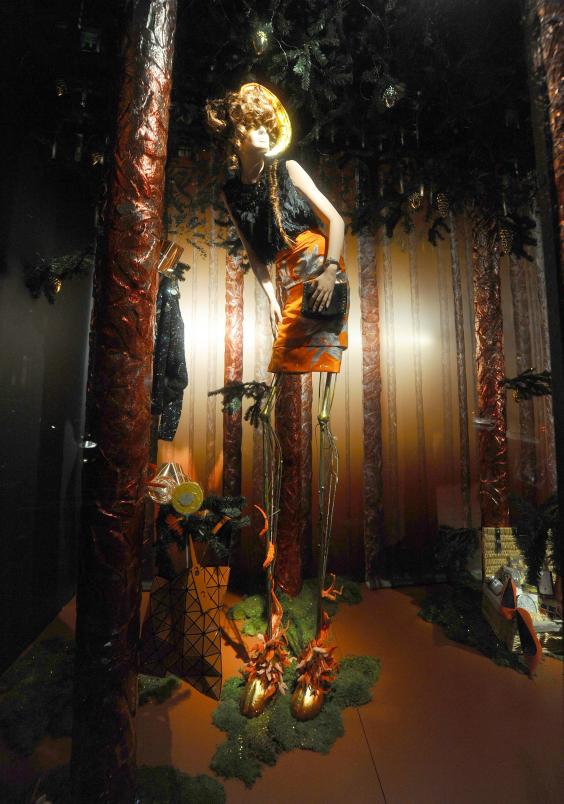 Designers with a dark side are nothing new, and personal battles have been much publicised, but it is interesting that so many brands currently feel able to turn away from the sanitised and safe, and offer instead something that is wild at heart, scary yet seductive. Halliwell believes that popular culture has a large part to play: "The release of Maleficent triggered an interest in a darker, more mysterious persona, which was helped by the fact that she was played by Angelina Jolie. And over the past couple of years, designers such as Viktor & Rolf and Manolo Blahnik have illustrated and adapted fairy tales, adding a fashionable twist that feeds our appetite for the slightly obscure."
To accompany the windows, which took a year to plan and over 600 hours to install, Halliwell commissioned Into the Woods, a short film inspired by the Brothers Grimm story Snow-White and Rose-Red. Essentially a tale of metamorphosis, it rings particularly true for a company that has style at its heart. "We wanted to portray how two stylish sisters, who share so much of their lives, can have their own sense of style," Halliwell says.
Much of the appeal of such stories lies in childhood nostalgia, making them perfect fodder for the Christmas season, but Harvey Nichols is keen to ensure that customers are not patronised or infantilised. "We don't ever buy for one specific type of customer," says Halliwell. "Instead we offer a fresh approach to the collections, items that they can't get elsewhere and an edit that will inspire them to be playful with their look."
Christmas fashion campaigns 2014
Christmas fashion campaigns 2014
1/8 Burberry

Romeo Beckham on Burberry's first ever Christmas campaign

Burberry

2/8 Burberry

Burberry's festive video features models and dancers

3/8 Topshop

Sequin Shorts, £36; Sequin Blazer, £55; Diamante Tights, £6; Strappy Heels, £46; Sequin Chain Bag, £25

topshop.com

4/8 Topshop

Feather Hem Slip, £55; Pink Mongolian Stole , £79

topshop.com

5/8 Harrods

Stella McCartney has designed a gown that mirrors the piece worn by the snow queen in the snow globe window scene

Harrods

6/8 Harrods

Harrods' Christmas' window display features a ballerina wearing a bespoke hand-embellished dress created by Lebanese fashion designer Zuhair Murad

Harrods

7/8 H&M

Lady Gaga and Tony Bennett during the making of H&M's Christmas TV commercial

H&M

8/8 Peta's Christmas campaign

Raising awareness for animal rights goes hand in hand with helping the homeless during winter, thanks to the Christmas campaign of animal rights organisation Peta in collaboration with Liberty of London

AFP PHOTO / GIUSEPPE CACACE
Harvey Nichols isn't the only department store attempting to use familiar fictional characters to woo its customers this season; Selfridges has created an "enchanted Christmas" concept which is also drawn to the darker side. "I think the idea of subversion is especially prevalent right now," says Judd Crane, the director of womenswear and accessories for Selfridges, which this year won the award for best department store in the world for the third time, thanks in part to its dedication to engaging concepts. "A look at how many fairy-tale stories are being turned into big-budget films is probably the most obvious reference, while there are true fashion indicators, like the young designer Bobby Abley, who plays with the way that we look at Disney iconography. We know that at Christmas, more than ever, people really want to be delighted by department stores. It's our stock in trade, when our windows and store environments look their most magical, and so naturally, working with a creative theme that taps into childhood is always smart."
And rather than being something to mitigate in the luxury sector, the subversive nature of the source material reflects a larger trend in fashion to explore the mythology of the macabre. Consider the breathless anticipation for Alexander McQueen: Savage Beauty, which comes to the Victoria & Albert Museum next year. Meanwhile, the Metropolitan Museum of Art's Costume Institute is currently hosting Death Becomes Her, which charts the changes in mourning dress and its reflection of societal shifts between 1815 and 1915.
While subversion is proving a smart investment, leave it to Rei Kawakubo to provide the sharpest twist in the tale of all. The fashion world's greatest iconoclast has created a stark, monochrome take on Frozen, Disney's mega-hit, for the Christmas windows of her London emporium Dover Street Market. Now that's a happy ending that no one saw coming.
Reuse content