Pay attention to these garments. You're likely to be seeing them again very, very soon. I'm not championing the undoubted appeal of Bicester Village, or announcing my own willingness to sport a lip-print skirt (although, now you mention it…). It's more about the exceptional, undeniable and continual power of Prada.
That power is season-in, season-out. One of the exceptional things about Prada is that, since Miuccia Prada expanded her family's eponymous luggage and accessories label and began showing fashion collections in 1988, she has stayed not only relevant, but at the top of the game. Prada shows in Milan, its second line, Miu Miu, in Paris.
They are both must-see shows, each offering a statement that not only serves to define the current season, but give a hint at what we'll be seeing in six months' time, when her influence trickles down not only to the high street, but to the designers that follow her every step with bated breath. Prada is the most influential fashion name in the world. That is because Mrs Prada – as she is invariably dubbed – is the most important designer working in fashion today. Bold, sweeping claims. But true.
It's doubly true this autumn/winter season. Mrs Prada's influence can be clocked everywhere. It's there in the sludgy, sickly colours, unusual textures, a deliberate sense of dowdiness. All of these sound like unusual elements to nail in fashion collections. Which is why it's so easy to trace them back to what Mrs Prada not only instigated but invented, and reinvents every season. It must be difficult for her to see herself deified as a living fashion legend. She's every other designer's inspiration.
It was kind of inevitable. Just as the Nineties saw Prada and Tom Ford at Gucci reference the Seventies, the decade they grew up in, today many of the younger designers have begun to reference the Nineties. That was a fashion decade Miuccia Prada helped to invent. Hers was the first catwalk to articulate the Seventies revival that so marked that decade – not the glamourpuss Seventies, the Halston-hipped jersey and velvets of Tom Ford's then newly souped-up Gucci, but something less glamorous, more grimy.
That version of the Seventies had begun to bubble up through the aesthetic of Britpop, but Prada's landmark collections of 1995 and 1996, with their simple shift shapes, palette of lilac bruise, mustard and olive and patterns filched from dodgy wallpaper and Formica, were revelatory.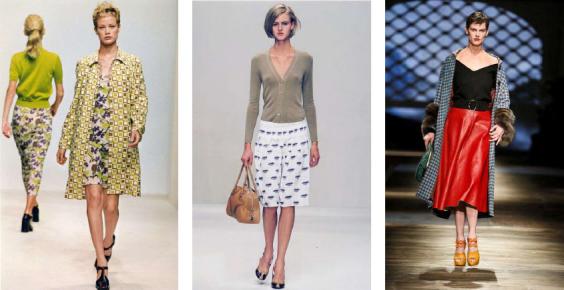 Prada's new Nineties look was dubbed "Ugly Chic". At the time, it got us all to wear chocolate brown and gave vintage sales a boost. In retrospect, it caused a seismic sartorial shift in a similar manner to Christian Dior's "New Look" of 1947. Miuccia's fugly frocks, the knowing naffness of her Bri-Nylon, crocheted tights and toilet-bowl heels, have influenced the way entire generations of designers create clothing.
Miuccia Prada is the reason someone such as JW Anderson can state: "You need to make sure 35 per cent of the collection is something you're not comfortable with. If you're comfortable, it's stale." Incidentally, Anderson is a former employee of Prada, and an unabashed fan. Well, fan is the wrong word: "You can't be a fashion fan as a designer," he says. "You can respect, but you can't be a fan."
Prada, however, has come to occupy one of fashion's grey areas, an area where you're revered and ripped off in equal measure. For most designers this season, Mrs Prada's work was an insidious, unacknowledged influence. It was more rip-off than reverence – there was a severe sense of déjà vu, with ghosts of Prada collections past haunting the catwalks of New York, Paris and Milan, regardless of the purported inspirations. That's nothing new – piracy has always been rife in fashion. But the flatness and audacity of some of these rehashes was galling.
Some designers, however, are transparent in their homage – none more so than Marc Jacobs. In 2011, Marc Jacobs was shot for cult publication Industrie clad in some of his personal Prada collection. It's by no means restricted to menswear, but voraciously roams through the sexes, and through Prada's various collections (the Miu Miu label, launched in 1993, also featured heavily). The subtitle of the piece? "Marc Jacobs comes out as a Miuccia maniac."
You could undoubtedly see the influence of Miuccia Prada's back-catalogue across Jacobs' winter collections for his own label and Louis Vuitton. From the vintage-look mink coats to distressed sequin dresses, from the tip of the blunt-cut wigs to the soles of the platform crocodile sandals, it was an ode to Mrs Prada's greatest hits. Jacobs is one of the few designers with enough talent to pull that off. The reference was reverence. He remixed it in his own way. In a sense, he contradicts Anderson's assertion. Jacobs is a fan, but a fan with his own plan.
The same is true of Edward Meadham, one half of British design duo Meadham Kirchhoff. Their collections are utterly unique – indeed, their shows are among the few that seem free of Mrs Prada's pull. Yet, when penning this piece, he leapt immediately to mind. " My only request is that it is communicated that Miu Miu is my greatest love of all," he replied, emphatically, when I asked if I could discuss his obsession. Which it certainly is: Marc may don his Prada for photocalls, but Meadham is habitually attired in Miu Miu, including hefty gold heels, fur tippets and embroidered cardigans. He took his catwalk bow clutching a bejewelled, kitty-faced Miu Miu handbag at the Meadham Kirchhoff spring/summer 2014 show.
"I think I'm not supposed to wear Prada ," Meadham says. "People get really annoyed with me. Really annoyed about it." Maybe it's that fashion fan thing – or, indeed, the idea that one of the names behind a label so passionately anti-establishment as Meadham Kirchhoff could be pulled into the Prada dream. But that's part of its power.
Prada is powerful creatively, of course. However, that power has also translated into cold, hard cash. Surely, for some designers, the pinching of Prada's ideas is founded in commercial nous. The Prada Group's 2012 revenues totalled a cool £2.75b – an increase of 29 per cent on 2011, with profits increasing by 44.9 per cent. Financial figures usually bore fashion folk, but those are mind-boggling. And of course other fashion houses want to get in on the action, as much as fashion folk want to buy those clothes, and fuel those profits further.
The real Power of Prada? That perfect marriage of creativity and commerce.
Reuse content