Fashion is important to Matchesfashion.com – it's right there in the name, after all. But that's not to say that its customers don't appreciate low-key luxury now and then, says Damien Paul, head of menswear
'Boring' can be seen as a pejorative way to describe something; what alternatives do you prefer?
Richard Nicoll coined the term "perfect boring" a few seasons ago to describe the aesthetic of his collections, which feels like a fairly apt description of where menswear is now – pieces with a real life beyond their initial impact.
Is there is a trend for the 'boring' this season?
We've certainly seen a shift – the mood has turned away from statement dressing towards simpler, fuss-free clothes. Part of the appeal is that they are beyond trends – and that they won't date.
Can 'boring' be luxury?
I think the smarter luxury brands are thinking about what their customers really want – and that many men aren't particularly interested in ostentation. Bottega Veneta has adopted a low-key approach to luxury – focusing on incredibly well-crafted versions of everyday pieces, rather than Instagram fodder.
Which brands of yours best fit in to this trend this season?
Ami has led the way for low-key dressing: cut perfectly and stripped of bells and whistles – being at their shows has the effect of making you instantly feel a little overdressed.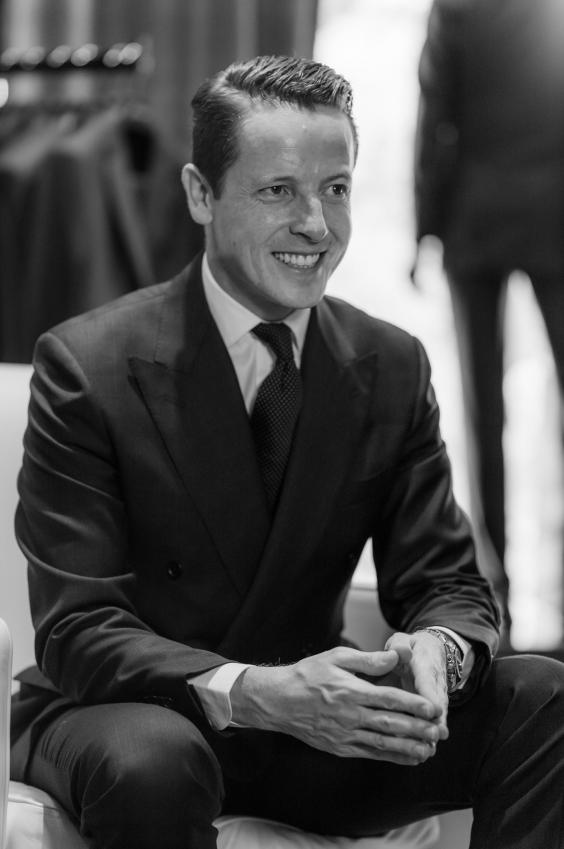 With its lavish décor and designer labels, Harrods doesn't spring to mind for basics. But, says Jason Broderick (above), director of menswear, sports and fine watches, a sublime take on the classics can provide the ultimate blank canvas
Can 'boring' be fashion?
The beauty of 'boring' fashion is that it provides the base or canvas for statement fashion – so yes, boring can be great fashion. Our customers have become more adept at building their wardrobes, ie, boring fashion that can then be updated with seasonal picks to create a look suitable for their lifestyle. Remember, not all guys need to wear a suit and tie to look good at work.
How do your customers shop for these?
We have seen customers peppering their wardrobes with style statements, such as a strong piece of outerwear with a bright T-shirt from Givenchy or Kenzo, layered with a navy bomber jacket from Lanvin. 'Boring' fashion allows for endless styling opportunities.
Basic bestsellers
Basic bestsellers
1/15 Matchesfashion.com

Shirt, £195, Tomsa Maier

2/15 Matchesfashion.com

Jacket, £325, Raey

3/15 Matchesfashion.com

Shoes, £140, Eytys

4/15 Matchesfashion.com

Trousers, £245, Tomorrowland

5/15 Matchesfashion.com

Bag, £745, Want Les Essentiels

6/15 Harrods

Jumper, £340, Kenzo

7/15 Harrods

Shirt, £235, Wooyoungmi

8/15 Harrods

Jacket, £1,125, Lanvin

9/15 Harrods

Trousers, £399, Lanvin

10/15 Harrods

Shoes, £410, Valentino

11/15 Debenhams

Jacket, £120, Jeff Banks

12/15 Debenhams

Jumper, £45, J By Jasper Conran

13/15 Debenhams

Shirt, £18, Red Herring

14/15 Debenhams

Jeans, £45, Hammond & Co

15/15 Debenhams

Shoes, £95, RJR John Rocha
Do they look for a slight fashion tweak on a classic?
Absolutely – and with this trend, sportswear influences are finding their way into a menswear wardrobe: take Valentino's take on trainers which dresses up the boring to complete a look.
'Boring' can be seen as a pejorative way to describe something; what alternatives do you prefer?
This is going to make me sound really old, but I read some social media posts recently and the use of "sick" was everywhere. I'm guessing it means good?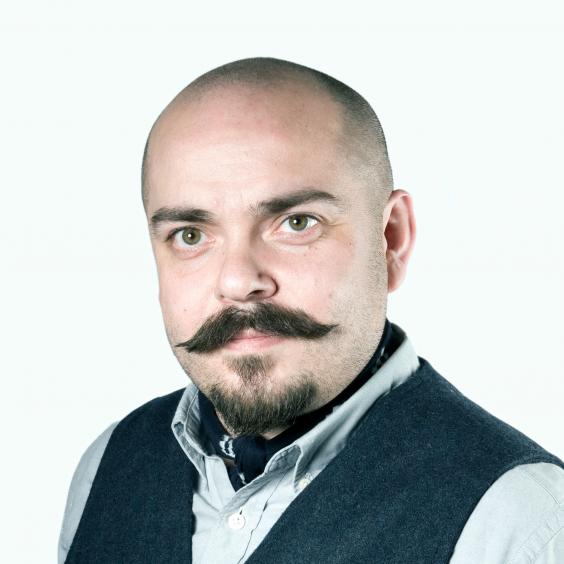 As a hero of the high street, Debenhams walks a fine line between solid wardrobe staples that last a lifetime and a fashionable twist that brings customers back for more, says Julian Fuller (above), head of menswear design
Is there a difference between 'boring' fashion and 'geek chic'?
They definitely weren't the same when geek chic felt new about 10 years ago, but I think now they are. Menswear is getting cleaner and more refined which I think is the opposite of boring.
How often do your 'boring' bestsellers change?
A lot of these styles have been in our ranges for years: the Jasper Conran merino V-neck is a modern classic. I have friends who purchase it again and again.
Can 'boring' be interesting?
Most definitely, the emergence of 'normcore' last season took a lot of people by surprise. The individual pieces are so simple and it's all about styling, so it all comes down to individual interpretation.
Do you think male customers are more focused on details?
The majority are interested to hear the story behind particular garments; fabrications, authenticity and provenance. Customers want well-made staples which will last a lifetime.
Does looking 'boring' mean you blend in, or does it help you stand out in a crowd?
It depends on how you dress and where you are; wearing a suit could be 'boring' but not if it's a great suit, and you're the only one wearing one.
How important is 'boring' to your business?
Being 'boring' is the worst thing for any fashion retailer.
'Boring' can be seen as a pejorative way to describe something, what alternatives do you prefer?
Classic, clean and understated.
Reuse content