Outside the gargantuan concrete headquarters of Giorgio Armani in Milan's Via Bergognone, where the designer stages two shows every menswear week, there's invariably a corps of Milanese police trying in vain to corral the insurgent phalanx of traffic snaking the wrong way around the one-way system. They're brusque, but always chicly dressed, in crisply pressed navy shirts and peaked caps.
I sometimes wonder if they make a special effort for Mr Armani, so pin-neat do they seem, so perfectly do they coordinate with his catwalk collections. Armani, after all, was responsible for the yuppie uniform of choice, the slightly slouchy, deconstructed, wide-shouldered suits that characterised the Eighties.
But this January, for his winter show, Armani's restrained palette of savvy navies and grey and the tautly buttoned torsos had a uniform air to them, too. It wasn't just the opening ushanka.
For once, Armani didn't walk alone. His collection simply served to underscore an emergent mood of uniformity across the menswear season. Even in London, whose fashion approach – like the girls of St Trinian's or Richmal Crompton's Just William – tends towards the anarchic rather than prescribed, there was an air of spit-shined correctness.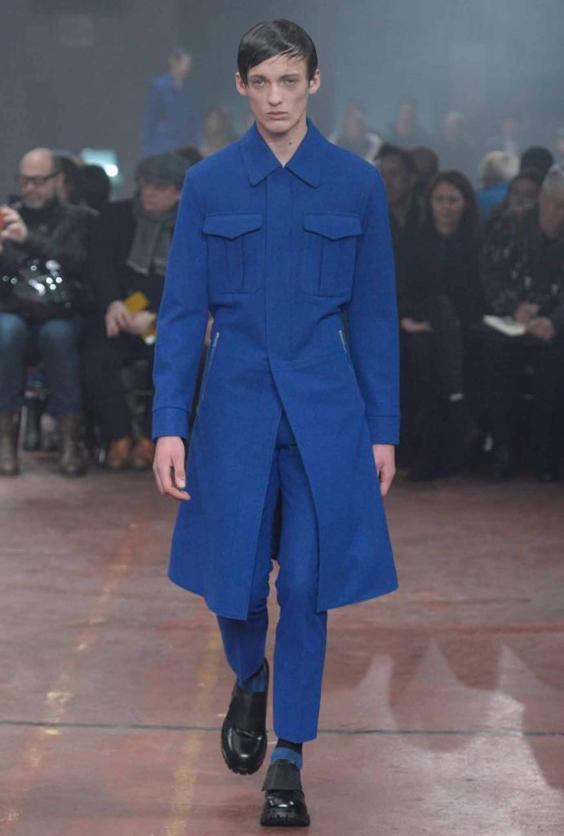 Look at Alexander McQueen, all strict soldier suiting, flak-pocketed and boxy shouldered. Craig Green marched down the same troop route, as did names as diverse as Valentino and Italo Zucchelli at Calvin Klein Collection. Miuccia Prada pressed her men neatly into black nylon; slick and shiny and sharply creased, like a crew of efficient, elegantly attired 22nd-century traffic wardens.
We Brits spend our entire childhood fighting to free ourselves of uniforms, but for next season, menswear designers are hell-bent on shoving us back into them. A few have been fixated on them for years. Thom Browne, for instance, the American designer who has been credited with one of the few fashion (re)inventions in years. A decade or so ago, Browne set up shop offering tweaked versions of the classic grey suit of the Fifties office drone.
"I liked the idea of uniforms," states Browne, by way of explanation. He's wearing his personal uniform, the aforementioned grey suit, which Browne cuts with uniformly cropped trousers and shrunken proportions. Brown talks about the uncool, and the uncomfortable – both things we all assume of uniforms. But, for Browne, they're a selling point.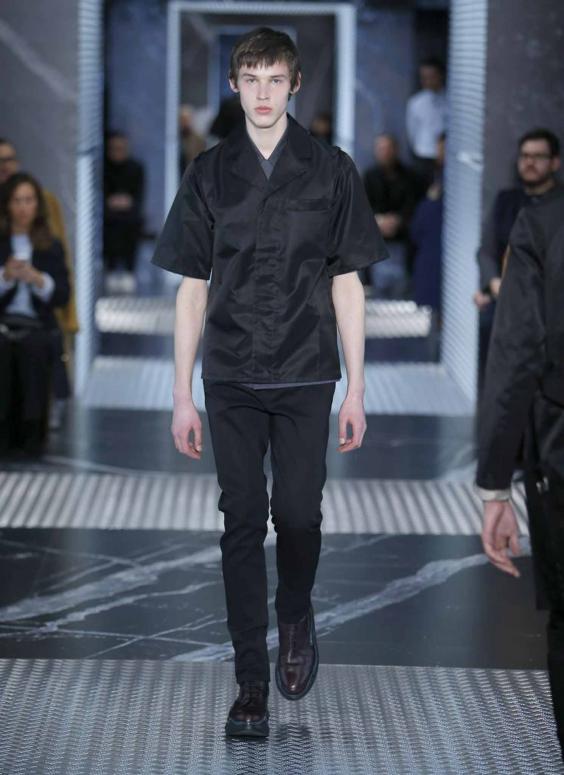 There is the argument that what most of us wear is some kind of uniform. I didn't immediately ally Christopher Shannon's London show with the emerging uniform brigade, but the more I thought about it, as more khaki and camouflage trudged past, the more I realised that Shannon was the strongest representative of a new kind of urban uniform – the tracksuit. He embedded something new in their uniform folds, shredding a bunch of them into tattered flaps like those ribbon curtains butchers use to keep flies off meat.
With my fashion historian head on, they reminded me of the clothes of the Landsknecht, German mercenary soldiers whose battle-scarred attire brought slashing into fashion during the Renaissance. Seized upon by royal circles – it was seen as sexy – it was aped by courtiers across Europe, becoming another kind of uniform.
Soldier, generally, wins out over tinker and sailor when it comes to the uniforms men like to wear. Blame the others in that equation, the tailors, many of whom made their fortunes by tailoring clothes for the armed forces. Neil Barrett, the British-born, Milan-based menswear designer who cuts a mean overcoat and loves a combat boot, was brought up in a family of tailors whose major income came from the army barracks a few miles away from his house. Barret recalls never seeing his grandfather in anything other than a strictly tailored suit.
While Barret Jr may have relaxed those sartorial rules a tad, it's a tradition that still influences him, and others: Italo Zucchelli cropped his Calvin Klein bomber jackets high on the waist, reminiscent of 1940s fighter pilots when teamed with high-rise trousers, standard-issue in field grey.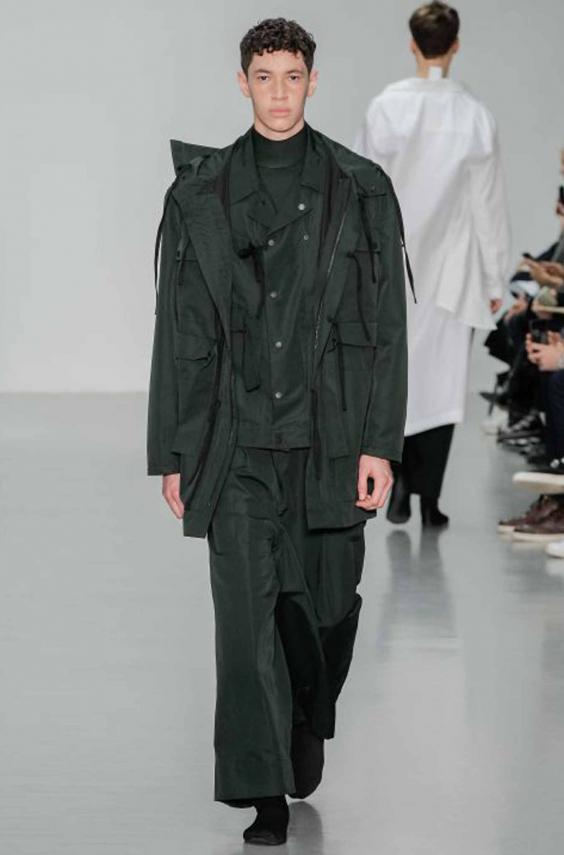 Sarah Burton's McQueen had words like "Valour" or "Honour" printed across them, making obvious what most of these uniform references are trying to evoke. Namely, the hidden language of clothes – that, by dressing like a soldier, you can feel (or, at least look) as heroic as they did, way back when.
Is there a deeper, darker story in fashion designers dressing men for battle while the world boils with turmoil around us, a year into an unofficial war with Isis, with military personnel controlling borders across Europe? Clothes are intended to semaphore lots of stuff – but I doubt designers intended that, although perhaps fashion is reacting to a need for sartorial protection, for a retreat into the tried-and-tested, away from brave style experimentations.
We most of us chafed against our school uniforms, but many retreat into the comfortably anonymity of the tailored suit given the opportunity. There's strength in numbers. Sometimes, in some situations, you want to fit in, rather than stand out.
What it means, on a practical level, is that autumn/winter 2015 is a menswear season rammed, at every level, with technically demanding tailoring in easy-to-sport colours such as olive drab, earth brown, RAF blue or the aforementioned green, as well as black.
It's full of great coats (and greatcoats), of bomber jackets, of outerwear pieces peppered with useful pockets. It translates from the conceptual catwalk story into a man's wardrobe. It'll become a uniform any man can – and will – wear, even at ease.
Reuse content