The cityscape of Shanghai is an unusual one. Not futuristic per se, it's also not realistic. It feels like scrolling through a virtual world – a life-sized Sim City. Cement ravines cut through high-rises, a jumble of zoning, and the juxtapositions are extreme: the luxurious but hyper-modern PuLi Hotel, for instance, flanks a 13th-century Buddhist place of worship, the Jing'an temple. The temple, its curlicued, gold-tipped roof resembling gilded fungi sprouting from the midst of Shanghai's concrete jungle, is overshadowed by a giant billboard. It advertises Western luxury, mostly.
The image implies China worshipping at an altar of European brands – the reverse of the 18th-century inclination to export and assimilate oriental modes. Today, the implication is that leading designers bundle up crates of their most costly clothing and ship them over to China, to be revered and voraciously consumed by the locals. The reality is somewhat different. It is Europe which comes to China to pay homage. Dior, Prada and Chanel have all staged shows here: in 2012, Louis Vuitton's then-creative director, Marc Jacobs, staged an extravagant facsimile of his winter Paris show beside the Bund river in Shanghai. When I asked the milliner Stephen Jones (who created the hats, and attended said spectacle) if this was for Chinese press, he shook his head, declaring the audience was filled with Chinese clients.
That's because Vuitton – like everyone else – is studiously courting the hyper-rich top earners of an economy which, in 2014, became the world's largest. The International Monetary Fund estimates China's financial clout at the tune of £11.6 trillion – 16.5 per cent of the global economy. The next closest, the USA, comes in at 16.3 per cent.
An economy of that size – with a population set to reach 1.4bn in 2015 – is a boon for global luxury. China is not only the world's largest GDP; its citizens now allegedly spend the most on designer goods. Despite government sanctions – advertising of luxury goods was banned on official state radio and television in February 2013, while Chinese consumption tax on luxury goods has, in the past 12 months, reached as high as 40 per cent – the country is estimated to comprise anything between 25 per cent and a staggering 47 per cent of world luxury consumption. They are also the world's most prolific travellers, accounting for 30 per cent of tourist spending.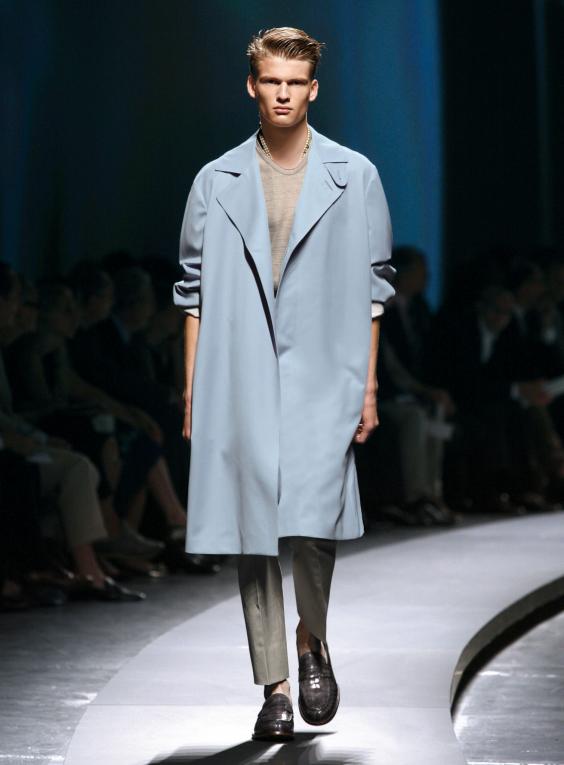 There is also an interesting skew in China – towards menswear. The impact of the 'One-Child Policy', combined with traditional, male-dominated Chinese cultural values, has created a market with a decided slant. Its global impact? A fresh focus, throughout fashion, on dressing the male of the species. Example: in April last year, Prada announced they would be opening 50 menswear-only stores worldwide.
So, why am I in Shanghai? Appropriately enough, it's to meet Stefano Pilati, head of design at Ermenegildo Zegna. Zegna is the largest menswear brand in the world, with annual revenue reaching within a whisker of £1bn in 2013, the first year of Pilati's tenure. Founded on Italian suit manufacture, they also create clothes for other labels, manufacturing suiting for brands including Saint Laurent, Gucci and Tom Ford. They have an annual output of over 2.3 million metres of fabric, 1.6 million pieces of sportswear and 1.7 million textile accessories.
That sounds soulless, industrial. It is certainly the latter. Zegna is big business first and foremost, which is why the appointment of Stefano Pilati caused something of a fashion furore. Because Zegna, truth be told, wasn't known for design innovation. Menswear, generally, isn't known for that – especially when it comes to Italian suit manufacturers who are big in markets like China, which demand conservative two-pieces rather than clothes that redefine contemporary aesthetic mores.
But that is precisely what Stefano Pilati is known for: he worked for Prada in the Nineties, an era it helped define, moving to Yves Saint Laurent and working under Tom Ford following the label's purchase by then-Gucci Group in 1999. When Ford left in 2004, Pilati took the reins. His womenswear collections caused a sensation – the first two, poorly received by critics, were runaway commercial successes. Women clamoured for his puffy velvet skirts, his strict blouses. We have Pilati to blame for Gok Wan's favourite banger-booster, the cinched-and-winched four-inch contour belt. Pilati's team created the 'Tribute', that needle-heeled platform shoe so successful the house still produces it three years after Stefano left the building. So do many others – Pilati's work, specifically accessories (those Tribute shoes, the 'Muse' and 'Downtown' handbags) were endlessly ripped-off.
Think of the menswear, however, and it's less easily defined. "Saint Laurent was all about womenswear," states Pilati. "Somehow I invented the menswear, in terms of business. It had never existed." Well, it had. Monsieur Saint Laurent himself designed menswear, launching in 1968. He wore the stuff, and dressed his friends like Rudolf Nureyev in extreme looks, such as thigh-high boots and safari jumpsuits. Through the Eighties and Nineties, the label's menswear was farmed out to licensees, who knocked out ill-fitting suiting and sportswear. But what Pilati means is that it didn't have a contemporary identity – neither Tom Ford, nor his predecessor Hedi Slimane (who, incidentally, returned to helm both mens- and womenswear in 2012) established a unique identity for the label.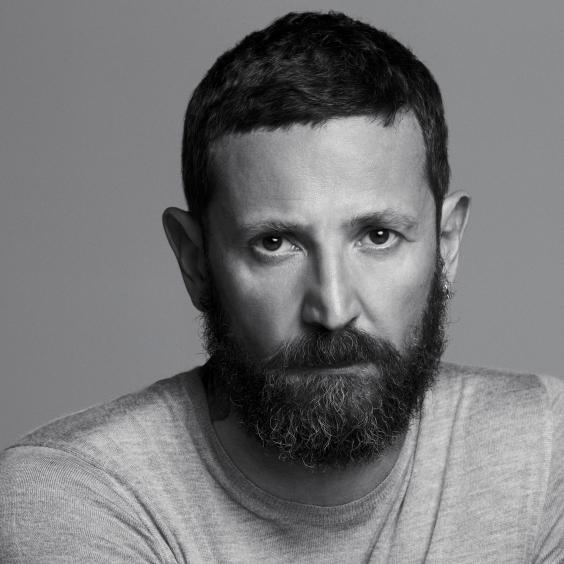 Pilati didn't either, honestly. What he established was an identity for himself as a designer. The notion? "I'm a man, so I design what I can't find." Pilati evidently has specific tastes – because his menswear, at Yves Saint Laurent, and latterly at Zegna, is delicately twisted. Subtly skewed. It's reflected in his own dress. When we meet, Pilati is wearing low-slung, tracksuit-style trousers, an open-collared shirt, a cashmere knit intentionally moth-eaten with minute perforations. There's a brightly-printed scarf knotted at his neck, and his feet are shoved into equally bright Nike running shoes. It's a scruffed-up mix that not only just stays the right side of Sunday-milk-run chic (ie, not very) but ends up looking like the dernier cri of menswear today. There's something easy about the way Pilati looks. Nothing feels like it's trying too hard.
Perhaps that nonchalance is the lynchpin of his Zegna designs. There's a similar sense to his first three collections, the main idea of which is a 'broken' suit – co-ordinating but mismatching suiting in a melange of different fabrics. The whole point of this excursion to China is to showcase said suit in a high-profile, higher-budget film, titled A Rose Reborn and created with South Korean director Park Chan-wook, starring Jack Huston and Daniel Wu. The film is a sort of spy thriller, with blokes zipping around the globe in fancy pants. Strangely, they swap jackets, trousers and ties, in a sartorial pas de deux intended to illustrate the interchangeability of Pilati's clothing conceits for a new generation of Masters of the Universe-types.
It was a creative decision, to make this film, Pilati asserts, but the show must go on in Shanghai to consolidate the commerce. It's the closer to Shanghai Fashion Week – otherwise populated with designers little-known outside of China, but with fashion press and celebrities brought in specially to witness the grand unveiling of Pilati's latest vision for Zegna. China isn't a new market for the label: Zegna opened a store in Beijing in 1991, their inaugural outpost in mainland China – the first European menswear brand to do so. As with virtually all luxury brands, particularly in menswear, Zegna now crow that China is their primary market. They operate over 70 points of sale in the country, out of 555 worldwide.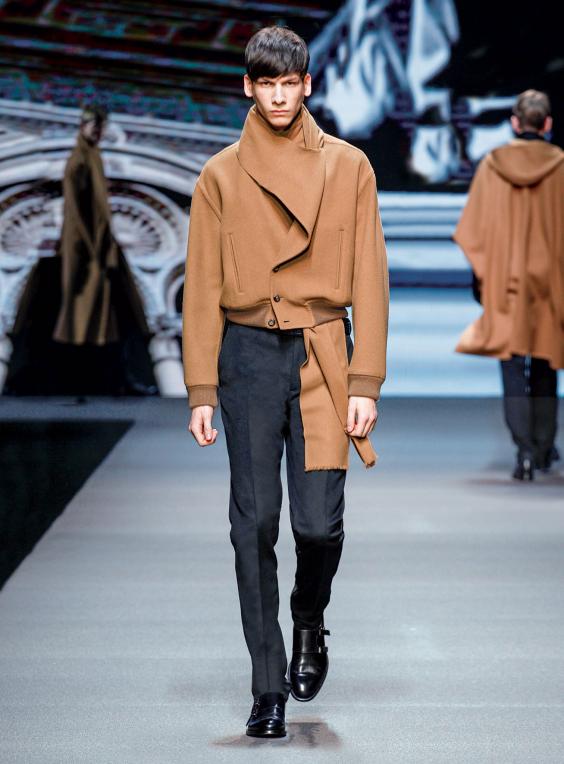 The big question is whether China's notoriously orthodox consumers will take to what Pilati is proposing. Pilati, for his part, is well aware of the restrictions of his role – and tempers his approach accordingly. "At Zegna, I am trying to do a good job – besides my fashion research or my personal journey – I'm trying to do a good job, that matches where I am," he states. There's a diplomacy to his wording, but also a directness. "It's not my line – which is how I've always worked. I always want to do a good job for the brand. My personal [label]... if I wanted it, I would have chosen a different path. I'm proud if I'm doing a good job, with what makes sense for that brand." To that degree, there are always suits in Pilati's Zegna collections. They're excellent suits, too – they weigh in at about eight grand on the shop floor, so they had better be good (but cost isn't a huge issue – prior to Pilati's appointment, Zegna offered customers in China the opportunity to order custom suits costing 228,000 yuan – roughly £24k). What do you get for that considerable chunk of cash? A heady, intoxicating medley of fantastic fashion design and superlative manufacturing. Pilati's main vehicle is dubbed Ermenegildo Zegna Couture – a reflection of the fact that the clothes are exquisitely made, and that Pilati's design instinct is exceptional.
The simplicity of his approach is, perhaps, why it works so well. There's a logic to Pilati's designs. It frequently feels like he's problem-solving, in a manner almost mathematical. Pilati is from the north of Italy, after all – traditionally, a region known for a colder, more methodical approach than the hot-blooded, hotter-headed southern Italians. The south are Dolce & Gabbana, and Versace. The north gave birth to Giorgio Armani and Miuccia Prada, both of whom Pilati worked for at the start of his career. His clothes aren't cold, but there is a logic to them.
Pilati shows his winter 2015 Zegna collection today. I have no idea what it will look like. But we can back-track through his previous hits, and examine their logic. Take his Zegna debut. The question: it's summer, but we make suits. How to reconcile? Big, blowsy overcoats with all the structure stripped out, until they hang like supremely elegant dressing-gowns over the shoulder. Then, winter 2014. You need a scarf. And a coat. Why not fuse them together? That's where the overcoats and bombers with a great swathe of fabric lassoing the neck evolved from. Of course, they were a triumph of form over function – "Elegant, that's what I always look for," says Pilati of his approach. But it's never 'just' elegant, or attractive, or ornamented. It's a fusion of form, and function, and fashion, and finance. If there's any justice in the world, men from all over the globe will be fighting to buy what Pilati's selling.
Reuse content