When it comes to the summer months, knowing what to wear can prove a genuine struggle for men.
Is it acceptable to sport a short-sleeved shirt at work? Are socks and sandals tolerable? And perhaps the greatest dilemma of them is all, should you whip out those pasty pins in a pair of seasonal shorts?
A trend firmly rooted in sport-inspired fashion, shorts are a great way for men to show a little skin and cool down in warmer climes. But for years now conventional wisdom has told us that they need to finish on the knee.
Not anymore though because this season hemlines are on the rise, literally.
If the spring/summer 2017 runways are anything to go by, short-shorts ala 1980s style runners that are cut super-high to the thigh are making a controversial comeback.
At Topman Design, a summery offering inspired by retro seaside towns like Margate saw a whole lot of leg on show. Here, models strutted the runway sporting seriously short-shorts in everything from monochrome check to velvet green styles.
Elsewhere, Christopher Shannon looked back to 80s sportswear where he pushed the idea of denim shorts to the extreme with micro iterations paired with zip-up track tops and socks pulled up to the knees. 
But, perhaps the most surprising instalment came from E.Tautz -  brand renowned for its Savile Row aesthetic – where the trend translated into tailoring with their very own pint sized version of the city short. 
When taking this look into real-life wear, it's important to remember that short-shorts don't have to be a fashion faux pas. They simply require a little thought, a loose silhouette on top and a great set of pins.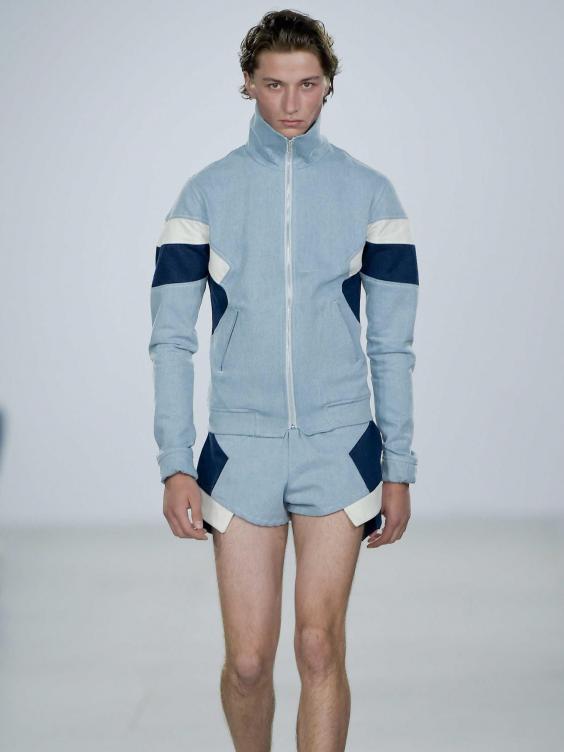 Since there's so little fabric to work with, your first port of call should be the details so be sure to opt for a pair that fit well – short doesn't necessarily mean tight – and don't be afraid to experiment with print.
Don't feel pressured to jump straight in with a 3-inch seem either. Start by elevating the hemline from what you're used to and steadily get shorter until you reach a length that feels comfortable for you – though we suggest pulling the breaks just above the mid-thigh mark. 
Reuse content