During New York fashion week in February, I was seated next to a buyer from an international boutique, idly chatting. We were at another designer's show, but we were talking about Joseph Altuzarra, who was to present his autumn/winter 2014 collection the same day.
I pontificated about the ergonomics and economies of cut, about the way his clothes felt on the body, about the stance and motion they gave to his models. The buyer deadpanned: "I just think they make women look really sexy."
She was right, I was wrong. She nailed the discreet charm of Joseph Altuzarra perfectly. His clothes – designed under the simple, singular moniker Altuzarra – are unabashedly sensuous, slick and a bit sick. They're sick because they play with notions of sexiness in a very clever way. "Taking things that are not necessarily overtly sexy and turning it sexy," is the way Altuzarra himself puts it. "I'm always really fascinated by fetishes and how they tie back to secret urges or desires… in a way, you can say it is somewhat twisted."
Don't let him come off as the tortured artist type. Altuzarra has the romantic looks – barely 31, he's slight, so slight that a 2011 shoot for W magazine featured the designer contorted into one of his body-conscious dresses – and his American accent is occasionally softened by Frenchified intonation, a remnant of his upbringing in Paris and the Basque heritage of his father (his mother, by contrast, is Chinese-American – she was involved in his business until last year).
Joseph Altuzarra and his designs
Joseph Altuzarra and his designs
1/7 Joseph Altuzarra and his designs

Altuzarra designs for autumn/winter 2014

2/7 Joseph Altuzarra and his designs

Altuzarra designs for autumn/winter 2014

3/7 Joseph Altuzarra and his designs

Altuzarra designs for autumn/winter 2014

4/7 Joseph Altuzarra and his designs

Altuzarra designs for autumn/winter 2014

5/7 Joseph Altuzarra and his designs

Altuzarra pre-spring 2015

6/7 Joseph Altuzarra and his designs

Lana Del Rey and designer Joseph Altuzarra

Getty Images

7/7 Joseph Altuzarra and his designs

New York designer Joseph Altuzarra
Altuzarra's birthplace also fostered his nascent interest in fashion. "I mean, it's such a huge part of French culture, and the French are so proud of it, that it was something that is always around you," he says. "It was always something that I liked, as a teenager mainly, not really as a child. I think originally it came from the fact that I was fairly unpopular in school. I was really nerdy and not really accepted – this was in Paris – but I think this whole kind of idea of Pygmalion was very appealing to me: the idea that you could go and buy cool clothes that would suddenly transform your entire social life… that's really when my interest in fashion started. The idea that fashion can be something transformative, something that can change you."
That may sound a bit tortured. But Altuzarra smiles widely as he talks – despite the European slant to his aesthetic, he has a distinctly American pragmatism and humour. His training took in both sides of the Atlantic – stints with Proenza Schouler and Marc Jacobs in New York ("I just sent my resumé and I think I was alphabetically on the top of the pile," he says, modestly, of the latter appointment), followed by time with Riccardo Tisci at Givenchy before setting up his own label in 2008.
All this despite the fact that he has no formal fashion schooling. Altuzarra studied art and art history at Swarthmore College, Pennsylvania: "I had this inferiority complex that I'd never gone to fashion school and I didn't know the technical aspect of the job," he says, explaining his apprenticeship with a pattern-cutter prior to the Givenchy gig.
Sex appeal may be an Altuzarra signature, but it's all down to his cut – gripping the waist tightly, hugging the hips and bust, perhaps slithering open in a slit down the thigh or across the breasts. Alone among New York designers – and potentially amongst an entire generation of new talent – Altuzarra owns that silhouette, one of the most difficult things for a designer to do. The fact that he's able to reiterate it season after season, in a multitude of interpretations, takes skill and expertise, both to execute, and to ensure that his audience doesn't get bored. They haven't: Altuzarra has a raft of industry accolades and awards under his belt, including the 2011 CFDA/Vogue Fashion Fund, while last year luxury conglomerate Kering purchased a minority stake in the business. Clever.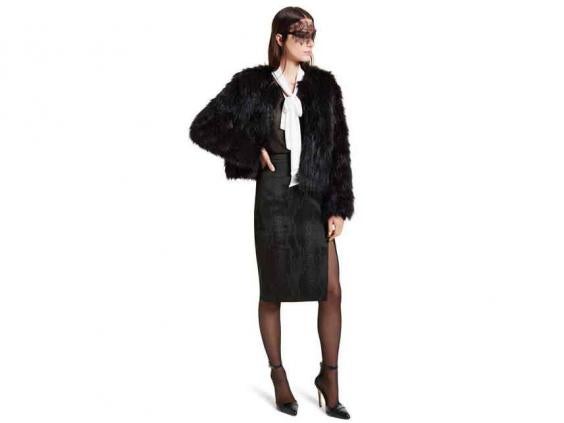 For autumn/winter 2014, his first show following that investment, Altuzarra continued to develop. He added a froth of texture to the mix, inspired by the intricately worked surfaces of pieces by textile artist Sheila Hicks. She was the source of the tufting and fraying and embroidering, the dresses in nubby, knobbly, knotted fabrics that looked like Ikea rag-rugs strapped against the body. In other hands, they would have looked lumpy and frumpy. In Altuzarra's, it somehow all worked. Women wanted to wear it – because it still made them look sexy. Maybe that sexiness this time was in the way the back was scooped out and barely held with a strap, a trembling, tense point of structure that threatened revelation at its undoing.
Or maybe that's just more pretentious claptrap, and it's just about a tight dress that flashes flesh? "There are things that I very much admire in American fashion, which is the idea of clothes as clothes, but there's not necessarily this whole philosophical message in each collection. It's really about things that are wearable, in the end," says Altuzarra in a measured fashion.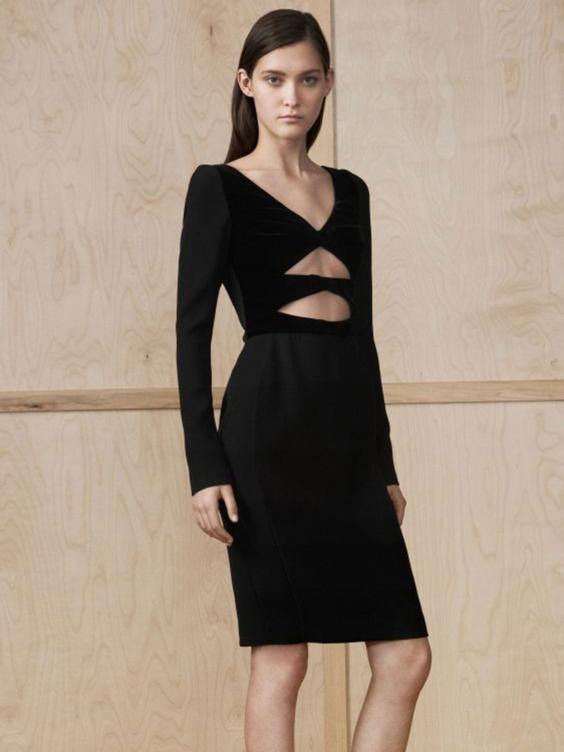 He's not shooting down my hypothesising intentionally, but nevertheless, it does the job. "Taking the idea of American sportswear and making it really new and really creative. But not losing the wearability. Which is something you can stray from a little bit in Paris – you're seeing something so beautiful on the runway, but it almost exists only for the runway, there's no palpable future for it in the real world."
The real world is exactly what Altuzarra has his eyes on right now, as a collaborative collection with the US retail chain Target launches. While the range retails for tens rather than thousands of pounds, Altuzarra's style rings clear and true – "it's identifiable and eclectic but it's also different from his main line," says Alison , the president of net-a-porter.com, who will sell the line exclusively in the UK. Last Thursday, during New York's fashion week, there was a furore at a preview event as eager shoppers clamoured for advance pieces.
What's that age-old adage that rings true here? Oh, right. Sex sells. Altuzarra hits net-a-porter.com on Saturday. Form an orderly queue.
Reuse content