'Modern cocktail" was how J W Anderson chose to describe his autumn/winter 2016 collection. Really? Does Anderson imagine women would wear his pile-ups of green neoprene frills and furbelows, puffed out like the vocal sacs of a fat, enraged toad, for a quiet soiree?  Or was he being provocative, combative and challenging? 
I suspect the latter. Anderson enjoys getting people's hackles up – making us, metaphorically, puff out and frown at his flying-saucer hems and zip-ribbed tunics. We also tut when Anderson pontificates about abstract themes rather than tell us why he decided to show ruffles and where the leaf studding his satin tops originated. I suspect some of that is for effect, to emphasise, perhaps, how ridiculous it is for us all to rush backstage and beg explanation of the whys and wherefores of puff sleeves and puffball skirts. But I also think Anderson is trying to grapple with ambitious ideas to keep his audience interested.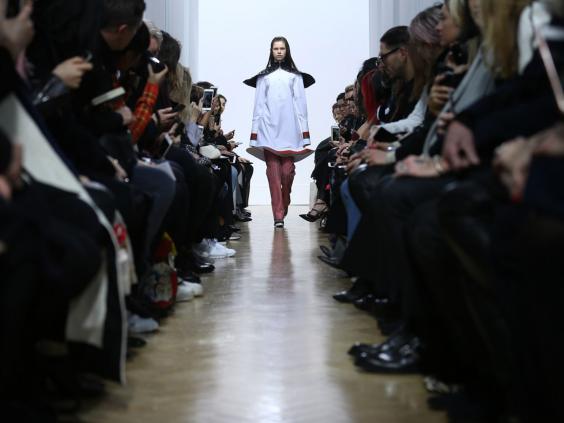 That's a vital thing for designers to accomplish in the physically and technologically packed hypermarket that is contemporary fashion. A multitude of names are jostling for both attention and consumption. Anderson is in his early thirties, acutely aware of the demands of the new age. So he gives us shows animated with endless novelty and frivolity, easily consumed both visually and at sales tills. He talked about his outfits being "snapshots", after an iPhone-welded audience spent his show doing little other than snapping, and said he wanted each observer to wind up "immersed in a look". 
Pulled close in to the models on a narrow catwalk, you did wind up buried, near physically, in the details of embroidered leather bodices, ruched leggings, fish-scale paillette shoes and munched-up ruffled skirts. It was tough to see them as an entity, but rather as abstracts perpetual motion. "It's to get a sense of clothing," mused Anderson grandly. "It's fine if it's not commercial."
But it isn't fine, and this was commercial, despite Anderson's protestations. A designer has to sell their clothes to survive, and the current rejigging of catwalk calendars in favour of a model dubbed "see now, buy now" underlines the demands of commerce. Anderson's snapshots trained your eye to focus on particular facets of the clothes: a studded handbag, sequinned shoes, shirt-dresses kicking into stiff saturn rings of coloured leather about the knee. Coupling those saturn rings with the wide-cut puritan collars and those ribbity frog flounces, and it felt like Anderson was trying – physically – to distance his wearer from her surroundings. Perhaps protectively, perhaps simply misanthropically. Perhaps also to allow a woman to exist in her own space, without intrusion, behind heavy-duty metal grommeting as armour. Anderson mentioned that he likes to be confrontational backstage: maybe he didn't just mean in terms of cocktail attire.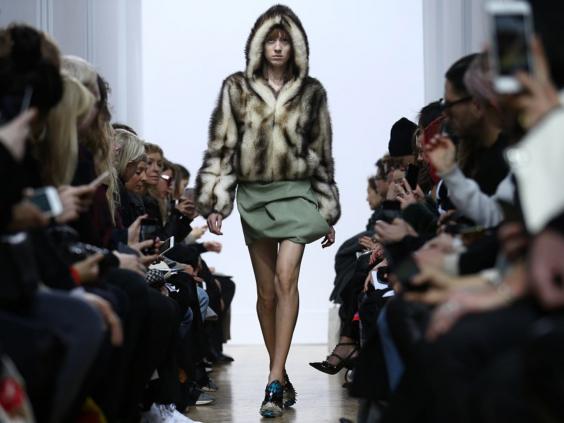 I can't help but think Anderson's often steadfast refusal to engage in the inspirational nuts and bolts of his design (What's that fabric? Why that fur?) and willingness to wax lyrical on the state of modern society is because, simply, there isn't an explanation behind what he chose. He saw a ruffle, liked it, stuck it on a skirt, thought other people would like it to. Simple as. And simply, you could imagine women wearing the stiff cotton dresses and lightly draped sweaters. For cocktails, and beyond. So why do we care about a hidden depth, especially if there really isn't one?
There's no danger of hidden depth with Emilia Wickstead, whose posh clothes for posh girls going to posh dos tick pretty basic boxes. Her style can be neatly summarised as Lee Radziwill in radzimir: clean sixties-tinged couture gowns, straightforward coats, skinny gowns. Occasionally they're muddled, such as by Wickstead's predilection for jumpsuits so pronounced it amounts to a fetish that, like "splooshing", say, or "yiffing", is entirely inexplicable unless likewise inclined. This time, she let godet-hemmed trousers get the better of her in a valiant attempt to challenge the ubiquity of the cigarette trouser. To paraphrase the words of Abba's Agnetha Faltskog, whom many of the models wound up resembling, Wickstead was defeated, the slender leg won the war.
However, this was otherwise a sharp, decisive, well-executed show full of engaging ideas. Confrontation, perhaps, for Wickstead – quietly so – as it challenged the niche she's been placed in as party-frock purveyor. Many of the ideas felt new – if not entirely, then certainly for Wickstead. Few felt prim or precious, which has marred previous outings. The tailoring was great in giant boxy shapes with strapped sleeves; her knitted dresses deserved special mention and merit. Long and lean and body-hugging, even when shown as a potentially lumpen combo of knit pinafore dress over sweater. A cable-knit version, fluted at the hem, was lovely. Very modern cocktail.
Reuse content