The sun made an appearance in Milan today, as Italy welcomed a new prime minister, the youngest in its history, into office. In politics as in fashion, the effects of changes at the top can ripple to the furthest shores, or they can seem to make little difference as business continues as normal.
The Jil Sander regime is currently without a figurehead – the eponymous designer left the label she founded in October, citing undisclosed personal reasons, the third time she has done so. The collection presented by the design team today was no less polished for not having a single leader and certainly wasn't lacking the Sander signatures. Literal reference to the blend of ideas that is inevitable when such a structure is in place could be read in to the melange wool and cashmere blends that opened the collection as outerwear with hidden buttons and high necks – protective in a way – in muted, dusky pastels. The colour palette was enlivened here and there thanks to shades of rose, mustard, apricot and spearmint. The silhouette for outerwear was strong and well defined with dropped shoulders and jackets structured away from the body: coats were long and cocoon-like, jackets swingy and cropped to the hip. Casual tailored trousers were cropped too, better to see flatform-soled lace-ups striped with off shades of yellow and blue leather and snake and wedge heeled boots that had a hiking attitude, if none of the grip necessary for that outdoor pursuit.
Shift dresses were folded, draped and twisted close to the body, bands of fabrics cross-sectioning jersey and silk. The lightweight fabrics clinging to the body here and there, while such contortions adding no bulk. A sense of tranquility was the design team's goal, and indeed there was a serenity and simplicity to the collection that belied the construction beneath. While this will no doubt be seen as a job well done, a label inevitably suffers without a leader and it will be interesting to see who will next take the helm at Jil Sander, or if she herself will ever be persuaded to return for another round.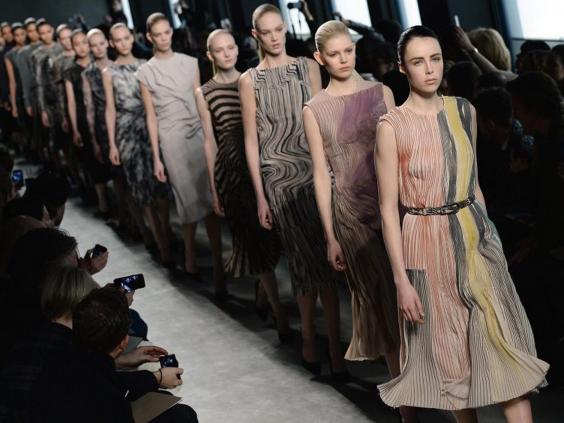 The creative director of Bottega Veneta, Tomas Maier, is not the headline grabbing sort – fitting really as neither is that label's aesthetic. These are clothes for the stealthily wealthy, women with confidence enough to show restraint where symbols of wealth are concerned. Women that is, not girls, for though Maier's designs are feminine – beautifully so – they simply aren't girlish.
Abstracted stripes and optical patterns bisected wool crepe and jersey dresses - some pleated, some slit, others twisted and tucked. The silhouette remained close to the body and a pale palette was fortified by traditionally autumnal shades of forest green, aubergine and a rich oxblood. A classical collection, there were hints of experimentation too: a grey wool school marm skirt was spray-painted and embroidered to create a trompe l'oiel impression of more pleats. "The collection is about movement, energy and focus," said Maier. "We are always thinking about what clothes should do for a woman and her personal experience of them." Those fortunate enough to get up close and personal with Maier's designs will no doubt appreciate that sentiment.
Reuse content