As the models from Berluti pranced down a silver catwalk on Friday evening through the storeyed halls of Paris's Musée des Arts Décoratifs, in slick, super-expensive suiting, coating and booting, swinging polished leather bags, you were reminded of who this fashion game is really for. Not you, nor I, nor the throngs of young fashion fans snapping images with fervent ardour, but for very, very rich people.
It's something highlighted again and again in this season's Paris shows, where various labels played with the city boys' favourite: pinstripes. But Alessandro Sartori, the creative director of Berluti, isn't interested in that sort of stuff. Granted, he used differing weights of jersey to give his suits an activewear slant, but he didn't literally slant them like Comme Des Garçons' Rei Kawakubo (so the buttoning sloped to the right at a 45-degree angle).
Sartori's sartorial games were subtler. They are intended to sell, for a lot of money. His palette was moneyed, in rich-person colours: the cognac they quaff; the greens of their acres of land; the sandstones and greys that facade their hotels particuliers on Parisian boulevards. There was also plenty of black, like their bank balances. If that colour palette was remarkable in its breadth and variety, the garments on offering were not. They were weighted towards the real demands of a real, really rich, man's wardrobe. There were even a few frockcoats at the end, in case you had to attend King Abdullah of Saudi Arabia's state funeral in style.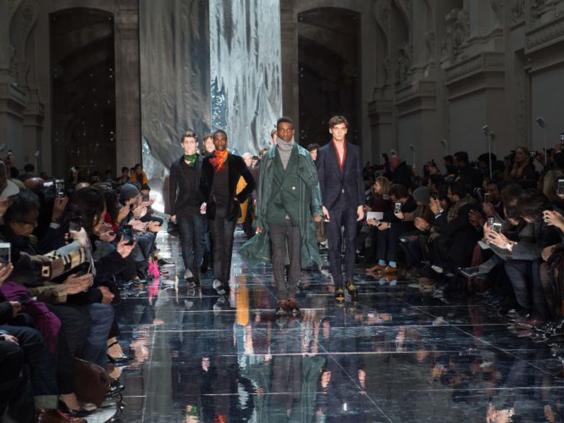 Less than 24 hours later, Kris Van Assche opened his Dior Homme show with the same formal style. His vision, however, wasn't about the past, but the future. Van Assche said he wanted "to bring formality into the world of the technical the utilitarian". To underscore the theme, an entire orchestra fiddled while the season turned at Dior Homme – in black-tie and shiny, box-fresh white trainers. That was a somewhat clichéd expression of Van Assche's intended mash-up of the techy (sports touches) with the traditional (suits). Usually, they mashed together in the styling rather than the design. He teamed the opening tailcoats with baseball caps and clusters of foliage-printed badges in place of the classic bouttonnière.
You were struck, throughout, with an urge to strip away those gimmicks that only served in the end to disrupt the line of Van Assche's suiting. Which was safe, but sturdy: a great coat, a sharp suit. He wanted the orchestra to represent "a metaphor for the making of the collection", which ultimately amounted to a touch too much fiddling that all felt to be a little unnecessary. Unnecessary because Dior Homme's customers aren't looking for fussy fashion, but for classic design that will last. If you're shelling out a couple of grand on a grain de poudre evening tuxedo, you don't want it to become outmoded in a season or two. Berluti, on the other hand, is about eschewing the changeability of fashion in favour of eternal style. But it also often lacks innovation.
Rei Kawakubo takes another tack: she elevates the poor, fabrics like puckered polyester, leatherette or stocking-nylon, through design. Innovation. Experimentation. This season, she meditated on concepts of power and ceremony, monastic chanting soundtracking her Comme Des Garçons show. Frockcoats appeared here, too: but they were puckered, buttoned too tight like 18th-century justacorps over knee-breeches or slashed with seams. A few were scribbled with patterns that recalled tattoos. And there were plenty of suits. Skew-whiff across the torso, twisted and turned with ingenious complexity like tailoring refracted through funhouse mirrors, they were nothing approaching normal, never mind nondescript. Rich in ideas, not mere material.
Reuse content