You have to pity those poor England players. When the World Cup gets under way next week, not only will our footballers have to carry a nation's hope on their (well-defined) shoulders and be forced to run around a field in heat reminiscent of a Virgin Active sauna, but they will also need to forgo all of the delights of Brazilian gastronomy in favour of a strict diet of boring old chicken, steamed vegetables and pasta.
The team might be well-rehearsed with such imposing nutritional guidelines but they are in Brazil, home to one of the most diverse and exciting cuisines in the world. So not for them the warming spice of moqueca bahiana (a seafood and coconut milk stew) or the comforting delights of pão de queijo (cheesy bread rolls). And, perhaps worst of all, no churrasco (meat barbecue) for Steven Gerrard, Frank Lampard et al. Enjoy the egg-white omelettes, lads.
There is not really any such thing as a nationwide Brazilian cuisine (although a black-bean stew with beef and pork called feijoada is the closest it has to a national dish); instead, food and flavours differ greatly by region, reflecting the country's size and its rich history of immigration. "There are some dishes, such as feijoada, that are eaten all over the country but many dishes are regional," says Shelley Hepworth, co-author of the new book This is Brazil: Home-style Recipes and Street Food. "The state of Bahia has a strong African heritage and you see the influence in the food: seafood stews using the distinctive dende oil and street food such as acaraje, which is a black-eyed pea fritter. Churrasco, although eaten all over, hails from the southern state of Rio Grande do Sul, and cheese balls are associated with Minas Gerais. In regions such as Amazonia, there is a strong indigenous influence and the amount and variety of seafood is reflected in the cuisine there."
So what should people travelling to Brazil for the World Cup look out for? The first England game (against Italy) takes place next Saturday in Manaus in northern Brazil, where they specialise in Amazon gastronomy. Here, they pride themselves on their fish, which they serve roasted in charcoal, boiled or fried. Although they offer many unique types, they are most famous for their jaraqui, a small freshwater fish, and the enormous pirarucu. A popular seafood stew served in the region is caldeirada, which is not dissimilar to a bouillabaisse. Unique exotic fruits are also a big draw here, and graviola, pupunha, and caju should all be sampled.
From there, the team will travel to São Paulo in south-eastern Brazil, long admired by those in the know as its foodie capital (much to Rio de Janeiro's chagrin). Every lunchtime, vast numbers chow down virado a paulista, a dish consisting of rice, beans, toasted manioc flour, garlic sausage, steak, sautéed kale, fried plantain and a fried egg. It is simple, tasty, cheap, and traditional São Paulo.
Lastly, in the group stages, the team will play in Belo Horizonte. A few caipirinhas – Brazil's national cocktail consisting of cachaça, sugar and lime – is a must.
"Brazilian food is a unique mash-up of indigenous, Portuguese and African cooking that you won't find anywhere else," Hepworth says. "Cassava [root] is a staple that's used extensively in everything from savoury breads and biscuits to soups and stews and all kinds of desserts. It's very versatile. Brazilians also love their petiscos, which is the Portuguese answer to Spanish tapas. People should try the cheese bread, salt cod fritters and pastels."
Inside the football stadiums there will be burgers, pizza and chips on offer. But those who are willing to experiment will be rewarded with delightful Brazilian street food such as empanadas (deep-fried pies filled with anything from ground meat to cheese), coxinhas (chicken croquettes), bolinho de bacalhau (salt cod fritters), and acaraje (fried balls of shrimp, black-eyed peas and onion), which will be served alongside the more familiar fast food.
But you don't need to spend half a day in the sky to sample some Brazilian fare; there are plenty of delightful recipe books available (as well as the aforementioned This is Brazil, be sure to look out for another new tome on the subject, Thiago Castanho's Brazilian Food). And specialised restaurants are popping up all over the UK, with all-you-can-eat churrascos in particular beginning to pepper high streets.
Mike Nayla, owner of Rodizio Rico, a chain of Brazilian churrascos with branches in London and Birmingham, decided to introduce the barbecue buffets in 1997 after falling in love with the cuisine on visits with his wife to her native Brazil. "There wasn't anything much like it in the UK back then," Nayla says. "And I knew from my own experience that the food was wonderful."
Like most Brazilian restaurants and bars, Rodizio Rico will be showing the World Cup games and it is expecting a stampede. So even if you missed out on making it to Brazil, you can at least savour a taste of it.
'This Is Brazil' by Fernanda De Paula and Shelley Hepworth (Hardie Grant, £16.99)
Bolinho de Bacalhau (salt cod fritters) by Fernanda De Paula and Shelley Hepworth
Makes 15-20
330g dried salt cod
1 lime, sliced
1 litre vegetable stock
Dash of white wine
500g all-purpose potatoes
2 tablespoons olive oil
Half an onion
1 egg, separated
2 tablespoons chopped fresh
coriander
Pinch of salt
1 tablespoon plain flour
Oil for deep frying
Lime wedges to serve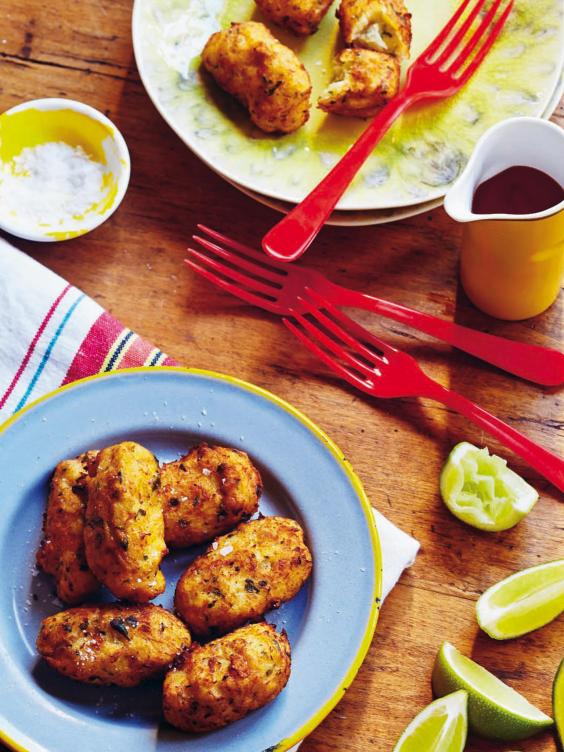 Soak the cod in cold water overnight, changing the water at least once. Preheat the oven to 180C. Put the drained cod in a roasting tin and cover with the lime slices. Pour in the stock and white wine. Poach the cod in the oven for 20 minutes. Leave to cool, then gently peel off the skin from the cod and break the flesh in half, removing the spine. Shred the cod with your fingers, removing any bones.
Boil the potatoes until soft, then drain well and mash. Heat the olive oil in a small frying pan and sauté the onion over a medium heat for 3 minutes until tender. Combine the cod with the potatoes, onion, egg yolk and coriander. Whisk the egg white in a small bowl, then add it to the cod mixture along with the salt. Use your hands to combine the mixture.
Add the flour, if needed, to help the mixture hold its shape. Shape the mixture into balls or croquettes and refrigerate for 15-20 minutes.
Heat 2.5cm of oil in a deep, heavy-based frying pan to 180C or until a cube of bread dropped into the oil turns golden brown in 15 seconds.
Cook the fritters for 3-4 minutes per batch until golden brown. Remove the fritters using a slotted spoon and drain on paper towel. Serve with lime wedges.
Frango com quiabo (chicken with okra) by Fernanda De Paula and Shelley Hepworth
Serves 6
1 x 1.8kg free-range chicken, cut into 8 pieces
5 garlic cloves, crushed
1 tablespoon paprika
1kg okra
125ml olive oil
1 large onion, finely chopped
45g chives, snipped
45g parsley, chopped
Steamed rice to serve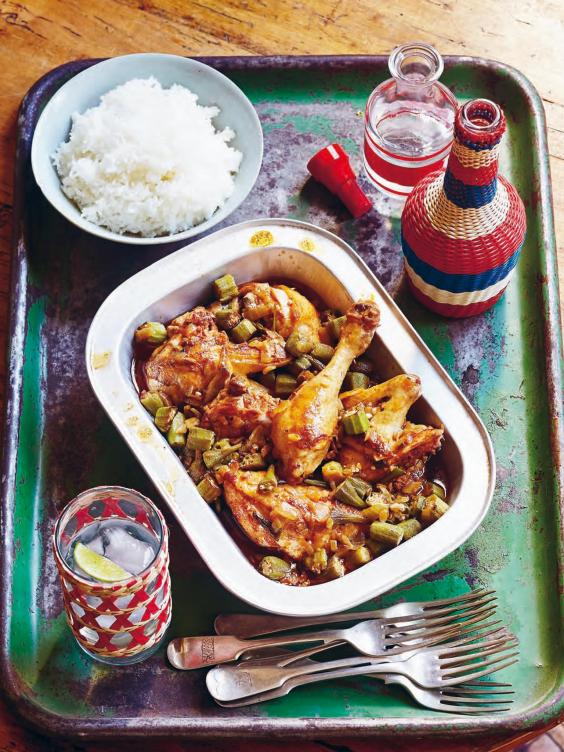 Season the chicken pieces with the garlic, paprika, salt and freshly ground black pepper. Marinate in the refrigerator for about 30 minutes. Wash the okra and dry it completely with a clean tea towel. Cut the okra into 1cm slices. Heat half the olive oil in a saucepan over a medium heat. Cook the okra, stirring occasionally for 20 minutes, or until the sticky substance stops seeping out. Turn off the heat, discard the excess oil and set aside.
Heat the remaining oil in a large saucepan. Cook the onion over a medium heat for 5-6 minutes, or until well browned. Add the chicken pieces and brown well. Pour in enough boiling water to almost cover the chicken. Season with salt. Cook over a medium heat with the pan half-covered for 20 minutes, or until the chicken is very tender.
Add the fried okra and cook until the sauce has thickened. If there is too much liquid, cook until it has reduced. Stir in the chives and parsley and serve with rice.
Reuse content