Researching a new restaurant project is tough. Selflessly eating and drinking at some of the best restaurants and bars in town, then doing it all again the next day…
I've recently returned from an inspirational trip to Venice – the focus for our new restaurant, opening later this year. You can't fail to get swept up by the apparently serene way of life and adopt a snail's pace while sauntering through the beautiful maze-like town, seduced at every turn by the fairy-tale architecture, the emerald waters of the canals and the majestic gondoliers.
Venice has an interesting food culture. Since it's sat on a lagoon, fish is the thing and there are some weird and wonderful varieties to be found on display at the jaw-dropping Rialto fish market. I was particularly impressed by the array of shellfish, including the local mantis shrimps, which appear to have a set of beady eyes on the base of its tail, and the local soft-shell lagoon crabs known as moeche, which are available only in winter. These are traditionally fed a Parmesan-enriched batter and then deep-fried – vaguely gruesome but delicious.
There are obviously also the brilliant pastas, gnocchis, polentas and hearty dishes typical of northern Italy, and the city's cicchetti (small-plate) bars are the stuff of legend, serving varying qualities of local snacks on bread such as salt cod, anchovies and hams. Half the fun is the often brusco interaction with whoever eventually gets round to serving you.
But I'm most intrigued by the history of Venetian food and its Byzantine influences (Venice was a gateway for the spice route and link from the East to the West), where exotic spices such as cardamom, turmeric, cumin and ginger are used in seemingly traditional Italian plates, creating subtle marriages of flavours that are as pleasurable and unexpected as Venice itself.
And finally, there's aperitivo hour (not really an hour, more on the hour, every hour), a prosecco or spritz embraced with open arms to refresh a tired and overfed chef. Did I mention it's a hard job?
Ben Tish is chef director at Salt Yard Group and a food writer; his second book, 'Grill Smoke BBQ', will be published by Quadrille in April. He also makes regular appearances on TV shows such as 'Saturday Kitchen', 'Sunday Brunch' and 'MasterChef'
Ben Tish's Venetian recipes
Ben Tish's Venetian recipes
1/8

Ben adds the flour and eggs to the potato to make his gnocchi

Kris Kirkham

2/8

He mixes well to form a medium-firm dough

Kris Kirkham

3/8

Ben cuts the dough into 4 pieces and rolls each piece into cigar lengths

Kris Kirkham

4/8

He then cuts each length into 1½cm pillow shapes

Kris Kirkham

5/8

Home-made gnocchi with prawns, spices and winter kale

Kris Kirkham

6/8

Calves' liver with Gorgonzola polenta and roast pear

Kris Kirkham

7/8

Sardines al soar on toast is a twist on a classic Venetian dish that traditionally would have been made to preserve fish past its best-by

Kris Kirkham

8/8

Ben tucks in to sardines al soar on toast

Kris Kirkham
Sardines al soar on toast
This recipe is a twist on a classic Venetian dish that traditionally would have been made to preserve fish past its best-by. Though I suggest using the freshest sardines you can find!
Preparation: 20 mins
Cooking: 40 mins
Marinating: 4 hours
Serves 4 as a starter
Olive oil
50g unsalted butter
2 medium onions, peeled and finely sliced
2 bay leaves
1 tbsp chopped flat-leaf parsley
3 cloves
1 stick cinnamon
½ tsp ground ginger
1 tbsp demerara sugar
1 tbsp raisins
2 tbsp white-wine vinegar
8 large sardines, butterflied
Sea salt
Black pepper
8 slices of ciabbata, cut on an angle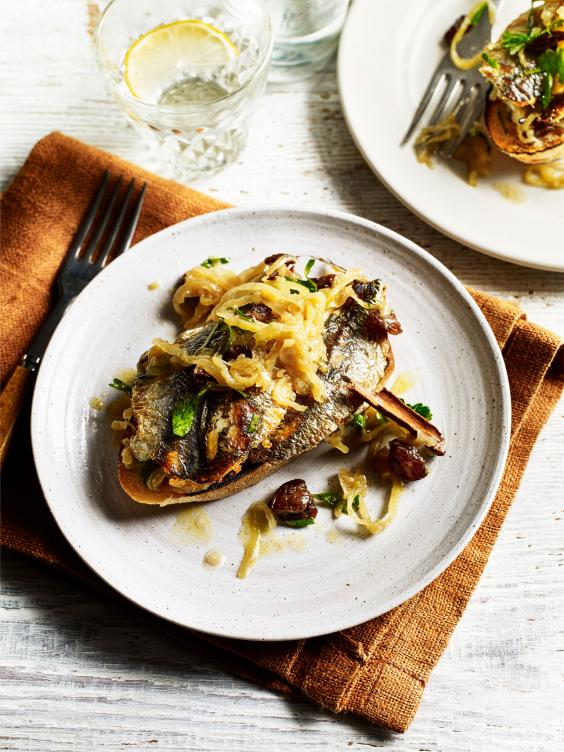 Preheat an overhead grill.
Set a medium-sized saucepan over a low heat, add a lug of olive oil and the butter. When the butter foams, add the onions, bay, parsley, spices and sugar and cook over a moderate heat for 30 minutes until the onions become very soft and lightly coloured. Add the raisins, pour in the vinegar and reduce down over the onions until syrupy. Season well and leave to rest.
Place the sardines flesh- side down on a non-stick tray, drizzle with olive oil and season. Place under the grill and cook for 2 minutes, leaving the flesh still pink.
Layer half the onion mix on a plate, top with a layer of the sardines, followed by the last layer of onions. Marinate in the fridge for at least 4 hours.
To serve, bring the sardines up to room temperature before toasting the bread and then dividing the sardines and onions between the slices.
Roast calves' liver with Gorgonzola polenta, roast pear, lardo and sage
Cook the polenta in milk or, for a super-indulgent result, double cream – quite a departure from some of the plainer, utilitarian northern Italian versions.
Preparation: 15 mins
Cooking: 20 mins
Serves 4

350ml milk or cream
100g unsalted butter
125g polenta flour or instant polenta
Sea salt
Black pepper
100g Gorgonzola
4 x 180g thick pieces calves' liver, skin removed
Olive oil
1 pear, quartered and cored
12 sage leaves
80g thinly sliced lardo or pancetta (around 8 slices)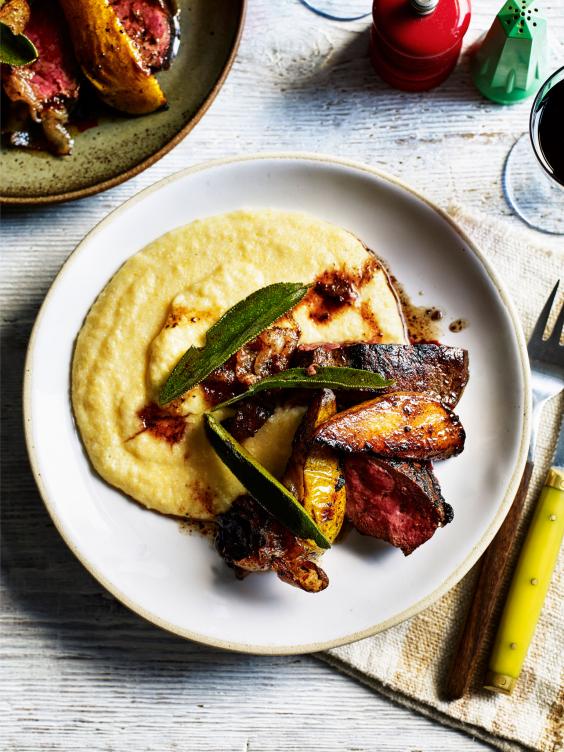 Bring the milk or cream to the boil in a pan, add half the butter and whisk in the polenta. Cook according to the packet instructions or until thick and smooth. Season and whisk in the Gorgonzola.
Season the liver. Heat a large sauté pan over a medium heat, add a lug of oil and then the liver and the pears. Cook for 3 minutes to caramelise, turn, add the remaining butter and cook for a further 3 minutes. The liver should still be pink and springy when pressed with a finger. Remove the liver to rest, add the sage and lardo to the pan with the pears and cook for a further 3 minutes. The pears should be tender and the sage and lardo crisp.
Spoon out the polenta and serve with the liver, pears, lardo and sage, and spoon over the browned butter from the pan.
Home-made gnocchi with prawns, spices and winter kale
Once mastered, you'll be using this gnocchi weekly as an accompaniment or tossed through sauces. Use potatoes with a little water content such as Désirée for a light, tasty result.
Preparation: 30 mins
Cooking: 1 hour
Serves 4
For the gnocchi
2 tbsp rock salt
700g Désirée potatoes
250g 00 pasta flour, plus extra for dusting
1 large egg
For the prawns & kale
125g unsalted butter
½ cinnamon stick
2 tsp turmeric
½ tsp crushed coriander seeds
3 cloves
12 large uncooked prawns, heads and shells removed
Sea salt and black pepper
80g curly kale, finely chopped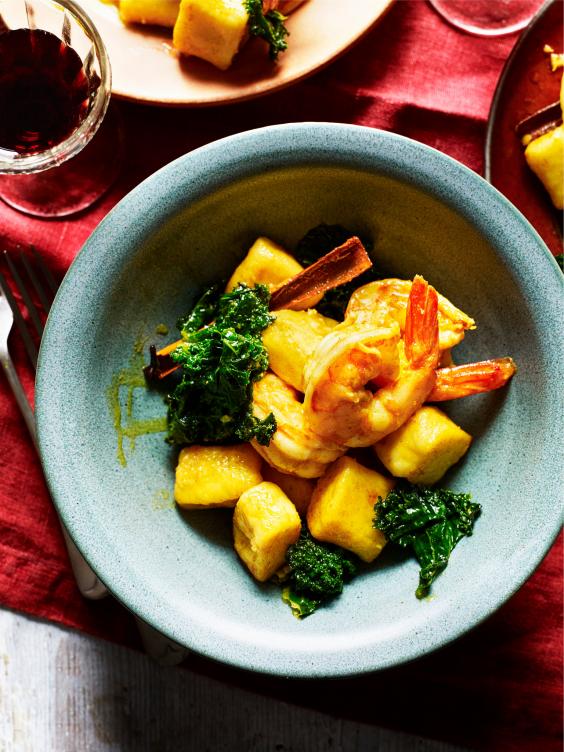 Preheat the oven to 180C.
Sprinkle the rock salt on an oven tray, place the potatoes on top and cook in the oven for about 1 hour, until tender. Cool slightly, peel and press the potatoes through a ricer or sieve into a bowl. Season and then add ¾ of the flour and the egg and mix well to form a medium-firm dough. Add more flour if necessary and then turn the dough out on to a floured work surface. Cut the dough into 4 pieces and roll each piece into cigar lengths, then cut each length into 1½cm pillow shapes. Transfer the gnocchi on to a floured board.
Bring a pan of salted water to the boil.
Heat a large sauté pan over a low heat and add the butter and spices. Cook for 2 minutes before adding the prawns and seasoning. Gently cook the prawns through, add a tbsp of water and, when boiling, add the kale and cook through in the prawn sauce.
Transfer the gnocchi to the pan of boiling water and cook until they rise to the surface. Use a slotted spoon to drain the gnocchi; transfer to the pan with the spiced butter and prawns and toss through. If a little dry, add some of the gnocchi cooking liquor.
Reuse content