Nowadays, with so many exotic fruits and even amazing varieties of apples, pears and citrus in our shops, the poor banana often gets overlooked. It's a thought that dawned on me recently, which immediately reminded me how delicious they can be; especially in cooking.
A moist banana cake baking in the oven smells lovely, especially if you've added a few drops of vanilla extract and some spices to the mix. It's an aroma that brings comfort, warmth and nostalgia to the home – just what you need at this time of year.
When buying them, I tend to look for bunches that aren't too ripe. I don't even mind if the skin still looks a little green. This is how I like bananas if I'm eating them raw for breakfast – they'll still have some bite and a fresher flavour. By the time they've ripened a bit more and black specks start appearing on the skins, I'll start thinking of baking or grilling them.
I inevitably buy too many. But rather than let them get too dark and go to waste, I peel and cut any spares into chunks and freeze them, ready to drop into the blender when making a smoothie.
Bill's restaurant, Granger & Co, is at 175 Westbourne Grove, London W11, tel: 020 7229 9111, and 50 Sekforde Street, London EC1, tel: 020 7251 9032, grangerandco.com. Follow Bill on Instagram at bill.granger
Banana and pecan cake
I'd bake this on a Saturday and eat it still slightly warm, then treat my daughters to a slice for breakfast on Sunday. If there's any left, wrap it in foil and it will stay moist well into the week.
Serves 8-10
160g pecans
175g unsalted butter, softened, plus extra for greasing
175g light brown soft sugar
½ tsp vanilla paste
1 tsp ground cinnamon
3 eggs
150g self-raising flour
1 tsp baking powder
3 tbsp milk
2 ripe bananas, roughly mashed
2 tbsp demerara sugar
Maple syrup, to brush
Preheat the oven to 150C/300F/Gas2. Grease a 20cm square cake tin with butter and line with greaseproof paper. Whizz half the pecans in a food processor until finely ground. Add the butter, sugar, vanilla, cinnamon, eggs, flour, baking powder, milk and bananas, and blend until smooth.
Chop half the remaining pecans and stir through the batter. Tip the mixture into the prepared tin. Scatter with the remaining pecans and demerara sugar. Bake for 1 hour, until golden and a skewer comes out clean when inserted. Allow to cool, remove from the tin, brush generously with maple syrup and serve.
Grilled bananas with hazelnuts, chilli and lime
Even if this sounds slightly odd with the chilli, believe me, these baked bananas taste totally delicious. They're a great solution to what to serve as a dessert after an Indian or South-east Asian meal and I've also served them as a side to roast gammon, for some retro fun.
Serves 4
6-8 ripe bananas
10g butter
Handful blanched hazelnuts, chopped
Zest 2 limes
1 red chilli, sliced
4 tbsp light brown soft sugar
Vanilla ice-cream, to serve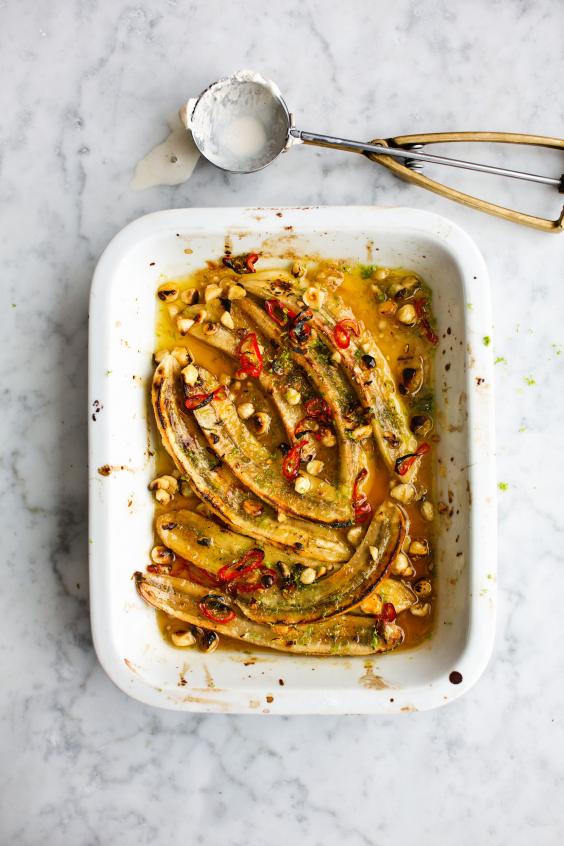 Preheat your grill to high. Halve the bananas lengthways. Put the bananas cut-side up on a baking dish, dot with pieces of butter, scatter with hazelnuts, lime zest and chilli. Sprinkle over the sugar, so that the bananas are evenly covered.
Grill for 10 to 12 minutes until caramelised, keeping a close eye on the bananas to make sure they don't burn. You want them to look a deep golden. Serve warm with vanilla ice-cream.
Banana, blueberries and chia seeds breakfast bowl with almonds
Chia seeds are the new nourishing craze to hit the health-obsessed. They're low-cal and packed with fibre, minerals and vitamin B, as well as being high in protein, so it's easy to see the attraction. Once soaked, they have quite an unusual texture, similar to tapioca, and if I'm honest, it took me a few tries to start liking them.
But I've now come to love it as an alternative to porridge, especially when paired with a rich coconut yoghurt and nutty almond milk. Add the healthy combination of banana and blueberries and you have a healthy breakfast that will keep you going for hours.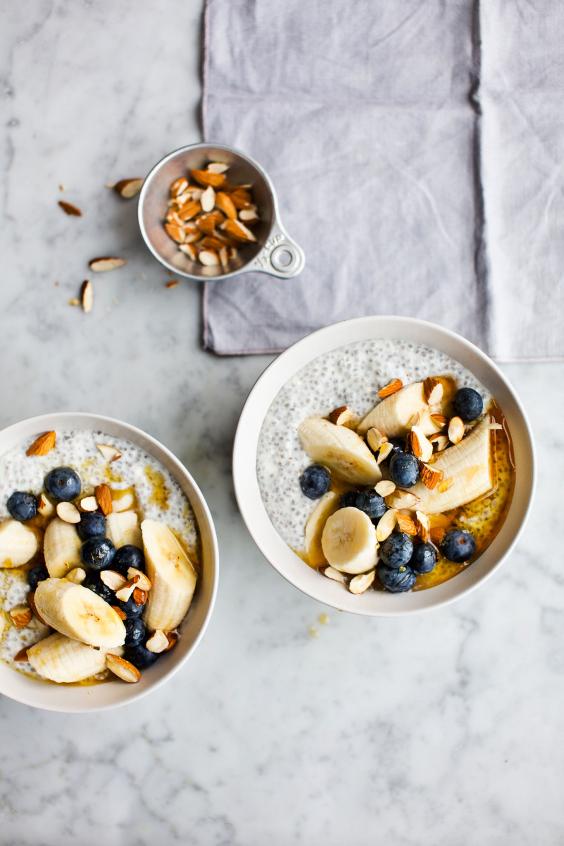 Serves 4
60g chia seeds
150ml coconut water
150ml unsweetened almond milk
300ml coconut yoghurt
3 ripe bananas
200g blueberries
50g almonds, sliced
Maple syrup, to serve
Place the chia seeds in a bowl. Add the coconut water, almond milk and a pinch of salt. Leave to soak overnight.
Fold through the coconut yoghurt and spoon into bowls. Cut the bananas into chunks and place over the chia-and-coconut yoghurt. Top with blueberries and almonds and drizzle with maple syrup, to taste.
Food preparation: Marina Filippelli;
Props merchandising: Rachel Jukes
Reuse content