How's your head doing? I have to admit I'm struggling a bit with the excesses of the past few weeks. No matter what good intentions I have, parties, work, travelling and, well, life always get the better of me at Christmas.
If, like me, you overindulged, now is the time to regain some control. Grab that feeling of never wanting to overeat again and fill the fridge with fresh, healthy food. Start putting goodness into your body and you'll be repaid with new vitality and energy. If nothing else, it will help prepare you for New Year's Eve…
And in case you have guests staying over, I've made these recipes to serve 4 to 6, so there should be plenty to go around.
Avocado and spiced roasted tomatoes on sourdough
A bit of a classic; this is always a favourite in my house.
Serves 4-6
500g cherry tomatoes, halved
1 tsp cumin seeds
1 tsp turmeric
3 garlic cloves, crushed
½ red chilli, chopped
3 tbsp rapeseed oil, plus extra to drizzle
6 slices sourdough bread
2 large avocados
1 tsp grated ginger
Handful coriander leaves
For the roasted tomatoes, preheat the oven to 170C/325F/Gas3. Place the tomatoes in a roasting tin. In a small bowl, combine the spices, garlic, chilli and 2 tbsp of oil. Season with salt and spoon over the tomatoes. Roast for 20 to 25 minutes, until the tomatoes look rich and caramelised. Set aside to cool.
Toast the bread. Once cooled, mash the avocado and roughly spread it over the toast. Top with the cooled tomatoes.
Combine the remaining 1 tbsp of oil in a bowl with the ginger and season. Toss through the coriander and use to top the toast. Enjoy immediately.
Frozen energy smoothie
This is so thick and delicious that it almost feels like a dessert.
Serves 4-6
500g mixed frozen berries
1 large banana
2 tbsp rolled oats
50g spinach
2 tbsp milled linseed
600ml milk or unsweetened almond milk
Bee pollen, to serve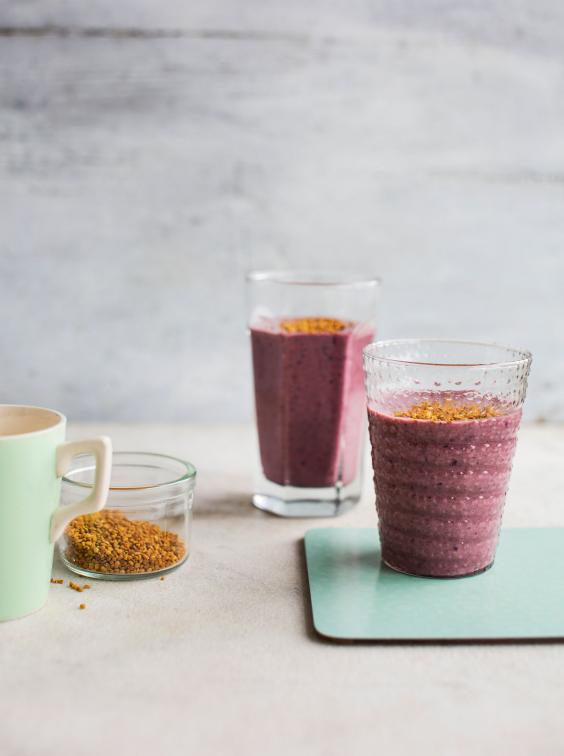 Place the berries, banana, oats, spinach and linseed in a blender. Pour in the milk and blend until smooth. Pour into glasses and scatter with bee pollen, to taste.
Mixed citrus salad with coconut yoghurt
There was a time in the 1980s when everyone started eating half a grapefruit for breakfast. This is a jazzed-up version of that. This citrus mix will wake up your senses and fill you with vitamin C. For me, some coconut yoghurt and mixed nuts is enough to break up the sharpness of the fruit, but if you're finding it too intense, simply add a drizzle of honey.
Serves 4-6
2 tbsp almonds, roughly chopped
2 tbsp pistachios, roughly chopped
2 tbsp pumpkin seeds
1 tbsp sesame seeds
1 pink grapefruit
2 blood oranges
2 clementines
1 lime
½ lemon
Coconut yoghurt, to serve
Honey, to serve, optional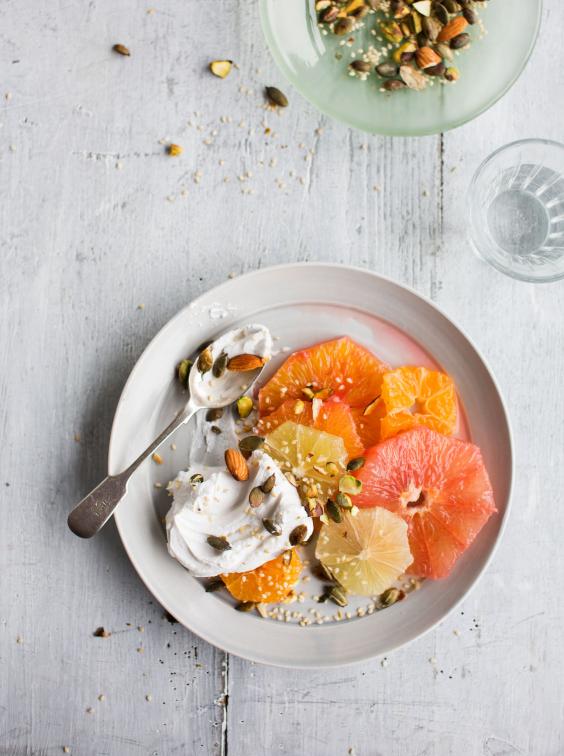 Combine the nuts and seeds in a large frying pan over a low heat. Toast, stirring, until the seeds start to pop. Sprinkle with a little salt and set aside to cool.
Using a small, serrated knife, cut the peel off the citrus fruits, making sure you also remove the pith. Slice the fruits into rounds and divide the slices between 4 to 6 plates. Top with a dollop of coconut yoghurt and some of the mixed nuts and seeds. Serve with some honey on the side.
Five-grain and seed porridge with almond milk and fruit
Five-grain porridge has such a lovely, varied texture, that I doubt I'll ever go back to plain oat porridge again. I buy a mix that already has seeds in it, but try whichever brand your local health-food store or supermarket stocks. When it comes to the milk, I'm going through a bit of an almond milk phase – not so much because it's dairy-free, but because I love the nutty flavour it adds to the porridge.
Serves 4-6
200g five-grain and seed porridge
½ tsp ground cinnamon
750ml-1 litre unsweetened almond milk
1 tbsp maple syrup
1 large mango, chopped
150g blueberries
Lime wedges, to serve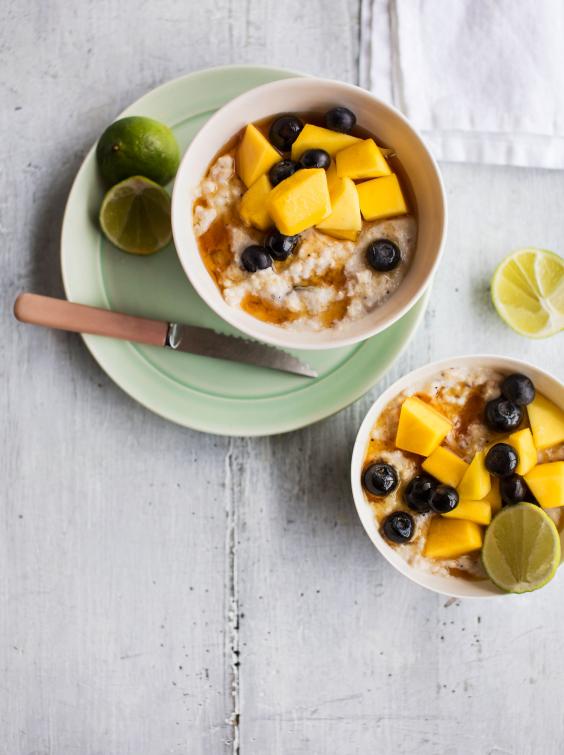 Combine the porridge, cinnamon and 750ml of almond milk in a pan. Bring to the boil. Reduce the heat to a simmer and cook, stirring, for 4 to 5 minutes, until the porridge is creamy. Add more milk if it dries out too much. Stir in the maple syrup. Divide between 4 to 6 bowls. Top with the mango and blueberries.
Serve with lime wedges and extra maple syrup, for people to help themselves.
Bill's restaurant, Granger & Co, is at 175 Westbourne Grove, London W11, tel: 020 7229 9111, and 50 Sekforde Street, London EC1, tel: 020 7251 9032, grangerandco.com. Follow Bill on Instagram at bill.granger
Food preparation: Marina Filippelli; Props merchandising: Rachel Jukes
Reuse content