Every vegetable has its moment. The past few years have been all about kale and cavolo nero – raw, crispy, juiced or braised, we couldn't get enough of it.
But who would have guessed that two of the previously most unpopular vegetables would come along to topple them off their pedestal?
Brussels sprouts, once the villain of the Christmas table, and the humble cauliflower have now become the brassicas to be seen eating.
In fact, no fashionable menu from London to Manhattan or Sydney would be seen without at least one of them…
Before you go throwing your hands up in despair at the memory of soggy sprouts and mushy cauliflower, give these recipes a try.
The trick is to roast or quickly pan-fry them rather than boiling them to death. Or shred them finely and eat them raw in a salad.
And just to prove my loyalty, I've also included a recipe using kale and cavolo nero – they're both too delicious to be allowed to go out of fashion!
Bill's restaurant, Granger & Co, is at 175 Westbourne Grove, London W11, tel: 020 7229 9111, and 50 Sekforde Street, London EC1, tel: 020 7251 9032, grangerandco.com. Follow Bill on Instagram at bill.granger
Brussels sprouts and chicken salad with agrodolce dressing
Use leftover roast chicken for this or get a cooked bird from the rotisserie. The sweet-and-sour dressing reminds me of Sicily, where I once had it in a cauliflower salad.
Serves 4
5 tbsp red-wine vinegar
2 tsp caster sugar
1 red chilli, roughly chopped
½ red onion, sliced
35g sultanas
Pared zest ½ orange, plus 2 tbsp orange juice
450g Brussels sprouts, halved
3 tbsp olive oil
2 cooked chicken breasts, skinned and cut into chunks
25g toasted pine nuts
Heat the vinegar in a small pan with the sugar until dissolved. Add the chilli, onion, sultanas and orange zest and leave to infuse off the heat for at least 30 minutes.
Preheat the oven to 220C/ 425F/Gas7. Toss the sprouts in a bowl with 1 tbsp of olive oil and plenty of salt and pepper. Spread the sprouts on a baking tray and roast for 8 to 10 minutes, until charred. Set aside to cool.
Place the chicken in a large bowl. Toss through the onion-sultana mix, nuts, remaining oil, orange juice and cooled sprouts. Serve immediately.
Roast cauliflower soup with cheesy toast
This is pure comfort in a bowl.
Serves 4
2 heads cauliflower, cut into florets and core chopped
6 garlic cloves, unpeeled
1 tsp cumin seeds
1 tsp curry powder
½ tsp crushed chilli flakes, plus extra to serve
Olive oil, to drizzle
4 slices sourdough
Handful grated Gruyère
Knob butter
1 large onion, sliced
900ml vegetable or chicken stock
Handful flat-leaf parsley, to serve
Preheat the oven to 220C/425F/Gas7. Spread out the cauliflower in a large roasting tin. Add the garlic, spices and chilli. Drizzle with olive oil and season with salt. Toss well to combine and roast for 15 to 20 minutes, until soft and golden.
Place the sourdough slices on a baking tray. Top with Gruyère and toast in the oven until the cheese has melted. Keep warm.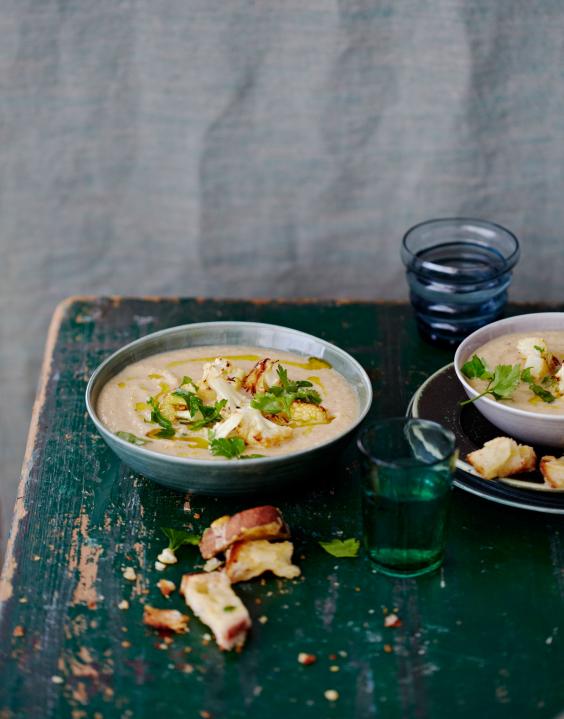 Melt the butter in a heavy-based saucepan over a medium heat. Add the onion and cook for 6 to 7 minutes until golden and tender. Tip in most of the roasted cauliflower, keeping about a quarter of the florets aside. Pour in the stock and bring to the boil. Use a hand-held blender to blend until smooth.
Serve in bowls topped with the reserved roasted cauliflower and some parsley, with the toast on the side.
Braised vegetables with pulses and tahini yoghurt
This makes a substantial meal as it is, or serve with simply grilled fish if you prefer.
Serves 4-6
4 tbsp olive oil
2 garlic cloves
½ tsp crushed chillies
200g sprouting broccoli, trimmed
200g cavolo nero
100g purple kale
100ml vegetable or chicken stock
½ x 400g tin puy lentils, rinsed and drained
½ x 400g tin chickpeas, rinsed and drained
1 garlic clove, crushed
2 tbsp capers
Grated zest 1 lemon
100ml Greek-style yoghurt
2 tbsp tahini
Take a large wok or frying pan with a lid. Add 2 tbsp of olive oil, the garlic and chillies. Heat over a medium heat until the garlic begins to sizzle.
Add the broccoli and a splash of water and steam, covered, for 3 to 4 minutes. Stir in the cavolo nero and purple kale.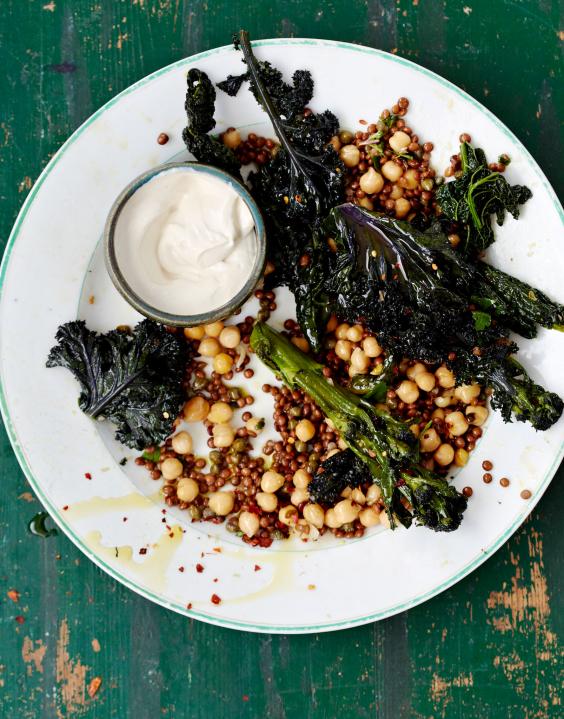 Pour in the stock, bring to the boil and cook, covered, until the vegetables are very tender. Uncover and cook until most of the liquid has evaporated.
Heat the lentils and chickpeas in a pan or in the microwave. Stir in the garlic, capers, lemon juice and zest and remaining olive oil. Tip on to a large serving plate and top with the braised vegetables. Stir the tahini in a bowl with the yoghurt and serve.
Food preparation: Marina Filippelli; Props merchandising: Rachel Jukes
Reuse content