One Foodie resolution I make several times a year is to keep family meals interesting and varied. No matter how delicious a dish, eat it twice a week for three weeks on the trot and you'll ruin it for ever. My middle daughter really loves a baked gnocchi with tomato and mozzarella dish I do. It's the simplest thing to throw together and because I know it will be enjoyed to the last mouthful, I have probably made it more often than ideal. As a result, let's just say that if I never see it again, I wouldn't complain…
Whether you're cooking for family, friends or just yourself, a packet of pasta can always save the day. But that doesn't mean we need to let things get boring. The recipes here need a little planning, but they are still easy.
The squid-ink fettuccine can probably get from kitchen to table quicker than my faithful gnocchi bake; just remember to pass by the fishmonger and ask them to clean the squid so it's ready for the pan. The duck ragu needs time to bubble, but it freezes beautifully, so make a double batch to get two meals out of one cooking session. As for the lasagne, I won't pretend it's a 15-minute job, but it's always a winner in my house!
Bill's restaurant, Granger & Co, is at 175 Westbourne Grove, London W11, tel: 020 7229 9111, and 50 Sekforde Street, London EC1, tel: 020 7251 9032, grangerandco.com. Follow Bill on Instagram at bill.granger
Roasted pumpkin and spinach lasagne
Served with a crisp green salad, this makes a comforting veggie meal my kids go crazy for. For a less labour-intensive version, I sometimes replace the béchamel with crème fraîche.
Serves 4-6
1kg pumpkin or squash, diced
2 tbsp chopped sage
3 garlic cloves, whole
300g baby spinach
75g butter, plus extra for greasing
75g plain flour
800ml whole milk
¼ tsp grated nutmeg
100g pecorino, finely grated
400g fresh lasagne sheets
Preheat the oven to 180C/350F/Gas4. Put the pumpkin, sage and garlic into a large roasting tray. Season with plenty of salt and pepper. Cover with foil. Transfer to the oven and cook for 45 k minutes, or until the squash is tender. Remove from the oven and, using a fork, gently squash the pumpkin and garlic, toss in the spinach and allow the heat of the pan to wilt it. Set aside.
For the white sauce, melt the butter in a large, heavy saucepan. Stir in the flour using a wooden spoon and cook for 2 minutes. Gradually add the milk, stirring continuously. Once all the milk is added, bring to a simmer and cook for a few minutes until thickened. Add the nutmeg, 75g of the pecorino and plenty of black pepper.
Remove from the heat. Grease a large baking dish with butter. Line with a layer of lasagne sheets, top with a quarter of the béchamel, then a third of the pumpkin-spinach mix. Repeat the layers twice. Finish with a layer of lasagne sheets, topped with the sauce and remaining pecorino. Bake for 35 to 40 minutes, until bubbling and golden.
Duck ragu with spelt penne
I love the nuttiness the spelt pasta adds to this dish. Just watch the cooking time, though – because it has less wheat than regular pasta, I find it gets perfectly "al dente" significantly quicker than the recommendation on the packet!
Serves 4
5 duck legs, skin on
1 onion, sliced
1 carrot, sliced
2 celery sticks, sliced
1 fresh bay leaf
2 cloves
1 small cinnamon stick
2 garlic cloves, sliced
1 tsp dried chilli flakes
200ml dry white wine
700ml chicken stock
400g spelt penne
Knob butter
Parmesan, to serve
Put the duck legs skin-side down in a wide, shallow casserole dish over a medium heat. Gently fry for 10 minutes, or until the legs are brown and most of the fat has been rendered. Remove from the pan along with all but 2 tbsp of fat.
Return the dish to the heat, fry the onion, carrot, celery, bay, cloves and cinnamon for 10 minutes, or until the veg is really soft. Add the garlic and chilli, cook for a further minute. Increase the heat, pour in the wine, bubble for 2 minutes. Pull the skin from the duck then return the legs to the pan.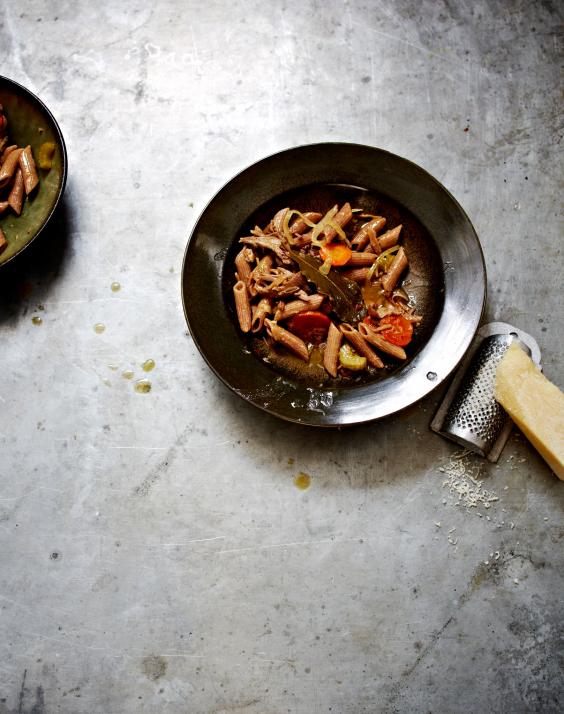 Pour in the stock, bring to the boil then simmer for 1½ hours, or until the sauce is reduced and the duck is falling off the bone. Remove the duck with a slotted spoon, allow to cool for a few minutes, then pull the meat from the bones and return to the pan. Season to taste. Set aside.
Cook the pasta in a large pan of boiling, salted water, until al dente. Drain well, return to the pan then toss through the ragu with a knob of butter, and serve immediately with Parmesan.
Squid-ink fettuccine with garlic and chilli squid
A quick dinner that can be on the table in 10 minutes, yet always feels like a special treat.
Serves 4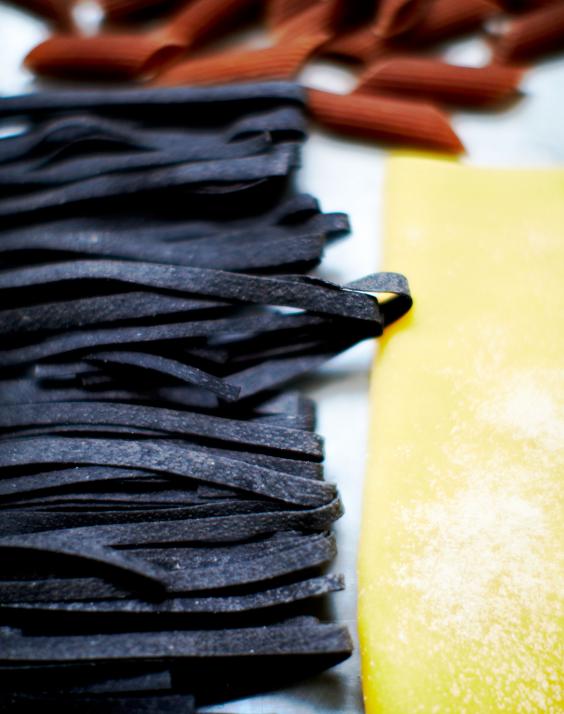 2 garlic cloves, roughly chopped
½ tsp dried chilli flakes
Zest and juice 1 lemon, plus wedges to serve
500g squid (cleaned weight), patted dry, cut into 2-inch pieces
400g squid-ink fettuccine
5 tbsp olive oil
Mix the garlic, chilli flakes and lemon zest together, then toss in the squid. Set aside.
Cook the pasta in a large pan of boiling, salted water, until al dente. Drain well, drizzle with 2 tbsp of olive oil and set aside.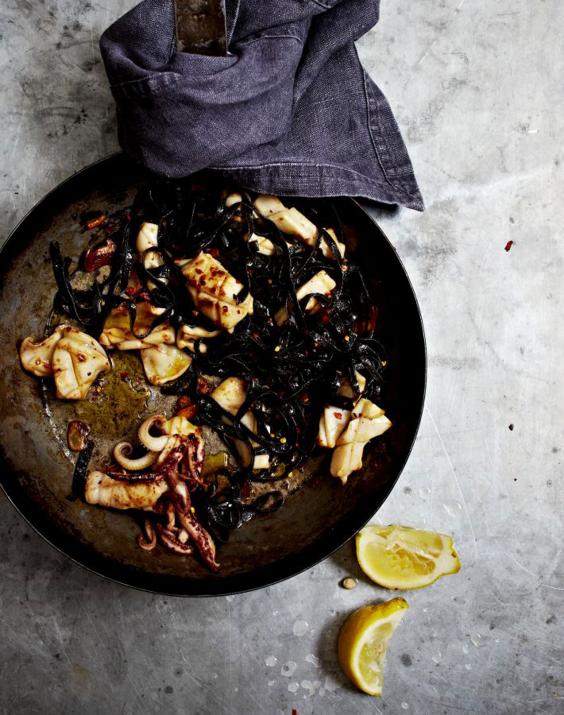 As the pasta cooks, heat a frying pan with 3 tbsp of oil until really hot. Add the squid and cook for 2 to 3 minutes, or until slightly charred and cooked through. Add the lemon juice and toss through the just-drained pasta. Serve with lemon wedges.
Food preparation: Marina Filippelli; Props merchandising: Rachel Jukes
Reuse content