As much as fashions change in food, birthday cakes seem to remain a constant. Stuck in a time warp of dry vanilla sponge or bland chocolate, more attention is often given to the decoration than to what they taste like.
Luckily, my girls are old enough for me to know that I won't ever need to sculpt Frozen-themed icing decorations. To be honest, I probably wouldn't have indulged them even if they had still been pre-schoolers…
The cakes here are my attempt at adding a bit of style to a long-neglected area of gastronomy. I've tried to cover all tastes (and ages). There's the really, really chocolatey one, the sponge with lots of creamy icing, and (being true to my Australian roots) a rich, gooey Pavlova – timeless and tasteful, in every sense.
Bill's restaurant, Granger & Co, is at 175 Westbourne Grove, London W11, tel: 020 7229 9111, and 50 Sekforde Street, London EC1, tel: 020 7251 9032, grangerandco.com. Follow Bill on Instagram at bill.granger
Hazelnut cake with praline mascarpone cream
What I like about this cake is that it strikes that perfect balance of being neither too sweet nor too wholesome.
Serves 10
165g butter, softened
165g caster sugar
4 large eggs, beaten
100g ground toasted hazelnuts
100g white spelt flour, sifted
1 tsp baking powder
For the topping and filling
75g golden caster sugar
75g blanched hazelnuts
250g mascarpone
250g Greek-style yoghurt
Preheat the oven to 180C/350F/Gas4. Grease and line 2 x 20cm loose-based sandwich-cake tins. Beat the butter and sugar with an electric whisk until pale and fluffy. Add the eggs a little at a time, beating well after each addition. If the mixture starts to curdle, add a tbsp of flour.
Use a metal spoon to fold in the ground hazelnuts, the rest of the flour and the baking powder. Divide between the prepared tins, levelling the tops. Bake for 20 to 25 minutes, until a skewer inserted in the centre of one of the cakes comes out clean. Leave to cool in the tin.
To make the hazelnut praline, heat the sugar in a small, heavy-based pan until it melts and turns a pale golden-caramel colour. Tip in the nuts and cook for 2 minutes, until a rich caramel colour. Tip out on to a lined baking tray. Allow to cool completely.
Break this praline into the bowl of a food processor and blitz until a rough powder. Spoon 3 tbsp into a bowl with the mascarpone and yoghurt and beat well until well combined.
Transfer one of the cakes on to a plate or cake stand. Spread with half the praline mascarpone cream. Cover with the second hazelnut cake then spread on the remaining praline mascarpone cream. Scatter with some praline.
Serve the cake with any remaining praline on the side.
Butterscotch brownie cake with oranges in caramel syrup
This is so dense and rich that slathering it with icing or cream would be too much. Let kids enjoy it simply dusted with icing sugar, then take it to another level with a good drizzle of caramel syrup and refreshing orange slices.
Serves 12
250g butter
200g butterscotch chocolate, roughly chopped
350g caster sugar
50g cocoa powder
125g plain flour
1 tsp baking powder
5 eggs, lightly beaten
Icing sugar, for dusting
For the caramelised oranges
3 oranges
150g caster sugar
4 cloves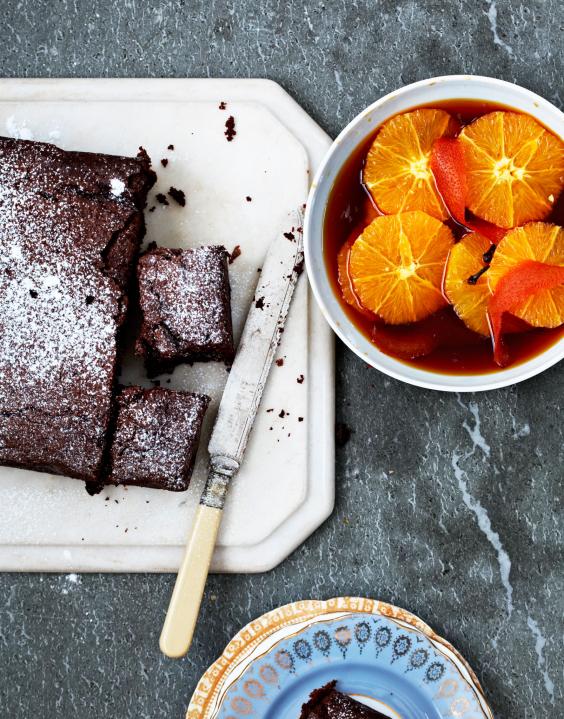 Preheat the oven to 160C/320F/Gas3. Line a 22cm square cake tin with baking paper.
Melt the butter and butterscotch chocolate in a bowl set over a pan of barely simmering water. Set aside. Sift the sugar, cocoa powder, flour and baking powder into a large bowl. Stir to combine. Stir in the eggs and the melted butter and chocolate mix. Tip this brownie batter into the prepared tin and bake for 45 to 50 minutes until cooked, but still a little wobbly in the centre. Sit the tin on a wire rack and leave the cake to cool in the tin.
For the caramelised oranges, peel two large strips of orange zest from one of the oranges and set aside. Use a small, serrated knife to cut the peel and pith off the oranges. Slice the oranges and place the slices in a large bowl. Heat the sugar in a small, heavy-based pan until it melts and turns a deep-caramel colour. Remove from the heat and carefully pour in 150ml of water. Return to the heat and add the prepared orange zest and cloves. Heat, stirring, until the caramel has dissolved into a syrup. Pour into the bowl with the sliced oranges. Leave to cool.
Turn the brownie cake out just before serving and dust with icing sugar. Serve with the oranges in caramel syrup.
Pavlova with ginger-roasted rhubarb, macadamias and coconut yoghurt cream
Looks impressive, tastes even better. Assemble it at the last minute to keep it totally fresh.
Serves 6-8
For the meringue
3 egg whites
175g caster sugar
1 tsp cornflour, sifted
1 tsp white-wine vinegar
For the topping
800g rhubarb, cut into 5cm lengths
150g caster sugar
100ml water
Squeeze lemon juice
3 slices ginger
To serve
150ml coconut yoghurt
150ml double cream, whipped
50g toasted macadamias, roughly chopped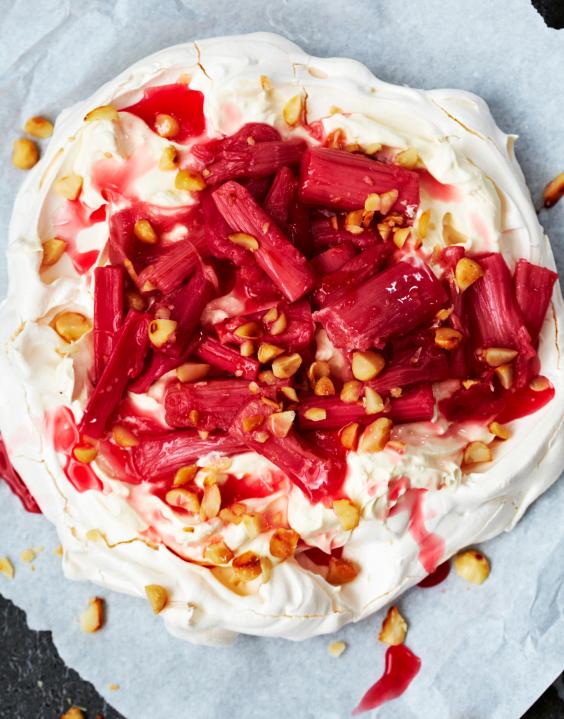 Preheat the oven to 120C/250F/Gas½. Line a baking sheet with baking paper, draw an 18cm circle on the paper and turn over.
Whisk the egg whites in a clean, dry bowl until stiff peaks form. Add the sugar a tbsp at a time, whisking continuously until the meringue is glossy and thick. Stir in the cornflour and vinegar.
Pile the meringue on the circle on the baking tray and place in the oven. Bake for 1½ hours or till the outside is firm but not browned. Turn off the oven and leave the Pavlova inside, with the door ajar, until completely cooled.
Heat the oven to 160C/320F/Gas3. Place the rhubarb, sugar, water, lemon juice and ginger in a roasting tray and toss together. Cover with foil and bake for 20 minutes. Allow to cool then gently mix so that some of the rhubarb remains whole, and store until ready to serve.
Combine the coconut yoghurt and double cream. Spoon over the Pavlova and top with the rhubarb and macadamias.
Food preparation: Marina Filippelli; Props merchandising: Rachel Jukes
Reuse content